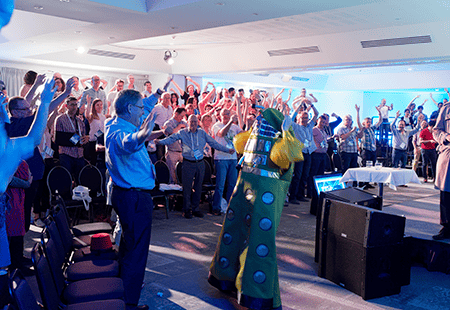 Rolling hills, dancing, sci-fi fancy dress, card tricks and laughter… SA Blue Sky Congress isn't your usual optometry conference, but then again, that's why optometrists in the know flock to this annual event from around the country.
Optometry South Australia's annual Blue Sky Congress is literally a breath of fresh air within a crowded calendar of CPD events. Hosted in the picturesque Adelaide Hills, the slower paced Congress last November offered quality education delivered by just a few expert speakers; Clinical Professor Brad Sutton from the USA, and ophthalmologists Professor Charles McGhee (Auckland), Dr. Dania Qatarneh (Adelaide), Dr Edward Greenrod (Adelaide) and Dr. Celian Chen (Adelaide). Many of the delegates who attended Blue Sky said they enjoy the format of the Congress, which provides time between lectures for key messages to "sink in". Libby Boschen, CEO of Optometry South Australia, said the Congress was designed on the back of research which has demonstrated that having fun while learning results in greater retention of course content. For this reason, she said, lectures are interspersed with short bursts of exercise to music and entertainment; while an annual theme (in 2018 it will be the Wild West) adds to the light-hearted mood. "We always say, "the only thing we take seriously at Blue Sky Congress is the education," said Ms. Boschen
CANCER AND THE EYE
In a two-part lecture, Dr. Brad Sutton spoke about the many different types of cancer and their impact on the eye, including the impact of treatments. He also spoke on ocular cancers.
As a 'wake-up call', he said 25 per cent of the delegates in the room would be affected by some type of cancer in their lives, in Australia, breast, colorectal, prostate, melanoma and lung being the most likely forms.
Many of the delegates… said they enjoy the format of the Congress, which provides time between lectures for key messages to 'sink in
Dr. Sutton said optometrists should be on the look-out for cotton wool spots, which can be an indication of cancer. Additionally he said, cotton wool spots can indicate in giant cell arteritis in elderly people or HIV in the broader population. Dr. Sutton said cancer treated with chemotherapy can lead to cotton wool spots because a lot of chemotherapy is interferon based.
Dr. Sutton described the difference between primary uveal tumours and uveal metastatic lesions. On average, an individual survives just nine months following diagnosis of ocular metastasis, which makes it critical to undertake a systemic work up to determine where the tumour is coming from and commence appropriate treatment as soon as possible.
Over the two day conference, Dr. Sutton also spoke about the ocular side effects of oral medications including Acutane, which is used to treat acne and can cause dry eyes, conjunctivitis and decreased night vision as well as rare side effects including corneal deposits, colour vision disturbances and increased intracranial pressure leading to papilledema. The cardiac agent Digoxin, used for atrial fibulation/flutter and congestive heart failure was another oral medication he spoke about. He said 95 per cent of patients will develop ocular complications if doses exceed therapeutic levels. These include colour changes (images are tainted by a gold or yellow tinge) and potentially haloes. Optic neuritis, loss of central vision and decreased acuity are less common side effects.
DIABETIC EYE DISEASE
Ophthalmologist Dr. Dania Qatarneh drew on case studies to present on diabetic retinopathy, its risk factors for progression and potential treatments. She discussed common risk factors for rapid progression of diabetic retinopathy such as hypertension; a rapid reduction of HBA1C (known as normoglyacameic re-entry phenomenon); cataract surgery (which doubles the risk of progression within the first 12 months); and pregnancy.
She stressed the importance of taking a team approach to identifying patients at high risk of disease progression, by including all relevant medical professionals,
Dr. Qatarneh spoke about treatment options, highlighting recent studies which confirmed the efficacy of anti-VEGFs aflibercept, ranibizumab and bevacizumab in treating centre-involving diabetic macular oedema. She said the role for adjunctive anti-VEGF and steroid treatment during cataract surgery was now well established. Additionally, in psuedophakic patients with diabetic macular oedema, steroids worked just as well as anti-VEGF. For patients who have been vitrectomised, the effect of anti-VEGF is very short lived – it often only lasts for two weeks then more injections are required. This makes steroids, which are longer lasting, a better option. However, she said, care must be taken when prescribing steroids as other complications can occur, for example, a spike in intraocular pressure especially in glaucoma patients
Dr. Qatarneh said many patients with proliferative diabetic retinopathy enquired about anti-VEGF treatment as opposed to laser because it is the new kid on the block, however it was important to caution them about the added treatment and financial burden of injections over the long term, which can be logistically difficult when other diabetes related problems must also be managed through hospitalisation etc. Additionally, she said there is a risk of new vessel traction over the macula, which can lead to tractional retinal detachment. Finally, she said there are still questions surrounding extended use of anti-VEGF in PDR – "When do we stop anti-VEGF… and what will happen when we do stop; how quickly will the vessels come back. There are lots of questions which remain to be answered and it's important to think about this from the patient's point of view," she said.
ACANTHOMOEBIA KERATITIS
In an engaging presentation, Professor Charles McGhee spoke about the increasing incidence of acanthomoebia keratitis. He said typically there is misdiagnosis and delayed treatment of this potentially blinding disease which is strongly associated with contact lens wear. Patients who develop the infection tend to do so because "they are not wearing their contact lenses properly and not following instructions" – ie they're wearing their lenses for longer than they should, not maintaining adequate hygiene and/or wearing them in hot tubs or pools etc. This makes patient education essential. Professor McGhee said acanthamoeba is often incorrectly diagnosed as HSV keratitis, an infection which can be remedied with treatment very quickly. If a condition diagnosed as HSV Keratitis doesn't get better within a week or two, it is important to consider whether it is in fact If acanthomoebia masquerading as HSV (or a fungal or low grade bacterial infection). Professor McGhee said early diagnosis of acanthamoeba is important because the earlier the diagnosis, the better the prognosis and patients who are not properly diagnosed and treated within six months are likely to lose their eye.
Prof. McGhee said poly-hexa-methylenebiguanide (PHMB) is the primary treatment for acanthomebia keratitis and across the counter Brolene still has a role with the standard treatment being a combination duotherapy. On the other hand, corticosteroids should be avoided, at least until the acanthamoeba bugs have been killed. He described treatment for acanthomebia keratitis as "nasty", "toxic" and long-term so proper diagnosis is essential.
While at Blue Sky, Professor McGhee also presented an anterior segment quiz and spoke about the risks associated with the use of corticosteroids. His final presentation, chemical injuries and anterior segment reconstruction, was brought to life with a series of graphic images and videos demonstrating some of the more complicated reconstruction surgeries he has performed.
VASCULAR DISORDERS OF THE EYE
A/Prof. Celia Chen presented on vascular disorders of the eye. She said that transient loss of vision can be in one eye or in both eyes. History is often the key to distinguish the situation. Transient vision loss in one eye can be either ocular or non-ocular. A full examination important to distinguish the cause. Non-ocular transient vision loss is likely to be due to ischemia. Transient vision loss in both eyes is most likely due to migraine or vertibrobasilar insufficiency.
SA BLUE SKY CONGRESS 2018
SA Blue Sky Congress attracted a solid 225 optometrists with half of the delegates coming from outside the State. The optical dispensing stream previously delivered, will be replaced with some smaller education events during the year. This year SA Blue Sky Congress will take place from 9 –10 November.