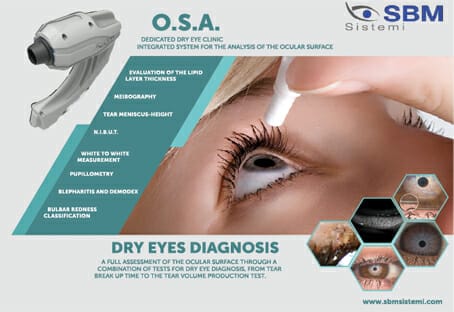 I.C.P products, for comprehensive diagnosis and evaluation of dry eye disease, are extremely compact, hand held or slit lamp mountable with advanced imaging and analysis software.
The multi-functional I.C.P OSA – Ocular Surface Analyser – analyses the functionality and stability of the tear film layers and delivers advanced infrared meibography imaging with automated detection and quantification of meibomian glands. It delivers qualitative tests and quantification reports including lipid layer thickness, tear meniscus height, non-invasive tear break up time, classification of meibomian gland dysfunction, and pre- and posttreatment graphs with easy interpretation for the patient, plus more.
Manufactured by SBM Sistemi in Italy.
Contact: Mundipharma (AUS) 1800 188 009