Admit it. The idea of escaping the bustling city and settling into a quieter, slower paced country life is one that's crossed your mind on many a Monday morning as you've made your way through traffic by train, bus or car, to start your week. So what's holding you back?
Most of Australia's optometrists and ophthalmologists were born, have grown up and graduated from universities, in our larger cities. Having enjoyed the convenience and excitement of inner city life, the idea of moving to a rural location can be quite daunting, dull and to some, totally distasteful.
Although in recent years, regional universities have proactively targeted local students with an objective to build a local resource of optometrists and ophthalmologists who will be happy to remain in their home towns, the bright lights of the city seem to lure many away.
Yet there are many advantages associated with living in country Australia – work life balance; stronger, supportive communities; a more challenging scope of practice; increased salaries and a more manageable cost of living to name a few.
For early career optometrists, working in a regional practice is a terrific opportunity to gain confidence with your skills and knowledge
SKILLS CONFIDENCE
"For early career optometrists, working in a regional practice is a terrific opportunity to gain confidence with your skills and knowledge," said Lily Wegrzynowski, Chief Business Development Officer of EyeQ Optometrists. "We help optometrists to become active in their local communities, encourage their professional development and their involvement with other health professionals. This leads to greater personal and professional satisfaction.
"Country communities hold their health professionals in high regard and this can help to build confidence, particularly as patients listen to and value the advice and recommendations that are provided," she added.
Graeme Schneider, ProVision Business Development Manager agrees. Forty per cent of its 460 practices are located in regional areas, providing numerous opportunities for optometrists who are keen to get exposure to a greater number of eye diseases and conditions.
"In regional areas there is the ability to comanage eye diseases with ophthalmologists that visit regional areas on a monthly basis," said Mr. Schneider. "The local community spirit and loyalty in regional areas is also a unique part of the experience that isn't always found to the same degree in metro areas."
He said like ProVision's metro practices, regional practices are supported by dedicated Business Coaches. "Our coaches tend to spend fewer, but more extended visits in practice, working with the optometrist/s and practice staff when on location… We also supplement practice visits in country areas with other forms of communication such as Skype calls, webinars, regular phone calls and e-mail."
FINANCIAL GAINS
Mr. Schneider said optometrists who move to regional areas enjoy a salary that can be 10 to 20 per cent higher than achievable in metro areas.
"That's in addition to other benefits such as a relocation allowance, regular airfares back home to visit family, and in some cases, extra leave."
It's the principle of supply and demand, he explained, pointing out the shortage of optometrists wanting to move to work in more remote areas. "Salaries in metro areas have fallen significantly due to the increased number of optometrists graduating from Queensland University of Technology, University of New South Wales, Deakin, Flinders and Melbourne Universities."
OPSM, together with Laubman and Pank, is actively recruiting optometrists to experience life in a country practice, with its recently launched 'Eyecare Country Connect' program.
"Eyecare Country Connect is a new way of looking at our optometry team," said Peter Murphy, Director of Eyecare and Community at OPSM. "It taps into the aspirations of our optometrists to live and work in other locations, other than their home city, with the guarantee of their position when they return if they so desire."
He said the program can be for short term assignments of three or six months, or longer term periods of one to two years. "It provides our optometrists with an incredible experience and sets them up for both personal and professional development."
OPSM guarantees a placement back in the city – for example, an optometrist in Melbourne could work six months in Broome and then have a guaranteed role back in Melbourne. The company also provides opportunities for Australian optometrists to work in New Zealand and vice versa.
Specsavers also encourages its optometrists to experience work in the country.
"As part of their development program our metro-based optometrists always have an opportunity to visit and locum in stores while the resident store partner is on annual leave," said Raj Sundarjee, Head of Professional Recruitment at Specsavers. "In addition, we offer a range of full time opportunities for younger optometrists to join regional stores with pay and accommodation loadings."
Interestingly, Specsavers also have a 'bring a friend' package deal, whereby two young optometrists can join a practice together.
"In one instance, three optometrists signed up together into a single region, working across a cluster of Specsavers practices. Metro visits are included, as areaccommodation assistance packages in some cases," he said.
Potential Specsavers partners of regional stores are offered a fully funded, escorted visit to the location, so they can get to know the area better, and inform themselves of accommodation and schooling options as required.
Once the move is finalised, a full relocation package covers the cost of the move while the financial package includes a regional loading on top of Specsaver's guaranteed salary and super package, the cost of four annual return trips to the individual's metro place of origin, and of course, the profits the practice may produce over the lifetime of the franchise agreement.
MANAGING THE CHALLENGES
Making a major move to regional Australia is not all roses, particularly for younger optometrists, as Simon Lewis, General Manager from EyeCare Plus says.
"The first time out of home and away from friends is daunting for everyone, but most find that within two to four weeks, the perceived problems and fears disappear," said Mr. Lewis.
"Meeting people can initially be a challenge, but joining local clubs can quickly lead to finding a new social network. It is also harder to get the same level of family support, but choosing a regional location close enough to the old home base helps with this."
Eyecare Plus helps young optometrists find the regional practice that best suits them then lets the independent practice owners negotiate the terms with the individual.
"Employees benefit from a close knit network that is the Eyecare Plus membership, who are very helpful every step of the way. Our member practices enjoy territory protection and are always willing to share information with colleagues in a non-competitive framework," said Mr. Lewis.
"Most of our young regional optometrists enjoy flexible rostering and the lack of, or only occasional, weekend work. Additionally, working in a regional setting gives them much more personal time as they are not forced to endure lengthy commuting times. A clinical setting, where patients also have more time, allows for a breadth of experiences not necessarily available in a metro practice. Many of our optometrists state that the greater exposure to patient eye diseases, foreign body removal and ocular trauma contributes to their job satisfaction level."
IS A COUNTRY PRACTICE FOR YOU?
The only way you'll know whether a country practice is for you is to give it a go! There are many practices in country Australia that are on the look-out for great eye care professionals. Chances are, they'll give you the opportunity to test the waters by making the move one, six or 12 months before committing.
And if you have a partner, you'll often find his or her professional skills will also be welcomed with open arms.
mivision spoke to optometrists Joshua Clark and Rachel Cauchi; and ophthalmologist Dr. Todd Goodwin, to find out about their experiences working in regional Australia.
Making the Move to Tasmania
Joshua Clark
On 1 January 2016, my wife and I packed our suitcases, filled the boot of the car and started the 900km drive from Sydney to Melbourne. This would be the first leg on our six month trial of country life in beautiful Tasmania. I'd somehow managed to convince my city-slicker, latte-drinking, cafe-going wife to embark on an adventure to experience life outside of the big city rush. Would I do it again? Absolutely…
A question that a lot of colleagues and friends asked me before moving to Tasmania was, "Why would you move to the country? Surely you will become bored?" While there is a definite difference in the pace of life, I would argue that life in a smaller town is extremely refreshing and enjoyable, if given a chance.
There are many great aspects to working in the country. I enjoyed working close to home, a better work/life balance and talking to patients who truly valued an eye test.
My common hours of work were nine to five during the week and nine to one in the afternoon on Saturday (if I was unlucky enough to be rostered on). For me, it took just two minutes to get to and from work, a far cry from spending up to three hours each day criss-crossing the city.
This gave me more time to relax, spend quality time with friends and pursue my passions. I started exercise classes, improved my golf handicap, went to the gym regularly, ran most days and became involved with local community groups. It was truly a well-rounded experience.
Without work on most weekends, my wife and I were free to explore nature. Tasmania has some of Australia's most beautiful walks including the Overland Track and the Three Capes Track. On the odd occasion, we'd make the journey home to see family and friends – it took just three hours to travel from Tasmania to the upper north shore of Sydney – an easy, stress-free commute.
My wife also enjoyed attending the Harvest Markets on Saturday mornings. Rated number one in Australia, she was able to sample the best local produce around the Tamar Valley. There is something incredibly special about people in a community coming together to support each other and appreciate amazing food. To say that our weekly food was delicious is an understatement!
Generosity of Spirit
When it comes to moving to the country, many optometrists fear being isolated from friends and family. During our time in Launceston, we made lifelong friends and I was blown away by how accepting and generous the local people were. There was a real desire to support and help each other out.
This was truly evident when it came time for a friend to celebrate her 30th birthday. Instead of having a lavish party, she decided to hold an event to raise money to support vulnerable (often homeless) mums in the area. Our friends raised around AU$5,000, which provided around 100 survival packs, filled with life necessities such as food and clothes. It was a truly beautiful and selfless event, and just one of many we were invited to attend.
I was deeply impacted by this sense of community. It helped me put everything in perspective and realise how simple gestures can make a real difference to people. Seeing the selfless attitude of our friends improved my attitude in the consulting room and I believe I became a more caring and compassionate optometrist.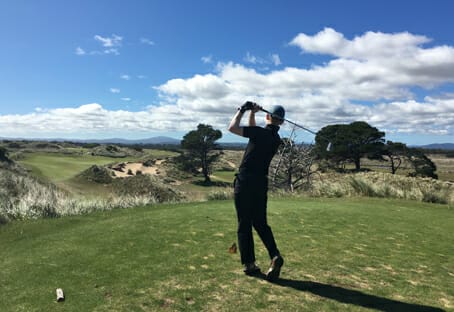 Career Prospects
In contrast to popular belief, career prospects are greater in the country compared to Sydney, Melbourne or Brisbane. There is less competition, rent is lower and patients are more loyal. With fewer providers, there is also greater demand.
From a business perspective, if you have a full book of patients and low overheads, you are onto a good thing and your stress levels decrease!
With just two ophthalmic practices in Launceston, bursting at the seams with patients, I found my daily appointment book filled with complex cases, such as hard contact lens fits, foreign body removals, flashes and floaters and different cases of vision loss – it was definitely a job to stimulate the brain.
Faced with enormous waiting lists, the last thing ophthalmologists want is to see dry eye or glaucoma patients more often than necessary, so I found myself comanaging many of these patients as well. Having done so, I recognise a large scope for quality dry eye examinations and ongoing treatment. With rent being less in the country there are also less financial deterrents to dry eye therapy and glaucoma comanagement. In Launceston, the locals were very open to alternative therapies and preferred natural treatments such as LipiFlow or IPL compared to constantly using drops.
Working in Launceston also gave me an opportunity to service the smaller satellite towns within a few hours' drive of the main centre. For example, during my time there, I was fortunate to spend a day on Flinders Island, where I tested about 20 patients, making up approximately 4 per cent of the island population. These towns often have a large population of elderly people, which means mobility is an issue. Being able to visit them is a wonderful opportunity to give back to the community and really make a difference to their lives.
Feeling Appreciated
Patients in country areas are far more appreciative of an eye exam and generally, prepared to come to multiple appointments to achieve the required result.
On the odd Saturday that I worked, I would be the only eye professional available in the greater Launceston area. Patients with emergencies were incredibly appreciative of anything I could do to help them.
It was commonplace for them to bring in baked scones, coffees or flowers to say thank you. This brought a huge sense of happiness that I haven't often experienced in Sydney.
Making Home in the North
Rachel Cauchi
I grew up in Brisbane, the daughter of a Uniting Church Minister. As such, life was always quite nomadic and I valued relationships – friends and family – over geographic location.
After studying optometry, I moved to Ingham in North Queensland in 1997 to fill a locum position for four weeks and that position turned into six months. I met my future husband there and the move became permanent. Then, in 2002, I bought my own practice, Hinchinbrook Optical, in the area.
Ingham is a farming district, about 100km from Townsville with a shire population of 12,000. Much of the population is elderly – we have three aged care facilities – and a number of even smaller satellite towns access our services.
Everyone knows everyone here – and they know everything about what's happening. While some may think that could be negative, for us it's been a massive support network rather than an intrusion. From a work perspective, I love small town optometry and the relationships I have developed with patients over many years. I've known my elderly patients since they were truly able bodied and the people I see who have dementia are people I knew when they were mentally very alert – this is really helpful for them as well as their families. While I have to refer patients with low vision to Vision Australia for specific low vision aids, I'm still very much involved in their day to day care – this is important because as they become increasingly frail, the prospect of a trip to Townsville to access these services becomes daunting and unrealistic, so the more I'm able to do for them, the less challenging their lives become.
ATTRACTING OPTOMETRISTS
It's difficult to find permanent optometrists for an area like Ingham. When I first bought the practice, I worked as the sole optometrist supported by an optical dispenser. The business has grown and today we have two full time optometrists, four optical dispensers and my husband Travis, who manages the practice and pretests every patient.
Finding our second permanent optometrist took about two years. Because I was so busy managing patients (and being a mother to my two children), it was hard to dedicate enough time to look for someone, so it was a sporadic search. Then one day, I received a call from Michael Tran, an optometrist who was moving to the area with his partner. She had recently graduated as a midwife and wanted to work in regional Australia. He was concerned that with only one practice in Ingham he wouldn't find work – and here we were looking for someone exactly like him. It was a perfect fit.
Our practice is too busy for two optometrists but too small for three so we also rely on visiting optometrists. We're fortunate to have Gary Blake who has worked with us since 2004. He lives between Canada and Australia, but enjoys coming to work with us whenever he is in the country. Gary commutes from Townsville to Ingham when he is with us, which is a 220km round trip, but doesn't mind the drive. He always says there's no snow or ice on the road like Winnipeg (where his practice is in Canada) so it's a breeze to him. Trevor Tchan, a semi-retired optometrist who has worked with us since 2008, lives in Adelaide. Our patients love Trevor and we do too, so it's well worth flying him to Ingham when he can make it.
A CLINICAL FOCUS
The work here is definitely for those who enjoy clinical optometry – it's not just a glasses and contact lens practice. We manage all the age-related pathologies – age related macular degeneration, diabetes, glaucoma, the list goes on.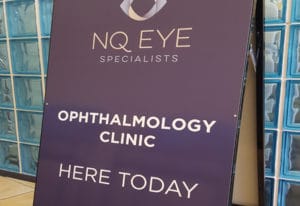 To do this, we have very good relationships with established ophthalmologists in Townsville. Additionally, last year Dr. Todd Goodwin, who was new to Townsville, approached us with the idea of basing himself from our practice once a month to see patients here in Ingham. Dr. Goodwin brings his own receptionist and a nurse, and he simply makes use of our space and our equipment. Because we have three consult rooms and are in the process of expanding our premises, it doesn't impact our practice management.
Dr. Goodwin's presence in Ingham is a huge treatment option for our most frail elderly because they no longer have to travel each month to Townsville for anti-VEGF injections – a trip that would often take a week to recover from. Some of our patients had already decided to stop their treatment rather than make the journey. While they would eventually have gone blind, with Dr. Goodwin here, their vision is stabilised and in some cases improving. It's incredibly rewarding to be able to facilitate such a practical solution to meet their needs.
Ophthalmology on the Road
Dr. Todd Goodwin
I grew up in Townsville and studied medicine at James Cook University before moving to Brisbane to do my ophthalmology training. I get a sense that people who grow up in large cities tend to love living there, but the city never grew on me. My heart was always in Townsville. It's where my family is and I always intended to set up practice back here.
My practice, NQ Eye Specialists, is a general ophthalmology practice and due to a lack of ophthalmology services in areas around Townsville, people travel – in some cases many hours – to see us. I was inspired to establish a clinic in Ingham and another in Ayr because I was getting a lot of patients travelling to see us, sometimes on a monthly basis. It's a big ask for these, often elderly, patients travelling with their working age family members to see us for a brief consult or a quick procedure. I decided that we need to go to them.
It's been a very positive experience for us. We have come across a few patients who had decided to give up treatment due to the difficulties of travel and the burden on their families. We have been able to re-commence their treatment and it really makes a difference in the quality of their lives. That is what makes it all worthwhile. But it goes further than that. Patient's families now don't have to take time off work and be away from their community for the day, it has a real impact on local economies.
Setting those clinics up has opened the channels of communication; so for instance, a local optometrist will ring if they have a concern about a particular patient and if we need to, we will manage the patient remotely, or if time is on our side, we will see the patient at our next visit. Ultimately it's the improved channels of communication that result in better patient care.
Of course when undertaking these 'outreach' clinics it's important to have a great team. We are lucky in that regard as we have really good people in our team who understand the impact of these clinics for the patient. They know that doing these clinics means organising a lot of equipment, which is packed into the car, and long days to provide care closer to the patients, but they also know it means a lot to these patients and their families. We've been warmly welcomed by the local care providers too.
REMOTE PRACTICE
As well as working in country areas, I regularly travel to remote areas. It's a very rewarding way to practice. In our busy practice, things move quickly and it can be hard to get to know people and their backgrounds. When we're out in the country, we're able to take more time, to get to know the patients and develop a deeper understanding of their lifestyle.
One of the big challenges when working in Queensland is the tyranny of distance. This is true for ophthalmologists working in the city with reference to their patients who travel long distances, but it cuts both ways. When I'm out on the road and a patient calls with a problem, I can't always be there in person to help them. It means that you always have to be thinking ahead about what could go wrong in your absence and having good relationships with colleagues who can help if needs be when you're away. We are lucky to have two great optometrists in our practice who can take the load when I'm away. This is where collaborative models of care can make a real difference for patients.