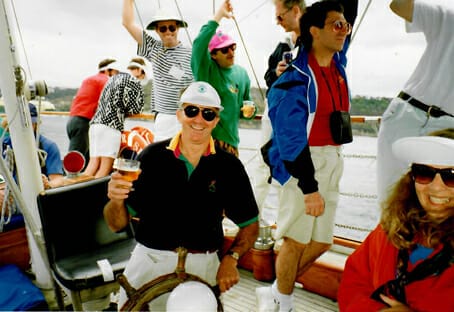 Teacher, technophile, entrepreneur, philanthropist… Richard Grills, founder of Designs for Vision, is a quiet hero of the ophthalmic world. For over 40 years he's trained many young ophthalmologists in optics, and he's identified and brought a wide range of the significant innovations in ophthalmic surgery to Australia. Richard's extraordinary career was initially driven by his passion for surf and the need for glasses… now he's driven by a desire to help people see and achieve quality of life.
Self-described as a "renegade" at school, Richard Grills had little interest in studying back in the 50s, instead preferring to stare out of his Maroubra High School windows at the surf, or dodge a class or two to catch a wave.
Provided with a "gentleman's pass", he completed his schooling in 1960 and resisted his mother's encouragement to become a surveyor. "That would have required university and my grades wouldn't have earned me a place," he said.
Instead, he saw a job advertised in the local paper for a trainee mechanical and dispensing optician at OPSM and, inspired by his own need for glasses, put in an application.
Richard was a natural when it came to physics and math, which has proved to be invaluable throughout his career
"They employed me straight away and they were a very good training organisation," he said. "They put me through the optical manufacturing trade course, and through a management and supervision course. I topped both, because I was really interested in them. Turns out I was quite academic," he said in his typical humble style. In fact, Richard was a natural when it came to physics and math, which has proved to be invaluable throughout his career.
LOW VISION CLINICS
Soon after completing his training, Richard was promoted to run a clinic established by OPSM for people who had severe low vision – the first of its kind – housed within the Medical Eye Service which was run by the then College of Ophthalmology.
"That was in the late 60s and Fred Hollows was starting up his programs in the rooms alongside the clinic, so I got to know Fred from a very early stage, and a whole lot of the guys that were working with him," he said.
His work in low vision broadened and from 1966 – 1974, Richard ran and set up low vision clinics working with ophthalmologists in many locations around the country, including at Prince of Wales Hospital and Sydney Eye Hospital.
At the same time, he was appointed original lecturer and founding Principal of the Guild of Dispensing Opticians, responsible for developing and running a physical course in Sydney and a correspondence course.
Little did Richard know that this would be the beginning of a teaching career that continues today, seeing him teach at three universities, although he has never been a student of one.
INTRODUCTION TO OPHTHALMOLOGISTS
It was at Sydney Eye Hospital, when sitting in on low vision clinics as part of their training, that ophthalmology registrars first became aware of Richard's talents as a tutor.
"One day, one of them came up to me and said, 'Look, I'm in the middle of doing my part one course in ophthalmology… and we have an optics lecturer who's a PhD in physics, and I sit there with my mouth open, because I don't understand a bloody word he's saying to me. I want someone who can teach me the practical aspects of ophthalmic optics.
"I agreed to help and he brought along two fellow students, then more heard about the classes I was giving and eventually I was appointed as a lecturer on the course."
Today Richard lectures ophthalmology students at Sydney University, orthoptists at the University of Technology Sydney, and gives an occasional talk to optometrists at University of New South Wales on behalf of the Optical Distributors and Manufacturers Association (ODMA).
INNOVATING NEW TECHNOLOGIES
Low vision clinics were also responsible for sparking an interest in innovative technology. "Alongside the low vision clinics, I ran a clinic for people who had really severe disabilities, like lepers – I often visited the leper colony at Prince Henry Hospital. I also worked with people who'd suffered huge deformities as a result of cancer – such as having their nose or ears removed. Whenever a doctor came up with an invention to help these people with their vision, they would be directed to me to assist in the design and manufacture of such special devices and spectacles."
DEVELOPMENT OF IRRIGATION SPECTACLES
One of the more interesting projects was the development of 'irrigation spectacles' for Father Frank Flynn of the Outback who suffered from keratoconjunctivitis sicca.
"I arranged for a spectacle maker to make glasses with little wells for saline built into the temples of each frame. There were tubes that drew the saline up and dropped it into the inner canthus of the eye. You tilted your head forward to make the fluid run through," he explained.
Despite the ingenuity of the idea, irrigation spectacles never became hot commercial property – the four patients who
them, rejected them because the tubes would quickly become blocked from the salty water.
"Frank Flynn couldn't understand why that was an issue and he used to say, 'All they need to do is suck it through. You know'."
A paper was published on the invention and the process inspired Richard's imagination. Soon after, he left OPSM to work for an entrepreneur out of Melbourne who was interested in introducing surgeons to phacoemulsification, lasers, vitrectomy systems and computer driven devices such as auto refractors.
SEEKING INNOVATION: DESIGNS FOR VISION
In 1978, Richard established three optical dispensing practices (sold a decade later) and Designs for Vision.
Designs for Vision was set up to supply and distribute ophthalmic and optometric products throughout Australia, New Zealand and the Pacific Islands. The business got off to a good start, however within six years, Alcon purchased Richard's two major products from the original manufacturer.
"Alcon contracted me to support its staff with product training for two years, however I knew that by the end of that time, I would lose half of my business unless I looked to expand," he said.
"I started looking for new technologies, and, as time went on, I collected more and more, and built up a range. Eventually we developed a premier range of instrumentation – Keeler, Volk, Kowa, D&K, DORC and other well known brands in the ophthalmic market… the rest is history."
Richard says it was during those times – in the 70s, 80s and 90s – that ophthalmic technology changed the most and since then, the changes have been incremental.
Indeed, if you look at the technological firsts Designs for Vision has introduced to Australia, it's easy to understand the sentiment. The innovations are vast and include: Argon lasers; phacoemulsification; pars plana vitrectomy; slit lamp diagnostic lenses (used in conjunction with the slit lamp); real time tele-ophthalmology; digital fluorescein angiography; the portable Nd YAG laser; diode lasers; posterior chamber IOLs, (including the first Starr surgical foldable posterior chamber IOLs); diamond knives and titanium microsurgical instruments; punctum plugs; contrast sensitivity tests; Surgitron's multi-frequency oculoplastic surgery system; capsular tension rings; Intelligent Surgical Lasers; Visionblue; an intraocular telescope for people with macular degeneration; the Scheimplug camera (the Oculus Pentacam); the 23 guage pars plana vitrectomy system; the pattern scan laser photocoagulator system; the combination OCT/SLO; confocal microscopes; sulcoflex add-on IOLs; and most recently, iStent micro-incision glaucoma shunts (MIGS) which are quickly gaining approval with cataract surgeons.
It's this interest in new technology – and the vision saving benefits it brings – that keeps Richard absolutely engaged in the business, despite having retired as Managing Director in 2011, handing the reigns to his son, Brad Grills and business partner Nick Apostolou.
In 2015, Designs for Vision was sold to Paragon Care, however Brad and Nick continue to manage the company and Richard continues on as a consultant. Additionally, he is a Board member of ODMA; Vice Chairman of the Genetic Eye Foundation; a Board member of Macular Disease Foundation Australia; Visiting Committee member of UNSW Optometry School and UTS Orthoptics School; Chairman of Essilor Vision Foundation and a Committee member of the Kerataconus Registry.
Now in his mid 70s, Richard says he has no intention of retiring just yet. In fact he's keenly looking forward to seeing the introduction of new technologies – stem cell treatments, truly accommodating IOLs, the next evolution of the OCT and artificial intelligence for starters. Look forward to seeing him at the next conference!
Motivated for Change
Over 40 years Richard Grills has changed the lives of many people. Here is just one of the stories he tells.
Richard Grills
There was a bloke I met when I was conducting the clinic at Sydney Eye Hospital. He had been down and out, an alcoholic, drinking metho in the street and along with everything else, his vision had been pretty much destroyed. When he came to see me in the first instance, he was about 22, and he said, "I've joined Alcoholics Anonymous and I guarantee I'm off the grog. I've decided I've got to change my life."
He had a terrible complexion because the alcohol had changed his skin – it was blotchy in some places, bright red and then white in others. The referring ophthalmologist diagnosed alcohol induced maculopathy. He said, "I want to go back to school to do my leaving certificate… but my vision is shot, what can you do?"
So we made him glasses, which were a plus 10 dioptre reading. He could read n8 at a 10cm working distance, but he wasn't worried about that, because he said, "I can sit up the front in the classroom". And that's what he did. He went back to a normal school, sat up the front of the classroom so he could see the blackboard, and he had to work with everything up close.
Anyway about, two or three years later, he came back to the clinic and said, "I've finished my leaving certificate. I want to do law."
I was surprised, given his background and his poor eyesight. At that time there were no computers, so no option to increase font sizes on the screen and I said to him, "There's a hell of a lot of reading to do when you study law," but he wasn't phased.
He said, "Nowadays I have a typewriter that can do large print typing for me, and therefore I don't need to have such strong glasses, so can you make something for me that's a bit less obvious and with a longer working distance."
I made him up bifocals, with a reading aid in the bottom of about plus six, and then he said, "The other problem I have is, I need to see the slides on the screen and I can't sit right up the front when I'm in a university. So what can you give me to see at a distance?"
We put a little 2.5x telescope in the top of his glasses, which today would be called a bioptic system – at the time, it was the first I'd ever encounted. So with the telescope in the top and bifocals in the bottom, he had better functional vision – he could see the slides, he could read and write and was very pleased with the result.
He went away happy with that and we didn't see him for another five years when he came back in and announced, "I'm a practising barrister".
I couldn't believe his motivation.
He said, "I'm still off the grog, I've got a good life, I'm working in a law firm in Sydney and I'm on a major trial… I want to appear normal in court… I've got a secretary who has a computer, and she gives all my notes to me in large print, so will you make me some glasses that I can read at a normal distance, and be able to look around as if I don't have any problem with my vision?"
By that stage, all he needed was regular bifocals… the opportunity to deal with people with a severe visual disability, and help them do something with their lives against all the odds – and that's a classic example – that's what inspires me.
Motivation is the key to it all really. People have to be motivated to want to do something with the cards they have been dealt.
In March 2018, Richard Grills was awarded the Distinguished Services Certificate from RANZCO NSW. In a message to Richard at the award presentation, Clinical Associate Professor Ivan Goldberg said, "You have been a consistent beacon of encouragement, a font of wise advice and guidance and a genuine friend to me and to so many others over several decades… You are one of the most decent and honourable gentlemen I have ever met.