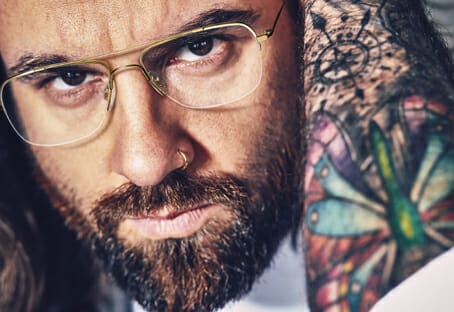 As Titanflex celebrates its 30th anniversary, lead designer Harald Heinrich reflects on the unique history of the brand and the reasons behind its success.
Titanflex was established in 1988 by the German eyewear manufacturer Eschenbach Optik. At the time, this new line of spectacle frames for men revolutionised the market as they were made from titanium alloy, an entirely new metal comprising titanium mixed other chemical elements.
Pure titanium is known for its corrosion resistance and extreme strength – in fact, it's one of the strongest metals available. It's used for applications ranging from jewelry and dental implants to airplanes and ships. Titanium alloys retain the same strength and corrosion resistance of pure titanium, while offering greater flexibility and malleability. Titanium alloy is also light in weight, making this metal ideal for producing comfortable, durable eyewear that can be perfectly fitted to the individual patient's head.
Harald Heinrich joined the design team at Titanflex in the year 2000. Having come from the automotive design sector, he was familiar with the use of metals but looking for something a bit more creative.
These glasses can be perfectly fitted to any head shape. The correct fitting pressure is not generated by bending the hinges, but rather via the material
"After design studies at University I started working in the automotive design sector, but found it too technically oriented – I was looking for a more emotional product," he explained.
That was back in the 80s when glasses were primarily considered to be a medical aid. "Spectacle designs were relatively ugly, however the industry was shifting, becoming more fashion oriented. Eyewear companies were establishing design departments and they were searching for young creative designers to introduce eyewear as a product of fashion and emotion. That's what I was looking for so I joined the sector. I had several inspiring experiences designing for some well known companies as a freelancer before finally joining Titanflex in the new millennium."
Heinrich describes Titanflex eyewear as "high tech meets design"… "glasses made from memory metal that are synonymous with modern, Scandinavian-inspired, masculine design".
"Our customers appreciate our high design, quality and comfort standards, just as they do the technological and engineering expertise that give Titanflex its special value," he said.
Indeed, Titanflex glasses are up to a third lighter than conventional frames – something that's instantly noticed when you hold the glasses in your hands. Additionally, the metal is ten times more flexible than conventional spring steel – with the ability to bend from -10°C to +40°C. Even after suffering deformations, the glasses return to their original shape ensuring a comfortable fit is permanently retained.
"These glasses can be perfectly fitted to any head shape. The correct fitting pressure is not generated by bending the hinges, but rather via the material – it's a far more advanced high precision method. Anyone who inadvertently sits on their eyewear, or stores their glasses in their jacket pocket, will appreciate the value of this performance material."
The technical qualities of Titanflex were recognised in 2012 with two awards: the "iF material design award" and the "red dot design award".
DESIGN SENSIBILITIES
Titanflex designs a variety of spectacle frames and sunglasses for men, all of which are manufactured in China and Japan. There's also a sturdy collection of sun and optical eyewear for kids that boast the same strength, fitting flexibility and memory retention.
When it comes to design, Heinrich said he looks to fashion sites, Instagram, eyewear fairs, street styles, magazines and fashion stores for inspiration. "Sunglass designs can be more expressive – and therefore more creative to design – typically because they're worn for just a few hours of the day whereas optical frames need to be more conservative for longer term wear. All of our sunglasses incorporate the renowned 'chucked' Titanflex bridge, first launched with model 3666 in 2004, and can be made up with prescription lenses," he said.
Both the frame shapes and colours of all Titanflex collections are typically understated, casual yet sophisticated. Heinrich predicts strong growth in metal frames in the months to come, in round and small rectangular shapes.
Contact: European Eyewear (AUS) 03 8756 0900.