Good design isn't necessarily ground breaking. It's simply aesthetically pleasing, functional, of high quality, and an advance on what's currently available. Plus, it needs to connect to our emotional and aspirational ambitions. These are qualities that European designers have been renowned for achieving over centuries.
From appliances, electronics, and furniture, to footwear, clothing, and eyewear, good design is what makes a product sell and retain its appeal over time. About 50 years ago, German industrial designer Dieter Rams, best known for the design of Braun's consumer products over many years, came up with 10 principles of good design. Fifty years on, and despite the changing nature of design due to technology, those principles still hold true. Rams said good design is:
Innovative
Makes a product useful
Aesthetic
Makes a product understandable
Unobtrusive
Honest
Long-lasting
Thorough, down to the last detail
Environmentally friendly, and • Involves as little design as possible1
The extremely precise handcrafted manufacturing of REI is consistent with a sophisticated, highly developed functionality
EYEWEAR THAT REFLECTS THE PRINCIPLES
It's interesting to reflect on the winners in the glasses category of the 2017 Red Dot awards,2  which recognise good design quality. Most notable is that the jury members recognise many of Rams' principles of good design in their statements about the winning products.
When reporting on REI's Best of the Best winning entry, 'A symphony of wood and horn' designed by the brand's in-house design team, they recognised the frame's innovation, functionality, thorough detail, and aesthetic. The jurors wrote: "The extremely precise handcrafted manufacturing of REI is consistent with a sophisticated, highly developed functionality. The captivatingly innovative solution of the 'Snap Joint' hinge leads to more flexibility and a more uncomplicated use."
Lindberg won a Red Dot for 'Sirius Titanium', a frame with interchangeable lenses inspired by earlier models of the legendary Danish Sirius dog sled patrol. The designers wrote, "These were needed to protect the wearer in extreme weather conditions from light reflected from the snow. In this modern variant, the lenses can be changed by means of a simple snap system. The inner lens frame can also be optionally exchanged for a form with reinforced side protection. Lenses with a single focal value or multifocal lenses as well as models without vision correction can be inserted." The juror's instantly recognised the usefulness of the design stating, "Whether used for reading or long-distance vision while doing sports, only a single spectacle frame is needed: an impressive solution for the widespread problem of having to constantly change glasses."
The specific functionality of Nine Eyewear's Red Dot winning Nine Golf Model 2317, was recognised by the jury. Purpose designed for gold, these glasses weigh in at just nine grams and feature temple ends that remain in place, even when taking a swing. Lenses with selective absorption provide good vision for the golfer.
The jury stated, "The construction of these glasses meets the special requirements on the golf course in a convincing way; also, the quality of the ProGolf special lenses impresses."
The Red Dot Awards date back to 1955, even before Dieter Rams developed his principles of good design. Today the international design competition judges 48 categories, manufacturers and designers from all over the world, and in 2017 all winning entries in the glasses competition were European. The 2018 Red Dot entries had been judged but were yet to be announced at the time of going to print. This year, companies and designers from 59 countries entered more than 6,300 innovations in the Red Dot Award: Product Design, a higher number than ever before and the 39 jury members were impressed by the quality.
Jury member and influencer in the field of innovation, Thomas Lockwood, believes the improving quality is a sign that companies increasingly define good design as a success factor in order to stay afloat on the market. "Design and innovation are the lifeline of our business," he said.
You'll see some beautiful European inspired frames, employing Dieter Ram's principles of good design, in the coming pages.
Reference
www.interaction-design.org/literature/article/dieter-rams- 10-timeless-commandments-for-good-design
red-dot.de/pd/online-exhibition/?lang=en
Inspired by Europe
Persol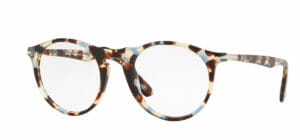 Persol's model PO3201V reinterprets the design of its famous 649. Manufactured from acetate, this frame features a key bridge with classic horn reliefs in the upper part; steel flex hinges; and temples with a Meflecto system for a personalised fit. Available in classic black, Havana, terra di Siena, coffee, and blue spotted Havana – shades that come from the brand's historic archives.
Contact: Luxottica Account Manager 
Lozza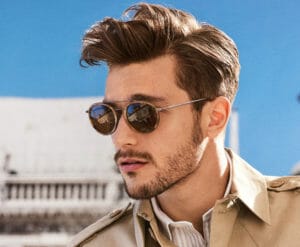 Lozza marks its 140th birthday with a special limited edition Zilo Titanium frame, an iconic style created by the brand in the 40s, which sold millions, won a fashion award in the 60s, and has not gone out of fashion yet. Available in 140 numbered items in gold and silver with polarised 'Barberini' crystal lenses.
Contact: De Rigo (AUS) 02 9428 1500
Land Rover
In true Land Rover style, Fenton combines the very best of British design with retro appeal. Available in an eye size of 51, in black acetate and striated brown, the Fenton features an updated version of the iconic round eye shape and a wrap trim in silver, with custom tips and a premium OBE flex hinge.
Contact: Aarons Eyewear (AUS) 07 3367 8447 
Centrostyle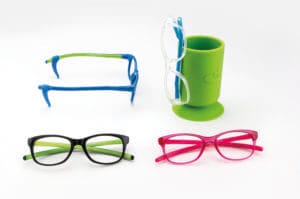 Centrostyle's Active frames for children are made from lightweight, flexible grilamid and feature a centred bridge and co-injection temples with a double curve and rubber inserts. These enable the frame to be correctly positioned on the child's face for limited movement and maximum comfort. Optical centres are maintained, even when the child plays. Use of the silicone frame-locks, supplied with the frame, is recommended.
Contact: Aviva (AUS) 08 9353 2814 
Humphreys
From street fashion to sneakers, Humphrey's closely follows current European fashion trends. Classic shapes in fine metal are back, including panto and panto with double bridge. These shapes have been updated with stainless steel fronts, spring hinges, and temple tips with a splash of colour.
Contact: European Eyewear (AUS) 03 8756 0900 
Anne & Valentin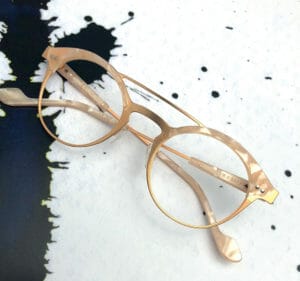 Ginicaster's eyebrow arch is a direct reference to guitar pickguards, and the precise quasi-artisanal details are inspired by the craft of string and electric instrument makers. A genderless panto with arched brow and double bridge, it's the Hi-Fi concept model that rocks the most!
Contact: Eyemakers (AUS) 02 9960 7766 
Kliik Denmark
Model K-624 is one of three new styles to be launched by Kliik Denmark. Inspired by the clean, modern aesthetic of Danish design, these edgy frames are perfect for smaller eye sizes. K-624 combines a squared off round shape with a custom lamination, and beveling along the brow and end pieces. Available in vivid hues of cobalt, fuchsia, black, and brown.
Contact: Kliik Denmark www.kliik.com
Xavier Garcia
Xavier Garcia draws inspiration from its home town of Barcelona Spain. This season's release features simple elegant designs referencing the romance of European style.
Contact: LBJ Optical (AUS) 1800 146 228 
Sandro
Sandro eyewear is inspired by the era of rock'n'roll, with sunglasses and optical glasses bringing together a modern look, with vintage touches and a play on androgyny.
Contact: Mondottica (AUS) 02 8436 6666 
Bon Vivant
Bon Vivant has unveiled three new frames for the season. Among them is the Emeril, a fresh, rounded off square shape in expertly finished matte and glossy acetate. Available in several Parisian summertime-inspired hues and features.
Contact: ProOptics (AUS) 02 8007 6041 
rocco by Rodentock
First seen in the 60s, rocco by Rodenstock suddenly disappeared, but now it's back in a retro design, wrought with ultra-modern materials. The yellow rocco circle is the distinctive mark that gives each pair of glasses an individual dab of colour.
Contact: Rodenstock (AUS) 02 9748 0988
Calvin Klein
Metal and leather harmoniously blend in this open, architecturally inspired design by Calvin Klein. The retro-round front features a sleek top bar anchoring a 'fly away' bridge. Available in red, black, white and blush.
Contact: VSP Australia (AUS) 02 9697 8080 
Fleye
Fleye is high-end, award winning Danish design – puristic yet daring aesthetics blend urban impulses with classic simplicity.
Contact: House of Brands (AUS) 02 8998 9900 
neubau
neubau eyewear has launched a stainless steel collection with revolutionary 3D printed elements and progressive, urban designs. Models Erwin, Sarah, Felix and Manu, feature colourful 3D printed front polymer rim covers.
Contact: Mimo (AUS) 02 9970 1800 
Von Arkel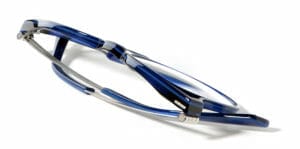 Von Arkel's Caliber 6 was conceived with extreme technicality and durability in mind. At the forefront of innovation, it features the smallest, most mysterious of caliber hinges from the Von Arkel collection. Frictionless assembly assures the hinge's longevity.
Contact: MyM Group (AUS) 0429 167 732
Jaguar
Jaguar Eyewear combines the latest eyewear technology with unique designs and outstanding German quality. The collection mirrors the elegant design of the Jaguar sports car.
Contact: VMD (AUS) 1800 449 845 
Zeiss Eyewear
Zeiss eyewear is designed to match facial contours. Light weight and comfortable, these stylish frames are constructed from TX5 for durability and hypoallergenic advantages. Fit and adjustment ensures the lenses are correctly held.
Contact: Optique Line (AUS) 03 9853 0796 
Givenchy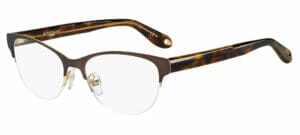 Givenchy's model GV 0082 is a rimless optical frame with metal wire core encapsulated into the temples. The frame is characterised by the mattcoloured front and gold details.
Contact: Safilo (AUS) 02 9540 0500 
William Morris
Inspired by the 1940s, William Morris model BL40001 is a true combination frame, crafted from hand polished acetate with a sleekly curved, high gloss contrasting metal top bar. Available in three colour ways: high gloss black with a gold top bar; midnight blue with a silver top bar; and marbled tortoiseshell with a shiny gold top bar.
Contact: Frames Etcetera (AUS) 1800 708 771 
Komorebi Eyewear
Komorebi Eyewear is an exciting new brand to come out of Belgium. Every model within the collection is inspired by transparency, light and reflection.
Contact: MyOptics (AUS) 03 9527 1336