It was the year 2000 in Western Australia. Entrepreneur John Malloy analysed a saturated eyewear market full of sunglasses fitted with CR39 and polycarbonate lenses. He found a gap… Otis was born.
Otis eyewear set itself apart from day one with great design and 100 per cent premium mineral glass lenses that delivered unmatched clarity and technical excellence when compared to standard plastic lens eyewear.
Founded on the wave-rich coastline of Western Australia, the brand was initially designed for those who enjoy coastal and surf lifestyles. However, as it's expanded, in terms of frame designs and ambassador relationships, so too has the brand's target market. Today, Otis is worn by active lifestyle consumers – men and women – in the 25–45 age bracket, as well as premium sunglass buyers inspired by fashion, style and technical excellence.
We want our customers to take our eyewear both near and far, on any and all adventures without having to worry about compromising
"Otis was designed to transcend the boundaries between style, durability and technical excellence. We want our customers to take our eyewear both near and far, on any and all adventures without having to worry about compromising reliability, durability or look," says Stephen Gerard, Digital Marketing and Ecomm manager at Otis.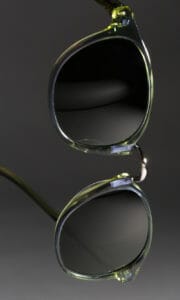 "We have everything from directional, style-driven frames inspired by old classic frames of the 50s and 60s to functional and comfortable 8-base frames designed for outdoor, active lifestyle enthusiasts who love hiking, being on the water, beach days, etc."
PRACTICAL FUNCTIONAL DESIGN
Lucy Martino, Otis' product developer/ designer, is passionate about creating practical, functional design. "I've come from a strong sport, street and surf background focusing on lifestyle and technical design.
"I really believe that excellent design is not only about colour and style – it needs to function and fit well too. For this reason, I became heavily involved in the technical side of product development… Designing Otis eyewear lets me incorporate my love of colour and style while getting involved in the essential micro detail of ergonomics, shape and fit."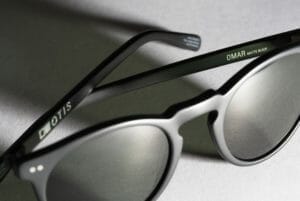 Gerard says the use of mineral glass lenses in 100 per cent of the brand's eyewear contributes significantly to its functionality. "Mineral glass is a hybrid glass half the weight and twice the strength of standard crown glass, which makes the clarity unparalleled and distortion free.
"What makes mineral glass so special is that it is sourced from natural elements like sand and soda ash. These natural elements offer a lot of great advantages from our perspective – they're endlessly recyclable and harmless to humans and animals, and they provide exceptional optical clarity and a high resistance to scratching, which makes it truly the best lens material available on earth."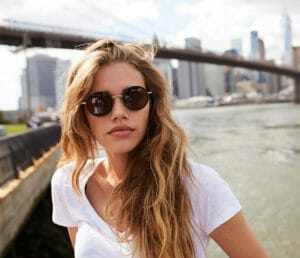 COASTAL HERITAGE
Undoubtedly, the brand's West Australian heritage also contributes to its unique qualities.
"Otis is an encapsulation of Western Australia, both through the materials we use and the frame designs we create, as well as the style and overall brand message we convey to consumers," says Gerard. "Southwest of Australia is remote, beautiful and raw all in one. It's Australia at its core because of how simple the living is and just how beautiful the surroundings are. Everything truly revolves around nature and the ocean. You have wildlife everywhere and a laid back yet hard working way of living. You get dusty dirt tracks that drop into the deepest blue waters. The colours of the land, sea and sky are a bit more vibrant down here, but the weather is also harsh, and that necessitates quality eyewear for people who surround their lives with outdoor activity and leisure."
WELL RECEIVED COLLECTION
Martino said when Otis launched it's 2018 collection earlier this year, it was well received. "It's a great mix of materials, colours and designs to get consumers from all walks of life excited about eyewear – and being completely r-xable, it is a legitimate alternative to many of the large well-known branded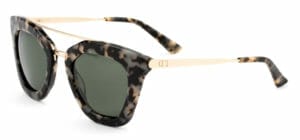 sunglass collections sold in optometry practices.
"The 2019 collection will be released in February 2019 and features some elevated acetate styles and a new transparent material that looks fresh and interesting. Within the line we also have some wire frames designed for balance and wearability so customers can wear product all day with comfort and style. Our mainline core product for 2019 will still remain Swiss Grilamid, which is light and robust, but we have some nice new pieces and colours surrounding the core product, which everyone is really excited about."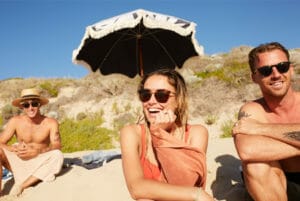 Otis currently sells in Australia, New Zealand, Indonesia, Japan, the United States, the United Kingdom and France. The company remains privately owned, and is headquartered in the small town of Yallingup, Western Australia. Mineral glass for lenses are sourced from Barberini, Italy and, depending on the model, the frames are either manufactured in Japan or China.
Otis eyewear is distributed in Australia by ProOptics (AUS) 02 8007 6041