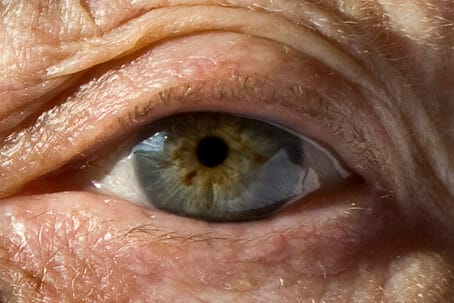 Thinner retinas in the human eye show that a person is at significant and increased risk of future mental decline, according to new research published in JAMA Neurology.
This breakthrough study, co-authored by Prof. Paul Foster and consultant ophthalmic surgeon Praveen Patel, both from Moorfields Eye Hospital and the UCL Institute of Ophthalmology, suggests regular eye tests could help identify those likely to get dementia at a much earlier stage than currently possible. This means suitable treatments could be prescribed at a more effective time to slow or stop the onset of dementia at early stages of the disease.
In the largest longitudinal study of its kind, researchers assessed UK Biobank data from 32,000 anonymised individuals, aged between 40 and 69.
Selected participants had undergone optical coherence tomography (OCT) between the years 2006 – 2010 and a series of basic cognitive tests, which assessed memory, reaction time and reasoning. The OCT and cognitive tests were then repeated in a subset of participants approximately three years after baseline in 2013.
The researchers found a significant association between retinal nerve fibre layer (RNFL) thickness and cognitive function at baseline. People in the lowest two quintiles of RNFL thickness were at around double the risk of having mild cognitive problems when examined. Additionally, people with thinner RNFL were twice as likely to suffer cognitive decline over the next three years.