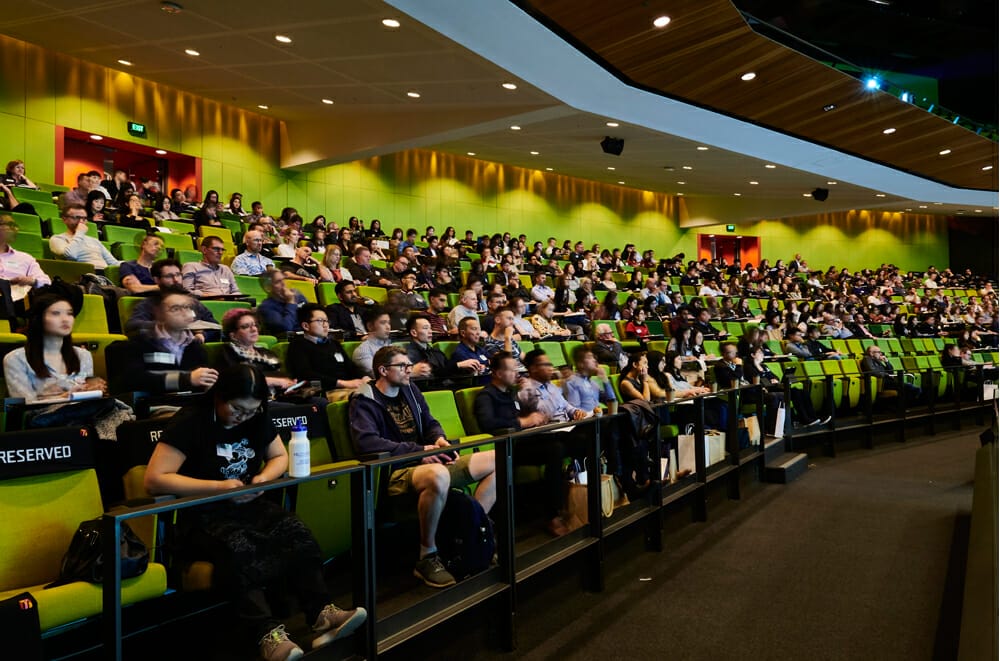 Specsavers has demonstrated its commitment to transforming eye health with a clinically focussed annual conference in Melbourne that strongly encouraged collaborative care.
Specsavers' 7th annual clinical conference in Melbourne, over the weekend of 7–8 September, was attended by more than 600 delegates on the first day and over 700 delegates on the second. Delegates comprised eye care professionals from within and outside the Specsavers group, as well as students. The program included a welcome dinner at the National Gallery of Victoria, during which a donation of AU$31,722 was presented to WA's Lions Outback Vision. The money was raised in the week leading up to the dinner, with donations primarily coming from delegates.
An expanded CPD program offered 10 clinical lectures delivered by ophthalmologists across two full days and four 'fringe' talks presented in the exhibition space by industry influencers. Ophthalmologists from a diverse range of sub specialties delivered lectures that emphasised the need for collaborative care to achieve optimum patient outcomes.
HUNTING GLAUCOMA
Speaking on glaucoma, often referred to as the "sneak thief of sight", Melbourne's Dr. Simon Skalicky said, 300,000 Australians currently have the disease and prevalence is increasing with our ageing population.
"We all have to hunt for glaucoma – if we wait for symptoms, we wait too long," said Dr. Skalicky. He said glaucoma management involves a team of health professionals and family / carers with the patient at the centre.
"Collaborative care is a big thing… the principles of collaborative care are: the patient comes first and success rests on good communication with the patient and between practitioners… a didactic approach no longer works. Patients come in knowing a bit about glaucoma (they've done their research), we need to educate them and involve them in the clinical decision making – this leads to best outcomes."
Dr. Skalicky said it is important for optometrists and ophthalmologists to respect each other's professions and work together positively.
"Glaucoma management requires a flexible approach. The RANZCO (Royal Australian and New Zealand College of Ophthalmology) referral pathway for management of glaucoma is complicated but it's a guideline – it's not a one size fits all… you need to be adaptable and bear in mind what your patient wants and expects as well.
"Communication is key – if you see something you don't feel comfortable about, get on the phone to the ophthalmologist – ultimately it's the patients that have to come first."
Dr. Skalicky recommended using all available resources to care for patients, and highlighted the support that Glaucoma Australia provides to people throughout all stages of the glaucoma journey. He said an efficient referral process facilitated via a partnership between the Oculo platform, optometrists and Glaucoma Australia has significantly increased the number of patients being referred to Glaucoma Australia for support.
MANAGING DIABETIC RETINOPATHY
Dr. Erwin Groeneveld spoke on diabetes and diabetic eye disease, beginning by highlighting some disturbing facts: by 2035, it is predicted that 592 million people worldwide will have diabetes; one in three people with diabetes will develop diabetic retinopathy (DR); and in Australia, 80 per cent of the costs associated with diabetes are due to complications.
He said there are several key risk factors for the development and progression of DR in Type 2 diabetic patients and, to properly interpret guidelines, these should all be assessed when determining how often a patient needs to be reviewed.
Dr. Groeneveld said the risk factors are:
The duration of diabetes – the longer a person has diabetes, the higher the risk of developing DR, with people at greater risk after 10 years.
Elevated HbA1c – this is the most important modifiable risk factor and should be a key factor in determining the regularity of eye health checks as elevated HbA1C can exponentially increase the risk of DR progression. Additionally, HbA1c determines the progression of microvascular complications throughout the body.
Hypertension – blood pressure affects micro vascular and macro vascular disease, making management by a patient's GP very important. Additionally, the optometrist plays an important role in communicating the status of the patient's retinopathy to the GP.
Dyslipidaemia – this is a build-up of fatty deposits in the blood vessels – which can be "light like snowflakes" or "small and dense like tiny ball bearings". The latter can be particularly harmful, especially in conjunction with high blood pressure.
Ethnic origin (Indigenous and Polynesian people are at higher risk of diabetic eye disease).
"The main goal of managing DR is to slow progression, recover function and prevent vision loss; and we can achieve all these objectives without laying a hand on a patient," said Dr. Groeneveld. "By working together we can reduce vision loss by managing the risk factors. We can recover function by encouraging exercise, and we can avoid collateral damage to vision by delaying invasive procedures like laser treatment and injections where possible. We can see the patient at three month intervals to monitor the effects of systemic interventions and we can recommend pairing with other forms of treatment, such as Fenofibrate or Lipidil. The ACCORD and FIELD studies have shown Fenofibrate can reduce progression of DR in type 2 disease… In the overall population those with earlier DR did better than those with more advanced DR when treated with Fenofibrate".
DIAGNOSING CORNEAL LESIONS
Dr. Chameen Samarawickrama spoke about diagnosing and managing corneal lesions.
He said with so many possible presentations of corneal lesions there is a huge knowledge base required to manage corneal pathology well. The likelihood of any particular condition will vary according to geography, season, environment and a patient's personal behaviour etc. Understanding first principles, having a systematic approach, and using lists and flow charts can help ensure that all possible causes are considered, and help assess how a disease is progressing, when patients should be reviewed, or referred on.
Dr. Samarawickrama listed three common corneal lesions as marginal keratitis, microbial keratitis, and a broad heterogenous group of ocular and systemic disorders classified as peripheral ulcerative keratitis.
He said differentiating marginal from microbial keratitis can be difficult and if unsure, the patient should be treated for microbial keratitis because this can cause a person to lose vision.
He said contact lens (CL) wear is the most common risk factor for microbial keratitis. Wearing CLs every day of the week increases the risk of keratitis six fold, while wearing CLs overnight, even if they are extended wear lenses, increases the risk of keratitis by five-fold. Buying CLs online vs. buying them from an optometrist increases the risk by four times because sterility cannot be controlled. Smoking increases the risk of microbial keratitis by three times. Repeated patient education is important in helping to reduce these risks.
Speaking of orthokeratology, Dr. Samarawickrama said the evidence is shifting. "On the balance of things, I don't believe in Ortho-K. The old evidence suggested it worked well; however, the newer evidence says it thins corneal epithelium and stresses the cornea. I wonder whether it causes the same problem as eye rubbing in keratoconus?" He urged optometrists to review the recent literature and update their understanding of the risks involved.
Dr. Samarawickrama said 95 per cent of typical bacterial keratitis cases (sudden onset, less than 1mm in size and identifiable risk factors) can be started on immediate treatment without further investigation; however, atypical cases – variable onset, large infection (>1mm), unknown risk factors or specific risk factors, such as trauma with plant matter, or swimming in contact lenses for example – will require further investigation. "If you can get the patient to an ophthalmologist within a few hours, don't start them on antibiotics as this reduces the yield from corneal scrapes, making it harder to diagnose."
DETECTING HEREDITARY OPTIC NEUROPATHIES
Associate Professor David Mackey spoke about hereditary optic neuropathies, drawing particular attention to the most common of all, which is Leber Hereditary Optic Neuropathy (LHON). While only about five new cases occur in Australia each year, the impact can be devastating. "If you see someone with it, you don't forget – you see a healthy 20 year old man who goes blind very quickly," he said.
Most patients diagnosed with LHON are aged between 18–30, however it can occur at any age. The symptoms are sudden drop in visual acuity, severe generalised colour vision abnormality, and central field loss. Once vision loss occurs, optic atrophy occurs within six to 12 months. The patient can become legally blind within several weeks, losing the ability to read, drive, and recognise faces. The vision loss is similar to late stage macular degeneration. Patients should be advised they will not go completely blind and sometimes recovery can occur. Additionally some patients with central scotomas can be taught eccentric fixation, to effectively use their remaining vision.
Dr. Mackey said LHON can be difficult to detect in the early stages and can be present in many family members, even if they don't lose vision.
"If you have a patient who may have LHON please contact Lisa Kearns orthoptist and genetics engineer at Centre for Eye Research Australia, at the Royal Victorian Eye and Ear Hospital. She can look up the family to see whether there is a known genetic disorder, and provide the patient and family with support."
REFERRING CHILDREN ON
The final lecture at Specsaver's annual clinical conference was delivered by the University of Queensland's Professor Glen Gole, who spoke about when to refer children to an ophthalmologist. Prof. Gole said collaborative care between optometrists and ophthalmologists is essential to manage the high number of children who require professional eye care because of an increasing population and an increasing number of children surviving serious illness. "Our existing healthcare models cannot cope with the workload that is in front of us. We're in a rapidly changing landscape… turf wars are a relic of the past and do not serve the public good," he said.
Children who should be immediately referred on include those with any sight threatening condition – eg. congenital cataract, bacterial keratitis, and esotropia if uncorrected with glasses containing the full cycloplegic refraction (binocularity will be lost in three to four months); if you're unsure about diagnosis; if the condition is not responding as it should eg. amblyopia, red eye; any uncommon condition outside your experience including high refractive errors; any child with a white pupil (refer same day); an apparently blind child, and a child with infantile onset nystagmus. He cautioned optometrists to always err on the side of caution.
Prof. Gole said optometrists with cameras now find many children with swollen discs and most will have pseudopapilloedema however referral is essential. He said, "1–2 per cent of the population have drusen, however children with drusen may still have papilloedema, which means they need to be followed for a while to make sure nothing is missed. If a child regularly wakes up with a headache and it is increasing in severity, it is a brain tumour until proven otherwise – get them seen straight away." He said many unnecessary investigations can be avoided with careful examination in a hospital setting.
The 8th Specsavers Clinical Conference will be held at the Melbourne Convention and Exhibition Centre in 2019 from 7–8 September.