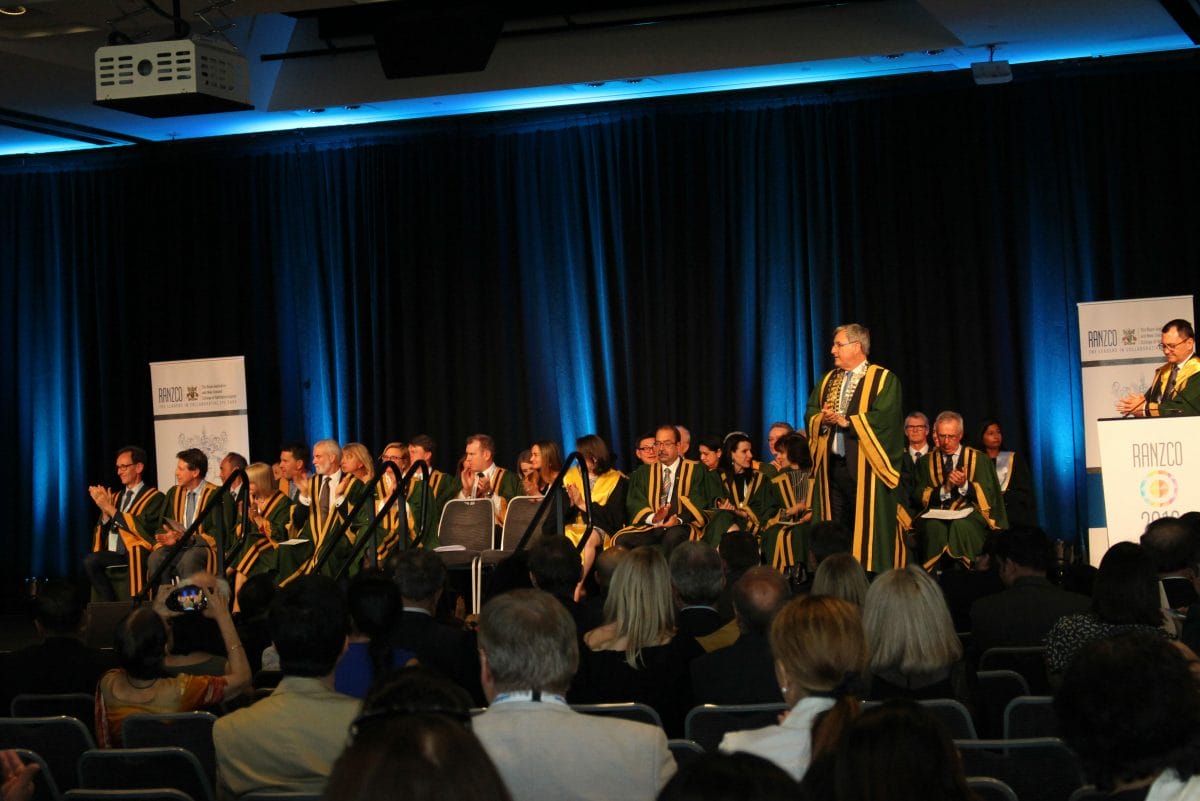 The 2018 Annual Scientific Congress of the Royal Australian and New Zealand College of Ophthalmologists (RANZCO) was held in beautiful Adelaide. Over 2,000 ophthalmologists, orthoptists, practice managers, and exhibitors gathered to hear the latest in research from around the globe. This was supported by industry colleagues within a lively exhibition hall for information gathering and social networking.
Delegates at RANZCO 2018 were spoilt for choice by a wonderful selection of both local and international speakers, whose work continues to inspire and amaze. The overview here presents some of the many highlights from the 50th RANZCO Congress.
OCT-A images both the central macula and peripheral perfusion so well that it can be used as a surrogate for fluorescein angiography in many cases
RETINA
The Australian and New Zealand Society of Retinal Specialists (ANZSRS), which holds an annual half day seminar on the day prior to RANZCO Congress, was delighted to host Professor Giovanni Staurenghi from Milan this year. There was a focus on multimodal imaging at both the ANZSRS satellite meeting and RANZCO Congress. Professor Staurenghi provided several updates across both, including the invited RANZCO Retina Update Lecture, at which he discussed optical coherence tomography angiography (OCT-A) and where we sit with this technology in 2018. He elaborated on the different machines currently on the market and what we have to be mindful of when interpreting the images from them. He advised that each of the machines generate segmentation images using different parameters such as structural OCT or using flow signals, and this affects the final image. There was also much discussion around the role that OCT-A has in managing diseases such as diabetic retinopathy. It is now well accepted that OCT-A images both the central macula and peripheral perfusion so well that it can be used as a surrogate for fluorescein angiography in many cases. OCT-A reflects capillary flow, so if there is drop out, this will show in most cases equally well on OCT-A as on traditional angiography – without the need for dye. What is still controversial is the role of OCT-A in diabetic retinopathy monitoring. For example, in patients undergoing anti-VEGF therapy for diabetic macular oedema, OCT-A can be used not only to look at the macula capillary perfusion but also the peripheral changes that can accompany this treatment. This utility is yet to be fully explored. New generation trials such as RHNE and KESTRAL/KITE are incorporating wide field OCT-A to monitor peripheral capillary perfusion in patients undergoing anti-VEGF treatment for diabetic macular oedema.
Professor Robyn Guymer gave several lectures on age related macular degeneration. She was nominated for the Gerard Crock Trophy for Best Paper at RANZCO, having represented the FLUID study group which looked at tolerating a degree of subretinal fluid (SRF) in the treatment of neovascular age related macular degeneration (nAMD). The rationale behind the study was that it is well known that even with intensive anti-VEGF therapy some retinas never are completely 'dry' of their SRF and good visual acuity is still possible. On the other hand, intra-retinal fluid (IRF) is known to be associated with poorer visual acuity outcomes. The FLUID study compared two treatment arms – an 'intensive' arm and a 'relaxed' arm. Both groups had the usual three loading doses with ranibizumab, but in the relaxed arm, a pre-defined amount of subretinal fluid could be tolerated while in the intensive arm, no subretinal fluid was permitted. The primary outcome measure was the mean change in visual acuity at 12 and 24 months. At follow up there was no significant difference in vision between the two groups and both showed an increase in the number of patients achieving driving vision. Professor Guymer concluded that with a more nuanced treatment regimen, by tolerating a degree of SRF, patients could have less injections and still achieve appreciable vision gains.
Professor Guymer was also invited to give the Sir Norman Gregg Lecture for 2018, during which she discussed Taking out the waste, her hypothesis that AMD is a disease of accumulated debris so maybe it's time to spring clean! She discussed the essential role of the retinal pigment epithelium (RPE) in phagocytosis as host to tissue specific microglia and macrophages that engulf waste and remove it from the retina. She hypothesised that if these microglia and macrophages become defective, waste could accumulate within Bruch's membrane and the RPE, leading to AMD progression and vision loss. This led her into discussing novel therapeutic options designed to remove the accumulated debris and prevent visual loss with AMD. The Sub-threshold Nanosecond Laser Intervention to slow progression in Early Stages of Age related Macular Degeneration (LEAD study) was presented both at Euretina and RANZCO this year. It was the culmination of a three year randomised control trial to evaluate whether performing subthreshold nanosecond laser (SNL) in patients with intermediate AMD could slow progression to end stage disease, defined on multimodal imaging compared to a control arm. Just under 300 patients were enrolled and, looking at all participants, there was no benefit in SNL to prevent progression to late stage AMD compared to sham laser. However, a post hoc analysis looking at effect modification showed a difference in the group that had reticular pseudodrusen (RPD) at baseline. In this group, doing SNL resulted in a 2.5 fold increased progression to late AMD. Conversely, patients without RPD that had SNL had a four-fold reduced progression to late AMD. These results required further validation to explore the hypotheses that firstly, SNL treatment could be beneficial in some AMD phenotypes by altering RPE mediated turnover of Bruch's membrane and secondly, that eyes with RPD may have compromised RPE integrity rendering SNL potentially harmful.
Professor Stephanie Watson… outlined her enormous body of work in addressing loss of vision related to corneal disease
DEVELOPMENT
Associate Professor Angus Turner was invited to give the Fred Hollows Lecture which he titled The distillery: how to see the patient you need to see when time is of the essence. He spoke of the challenges in setting up the Lions Outback Vision (LOV) service and some of the promising applications that new technology, such as artificial intelligence, can bring to a service such as LOV. His talk had a revolving door of beautiful imagery from his various trips to the Kimberley, the Pilbara and beyond, inspiring us all in the audience with the scope of his vision.
TEACHING AND TECHNOLOGY
Dr Jacqui Beltz chaired an interesting session on surgical skills teaching and co-spoke with ophthalmologists and trainees from the Royal Victorian Eye and Ear Hospital (RVEEH). RVEEH has implemented a new program to teach their trainees microsurgery using the EYEsi Ophthalmic Surgical Simulator which uses virtual reality to teach ophthalmic surgery. This avoids the need to either use a wet lab with porcine eyes – which can be somewhat unrealistic for steps of surgery such as the capsulorhexis – or more stressful still, beginning your surgical career on a live patient. These surgical simulators have been shown to reduce complication rates – something that is mutually beneficial for both patient and trainee. There are both anterior and posterior segment modules so that trainees learn effective intraocular manipulation and are scored, allowing them to improve at their own pace before embarking on live surgery. There was an EYEsi demonstration machine set up at the Congress and I went to test my skills – I agree with some commentators that some aspects (such as the capsulorexhis) are more challenging than live surgery… a further example of how technology is changing our profession for the better.
RANZCO has set up a committee to establish the College's position on such new technologies. Wisely, David Andrews, CEO of RANZCO, has stated that RANZCO cannot and should not hold back new technologies such as artificial intelligence, semi-robotic surgery, or virtual reality in education, but we should have a central role in setting the standards for "where and how these technologies are applied".
CORNEA
Professor Stephanie Watson gave the Council Lecture on Fighting corneal blindness: yesterday, today and tomorrow. She outlined her enormous body of work in addressing loss of vision related to corneal disease from the time of starting her training to now as an experienced consultant. She discussed the Save Sight Keratoconus Registry that has amassed an enormous amount of data around patient experience and current treatment options. Professor Watson also explained her work in limbal epithelial stem cell treatment that helps restore the corneal surface, which led to her being in a position to help RANZCO with the joint statement with Stem Cells Australia on ocular stem cell therapy. She also covered dry eye, infectious keratitis, vitamin A deficiency and ocular trauma before concluding with a quote from Helen Keller: "Optimism is the faith that leads to achievement".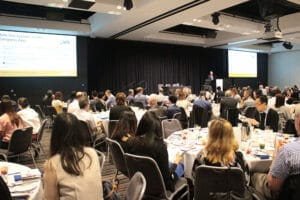 The Corneal Update Lecture was delivered by Dr J Bradley Randleman who is a Professor of Ophthalmology at Keck School of Medicine in California. He discussed Measuring and managing corneal biomechanics. Currently we use corneal morphologic imaging (topography and tomography) to identify corneal ectatic disorders such as keratoconus. Using such technologies, we screen patients for suitability for corneal refractive surgery or cross linking. However, Dr Randleman argues that as these tests are morphological, they are not adequate to identify corneal ectatic diseases in their earliest stages. This can potentially lead to some patients receiving refractive surgery when they are not a good candidate for this or conversely, not receiving timely cross linking to prevent visual loss. The latest research indicates that combining screening technologies allows for better identification of ectasia in its earliest manifestations rather than using one modality in isolation. Looking at placido based corneal topography, Scheimpflug imaging and anterior segment OCT together can help identify early corneal ectatic disease. Dr Randelman argues that keratoconus is never a unilateral condition but can simply be highly asymmetrical. It is therefore imperative to better assess the fellow eye in patients with keratoconus so as to be able to offer patients timely intervention. In the future he believes that corneal biomechanics (a measure of the 'stiffness' of the cornea) will be as relevant as corneal morphology for assessing ectasia.
CONCLUSION
From social gatherings to scientific learning, this year's RANZCO congress was a success by any measure. We all look forward to next year in Sydney, which will be combined with the American Association for Paediatric Ophthalmology and Strabismus and the Asia-Pacific Strabismus and Paediatric Ophthalmology Society conferences – see you in 2019!
Dr Amy Cohn is a Melbourne based ophthalmologist with special interest in medical retina and cataract surgery. She is on the RANZCO Scientific Committee as well as being a Visiting Medical Officer at RVEEH and Southern Health and a Senior Research Fellow at the Centre for Eye Research Australia. Dr Cohn sees patients privately in East Melbourne, Footscray, Glen Waverley and Armadale.