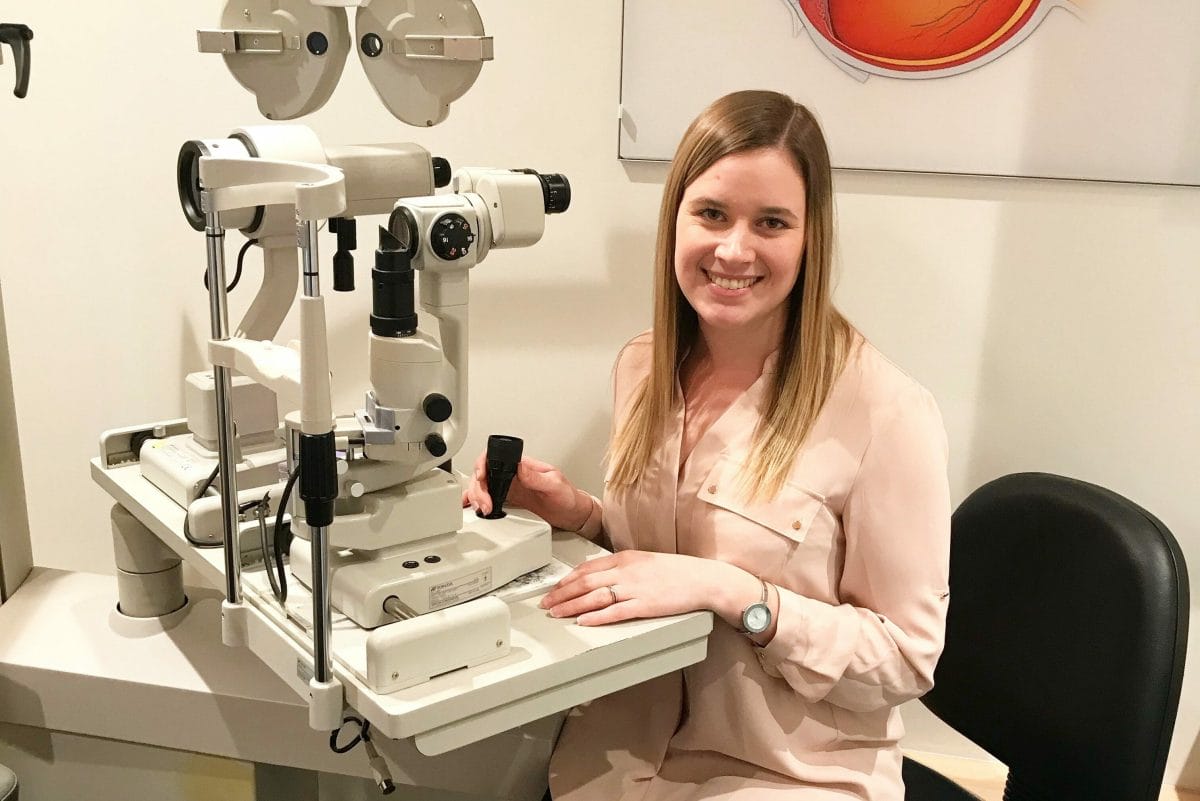 In a short time, Sophie Pym's career has taken her from the coalface of optometry, back to university and on to corporate development. Unanticipated yes, yet thoroughly rewarding.
Optometry was a natural career choice for me. Growing up in a small country town, I was surrounded by family with spectacle needs and a range of eye diseases, which really sparked my interest in eye health.
It was also natural for me to seek work with a Luxottica practice – while growing up, OPSM and Laubman & Pank were household names in my town. I was really excited to be taken on as OPSM's first cadet in South Australia, working in a part time role as an optometry assistant and dispenser while completing my studies at Flinders University.
The path I have taken since graduating was never anticipated, yet absolutely rewarding
During my five years in the optometry program, I used to bring home equipment and line up my relatives at family gatherings to practice my clinical skills. As a student, this was good practice though very challenging – I found myself assessing a range of conditions, among them -18.00 DS myopes, keratoconics, family with advanced primary open angle glaucoma, amblyopia, and age related macular degeneration. You could say I had everything thrown at me, and I loved it.
After graduating in 2014, I commenced work as an optometrist at OPSM Tea Tree Plaza. It was fantastic to be working in a practice which employed multiple optometrists and with world class equipment at my fingertips!
As well as working with Luxottica, for the past three years I have been employed by Flinders University, mostly to provide support to students on placements. Having commenced employment with Flinders University not long after graduating there, I can relate to their needs.
MOVING INTO CORPORATE DEVELOPMENT
2017 was a whirlwind year. I became engaged, built a house, was married, and took a few months away from OPSM. When I returned, it was to take up a new role as area eye care manager. More recently, I was appointed to the role of professional services manager for South Australia. In both roles, I have really enjoyed facilitating in-store coaching and development of our optometry teams. I particularly look forward to continuing to support the special interest areas within our optometry team, including orthokeratology, myopia control, paediatrics, therapeutics, and further study in areas such as aviation and advanced contact lenses.
One of the most enjoyable aspects of my new role is celebrating clinical successes. Often, when I'm visiting stores, I hear inspiring stories from our optometrists about how their great clinical care has been enhanced by the technology that OPSM has invested in, namely our optical coherence tomography and ultra wide retinal scanning equipment. Recently I saw a patient who was under regular care of the ophthalmologist, and they had presented to us for new spectacles. Despite being asymptomatic and having seen their ophthalmologist two weeks prior, I talked them through the benefits of the ultra-wide retinal scan, given their history of retinal detachment, scleral buckle surgery and that we had no baseline imaging on file of their retina. I took the ultra-wide scan and found a superior temporal retinal tear with subretinal fluid in their good eye. I then referred the patient back to the surgeon. Due to a range of patient factors and positioning of the tear, it couldn't be found until I emailed the imaging through. Once located, barrier laser followed and we saved this patient from subsequent retinal detachment!
Over the course of my studies and as a graduate, I have met a lot of inspiring people, many I am now proud to call my colleagues. I am so grateful for the support these people have given me, along with the support of friends and family. I am also incredibly appreciative of the opportunities I have been presented during my optometry career so far. The path I have taken since graduating was never anticipated, yet absolutely rewarding. I am excited to continue to learn and grow on this journey as our optometry profession evolves.
Sophie Pym B.MedSci(VisSci)/MOptom is a Professional Services Manager with Luxottica in South Australia.