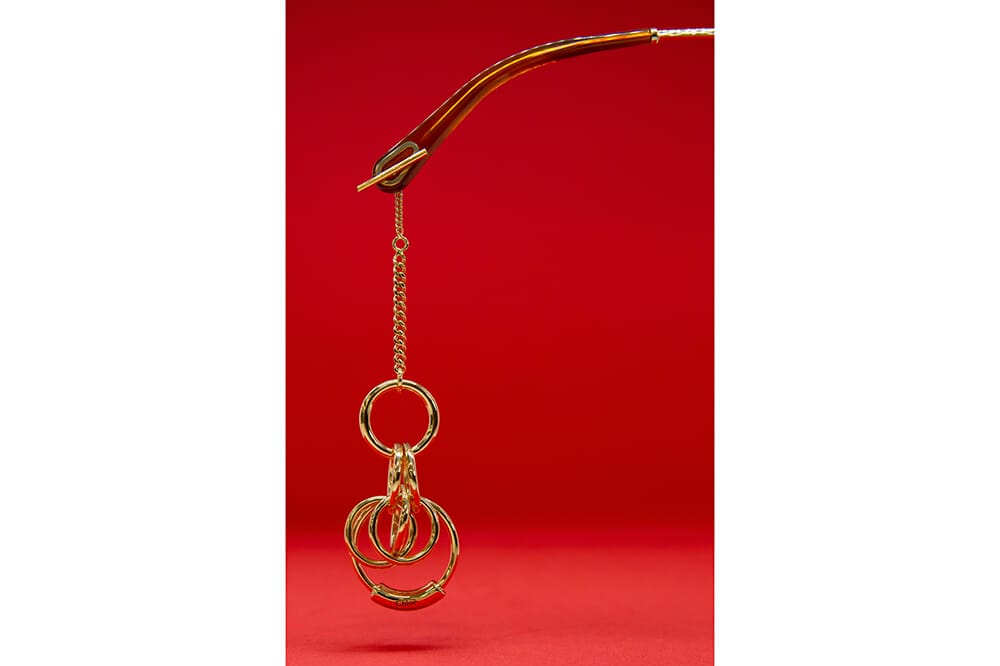 Optical accessories can enhance your patients' experience in practice and optimise the functionality and longevity of their eyewear. When offered for free, they add value to purchases and build customer loyalty. When sold, they provide an additional revenue stream. From branded spectacle cases and cleaning kits through to car visor clips, electronic magnifiers, and swimming goggles, there are hundreds of clever accessories that can help you help your patients live with good vision.
It takes more than a great eye health examination and the perfect frame and lens package to establish long term patient loyalty. Increasingly within this competitive landscape, you need to find a real connection – or commonality – with your patient, then you need to celebrate their purchase with memorable, positive experiences.
As optometrists you are in the business of providing good vision, and there are many ways to deliver this alongside eyewear
When you go to the effort to do so, you're likely to create a ripple effect – happy customers will advocate on your behalf in ways that are more effective than a local advertising campaign or letterbox drop.
Speaking at ProVision's member conference in Adelaide last year, marketing guru Amanda Stevens drew optometrists' attention to the 'superhuman powers' of advocates, and particularly single women.
While it's commonly accepted that mothers tend to be the major decision makers on family eye health, Ms Stevens pointed out that single women in the early and latter stages of their lives can be just as helpful in supporting your practice growth. Those who enjoy a good retail experience are five to ten times more likely to engage in positive word of mouth.
Women in their 20s and 30s are remaining single for longer and delaying having children. As a result, they have increasing expendable income, greater purchasing power and a phenomenal capacity to influence their friends. For older women, it's the same, except they're more likely to be single having divorced or become widowed.
According to Ms Stevens, the 'family' of a single woman is her friends. Within this inner circle, a woman will freely exchange views and experiences, share and source information about new products. In doing so, inner circles influence each other's buying habits, in the process reinforcing loyalty towards a product/brand or retailer. Eventually members of the inner circle also begin advocating via their broader network, through social media.
OFFER A MEMORABLE EXPERIENCE
So, why does this mean you need to invest in optical accessories?
Quite simply, optical accessories can help you create the memorable experience a patient needs to turn customers into your strongest advocate. Surprise your customer with a beautifully branded glasses case, embossed with your practice name and even printed with their own name. Present their new glasses on an elegant black velvet presentation board with a complementary personalised cleaning kit or elegant lanyard… watch them smile, hear them advocate.
PERSONALISE ACCESSORIES FOR BRAND RECALL
Spectacle cases, lens cloths and cleaning kits branded with your logo and contact details all provide a valuable opportunity to ensure your practice name remains visible and front of mind.
Accessories companies in Australia make the branding process cost effective and pain free. While ideally you'll supply them with professional finished art, you'll find that most suppliers have designers who can prepare artwork on your behalf.
Embossing and screen printing is completed overseas or in Australia (Optica Life Accessories recently upgraded its multi-colour print technology to ensure a faster turnaround from its Australian offices). Minimum quantities are required but these are usually manageable, and typically, the more of any one branded case, cloth or cleaning kit you order, the lower the per unit cost will be – the expense is in the set up.
…if you're going to promote your brand on an accessory, pay attention to the quality of the product you're using
When thinking about how to personalise accessories, consider the colours of your brand and how they can be transferred to the accessories. Don't forget to include your logo, practice name and website. You may be able to screen print photos, eye catching graphics and even your patient's name to truly individualise their experience.
Of course if you're going to promote your brand on an accessory, pay attention to the quality of the product you're using – you don't want your brand associated with hinges that break and interiors that blister.
CREATE A NEW REVENUE STREAM
Not all accessories need to be giveaways. In fact selling accessories can become a viable and lucrative income stream in itself.
Many patients who invest in glasses (particularly at the high end) love the opportunity to further individualise their purchase with a protective case that reflects their personality. Slim line, soft spec cases are ideal for women who carry a small handbag and for men who like to slip their glasses into their top pocket.
Your youngest patients will be even more excited about wearing glasses and less inclined to leave them at home if they're housed in a novelty case in the shape of a car or featuring their favourite cartoon character, for instance.
Spectacle lanyards in leather, silk, chain, and cord are ideal for those who are concerned about putting their frames down and losing them. There's a huge range of styles available, from the subtle through to high fashion spectacle jewellery offered by VSP Australia and Caroline Abram (available to order from Frames Etcetera). Meanwhile, more active customers may prefer a non slip sports band to help keep frames secure when playing sport.
OTHER VALUE ADD ACCESSORIES
Many marketers encourage business owners to consider 'the business they are in' – as opposed to the 'type' of business they are running. As optometrists you are in the business of providing good vision, and there are many ways to deliver this alongside eyewear.
European Eyewear offers a number of accessories to enhance vision, such as hand held and pocket magnifiers for various tasks. Even patients who do not identify as having 'low vision' can benefit from magnification when working on tasks with fine detail.
There are plenty of other accessories that can be offered in practice to enhance good vision at work and play. Aviva and Mann, for example offers make up spectacle frames, swimming goggles, dive masks, and eye patches. Optica Life Accessories has stylish car visor clips to ensure glasses can be safely stored when not in use, and overspex.
As Tom Nicol from Optica Life Accessories says, "a small amount of effort to offer every customer a low cost accessory with a good margin can have a big impact on your bottom line over a twelve-month period… it's the 'would you like fries with that' approach?"
Mr Nicol recommends you:
Build accessories into the patient discussion when dispensing,
Factor promotional accessories into your advertising budget,
Customise practice bags and collateral to build your practice profile,
Add value to patient purchases via accessories instead of discounting, and
Review your current accessories range and refresh.
Finally, don't forget to invest in stands and displays to showcase the accessories you offer in store. Unless your patients see that you have optical accessories, they may never consider their value.
European Eyewear
Magnifiers can benefit your practice in many ways. By showcasing a variety of portable, hand held, and desktop magnifiers you'll generate new sales from patients who require extra clarity to perform a variety of near tasks.
Magnifiers can also create a great point of difference that you can use in advertising and promotion. This differentiation will lead to positive word of mouth, attract new customers, drive more sales, increase patient loyalty, and of course bring in additional revenue.
Contact: European Eyewear (AUS) 03 8756 0900 
Frames Etcetera
Frames Etcetera has a large selection of hard and soft spectacle cases, in a variety of colours and finishes that can be branded with embossing on the outside and print on the inside.
Orders can be placed for as few as 1,000 cases in two colours (conditions apply). Set up is quick and easy with files supplied or produced on your behalf for a small fee.
Branded spray bottles and microfibre cleaning cloths are also available, including a new 220gsm digital printed cleaning cloth, which can be customised with a variety of colours to create a real point of difference. Lens cleaning solution is available in customised printed bottles in 15, 30, 50 and 60ml sizes.
Frames Etcetera also carries an extensive array of accessories in a variety of colours and finishes that are available for immediate delivery. These include hard and soft cases, unbranded cleaning cloths, drawstring microfibre pouches, spectacle cords, and empty cleaning solution bottles in different sizes.
Contact: Frames Etcetera (AUS) 08 9248 1882 
Aviva and Mann
My image is a new collection of microfibre cloths comprising 40 trendy and exclusive designs that can be personalised with your practice logo and/ or details. All cloths are produced with the highest quality microfibre and are 150mm x 180mm in size. Your practice logo and/or details can be printed in a space up to 70mm x 50mm, in either black or white to complement the design.
With a minimum quantity of only 600 cloths (200 pieces per cloth design, along with an overall total order of no less than 600 cloths), this is a great way to differentiate your practice.
Contact: Aviva Mann Optical (AUS) 08 9353 0400 
VSP Australia
Inspired by the Drew Bijou Bag, the Reese Jewel unfurls with smooth, round interlocking rings. Perfect for pairing with your Chloé eyewear.
Contact: VSP Australia (AUS) 02 9697 8080 
Optica Life Accessories
Optica's range of quality cases, lens cleaners, microfibre cloths and bags can all be personalised to maximise your brand profile. From the premier range of cases you can choose the shape, exterior colour and finish, and interior colour, then have your logo and contact details screen printed on the interior. You can even have a photo printed on the case.
Last year Optica Life Accessories invested in the latest printing technology, which has reduced lead times and order minimums for multi-colour prints. A two year manufacturing warranty accompanies all cases and eyewear.
Optica also has an extensive range of quality, affordable, unbranded accessories that you can sell to complement your customer's purchase and protect their eyewear.
Contact: Optica Life Accessories (AUS) 1800 199 860 or (NZ) 0508 96 33 33 
Clear Lens Sprays
Clear lens personalised lens cleaning solutions are made and bottled in Australia. Lens cleaning solutions are a cost effective marketing tool that can be retailed or simply given away as a gift to patients. Clear lens personalised lens cleaning solutions are crystal clear and always packaged in clear bottles with fine mist spray caps that are multi-layered for leak prevention. Solutions are never hidden in opaque or coloured bottles.
Contact: Clear Lens (AUS) 02 4362 9109