How many men are there in the world with big heads?
Plenty, according to Freigeist!
Over six years the German brand which is owned by Eschenbach Optik, has grown a strong following by designing and manufacturing eyewear for this market. mivision spoke to Freigeist's lead designer Viktor Kammerer and brand manager Manuel Kummert to find out the story.
It's all good news for people with big heads – on average, they tend to be more intelligent1 and more likely to maintain better cognition as they age than those with smaller heads.2 And, if they're male, they've got access to stylish, contemporary glasses, thanks to Freigeist.
I seek my inspiration for frames by following trends in architecture and fashion…
Freigeist was developed to meet the needs of men with larger size heads in 2013 and the brand has been focussed on this niche market ever since. Its frames are minimalist in design, and manufactured with precision, in head sizes from 57–64.
"Men with bigger heads who try to get away with wearing ill-fitting eyewear experience discomfort, their glasses may slip down their noses, and the optics may not be optimised," said brand manager Manuel Kummert.
"We wanted to come up with a frame design that provides them with confidence and comfort. That combines contemporary design, with the highest production qualities."

"Our customers love our frames because of the stunning aesthetics, the highly technical componentry and our quality manufacturing processes."
Lead designer Victor Kammerer has worked as an industrial designer for 30 years, ten of which were spent designing office furniture and writing implements before moving into eyewear.
ARCHITECTURAL DESIGN
"I have designed eyewear for 20 years now, and have been designing for Freigeist since 2015.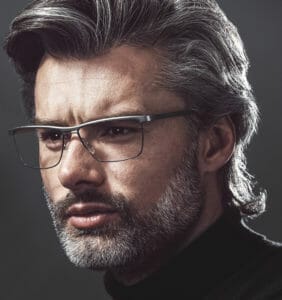 "I seek my inspiration for frames by following trends in architecture and fashion, as well as the broader sphere of industrial design. I'm also very interested in the technical aspects of designing and manufacturing frames and so I closely watch new production and manufacturing techniques and technologies, and draw on these when coming up with new ranges."
The current collection presents purist masculine designs, manufactured from a variety of materials including wood, carbon, and stainless steel. A creative colour palette offers choice and distinctive looks.
"Our stone and carbon frames are lightweight and made with carbon and beta titanium components which increase wearing comfort. The stone granulated finish creates a unique feel," said Kammerer. "Our wooden frames really accentuate the beauty of natural materials and the designs of our stainless steel frames reflect the modern architecture of the city – they are reminiscent of towering skyscrapers and modern glass facades," he said.

One of the most exciting ranges within the collection has been the EOC Freigeist, the outcome of a collaboration between Freigeist and the award-winning structural engineer James O'Callaghan. O'Callaghan, an authority on structural glass, is perhaps best known as the mastermind behind the structural design of Apple's iconic retail stores.
Each model within the EOC Freigeist range is only available in a limited quantity of 222 throughout the world and each is marked with a unique number.
RETURN TO MINIMALISM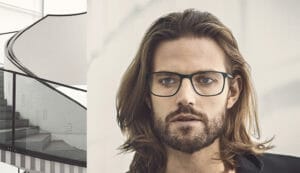 It's this streamlined architectural approach to design that Kammerer most enjoys and he strongly believes we'll see more of it right across the eyewear sector in coming months.
"I am expecting a return to minimalism in eyewear in the near future. Our plan is to develop a wider collection of masculine frames with different shapes and materials. The ranges will be thin, light, and minimalistic but the frames will retain the unique features that differentiate our brand from the competitors."
Freigeist is distributed by European Eyewear. 
Contact: (AUS) 03 8756 0900 
References: 
www.inc.com/jeff-haden/actually-people-with-largerheads- really-do-tend-to-be-smarter-but-not-for-reason-youmight- think.html 
www.theguardian.com/uk/2003/sep/28/research.health