Customised premium progressive lenses, coupled with sophisticated lens calculation technology, are refining visual outcomes for patients and giving independents the competitive advantage.
Benjamin Franklin 'popularised' bifocal spectacle lenses in the latter half of the 1700s, however it wasn't until the 1900s that they really became accessible. It wasn't until well into the 1970s that ametropic presbyopes were able to wear anything other than bifocal spectacle lenses in order to see clearly at near and far.
Premium progressive lenses can be an excellent way to win the battle against competitors that offer patients 'free progressive lenses' with a frame purchase
MOVING ON
It was Essilor that changed presbyopia prescribing forever with its renowned Varilux progressive lens. Peter Neuhauser, an Austrian trained Augenoptiker, New Zealand based and registered dispensing optician, and former consultant to Zeiss explained. "I worked with Essilor in Vienna for three years and had the great pleasure to meet and obtain training from Mr Bernhard Maitenaz, the inventor of the first working progressive lens," he told me. "Zeiss used his designs from 1970 under the name Gradal. In 1981, Zeiss mathematician Gerhard Fuerter patented the first horizontal symmetric lens design. This meant right and left lenses were designed individually with an optical inset for near. Rodenstock used the patent from Zeiss in its successful Progressive R design."
In the 1990s, companies like Hoya and Nikon entered the fray. Today there are literally thousands of progressive lens designs and it is extremely rare to see or prescribe a bifocal lens.
PREMIUM PROGRESSIVES AND CUSTOMISATION
Premium progressive lenses (PPLs) are at the high-end of lens design and are generated on extremely accurate, technologically advanced lens manufacturing platforms – there are literally billions of permutations in the progressive surfaces generated.
PPLs are generally tailored for an individual, according to their prescription and occupational needs, with measurements such as back vertex distance and pantoscopic angle incorporated.
Mr Neuhauser said this level of personalisation has been enabled by freeform technology (FT).
"FT eliminates the restrictions of cast front surfaces and standard tools for surfacing the back surface of lenses. Before its introduction, we could only correct lower order aberrations (LOAs), the same way as in the trial frame or phoropter head. Today we are also able to correct for higher order aberrations (HOAs). This will be different with every single frame."
PPLs usually include the manufacturer's latest and most sophisticated multilayer antireflective, easy clean, UV blocking hard coating and may also incorporate a selective blue blocking filter.
Lens designers and researchers, who study visual function and perception, have done tremendous research into how lens designs can be tweaked to provide ever better visual performance, reducing annoying distortion or 'swim' effects, and enhancing binocular visual function.
As a consequence, designs can also be tailored for specific vision needs. For example, a long distance truck driver will usually have a longer channel of progression from distance to near vision, to allow for greater postural flexibility. This helps prevent the intermediate sections of the lens from creating distance blur, and minimises peripheral distortion while still allowing clear near vision to see instruments, GPS and so on. A number of lens suppliers have driver specific designs that also aid use of rear view and side mirrors, and provide maximum visual clarity, day and night.
On the other hand, a desk bound wearer who needs near vision to enhance computer work and intermediate vision for office interaction will usually be prescribed a shorter channel lens, with a wider intermediate field.
STEP IT UP
Premium progressive lenses can be an excellent way to win the battle against competitors that offer patients 'free progressive lenses' with a frame purchase. While they are certainly not cheap, nor is a Mercedes Benz or a pair of Manolo Blahniks. The trick is to explain the benefits of PPLs and prescribe them with a satisfaction guarantee for sceptical patients. Then, let patients judge the benefits for themselves – they will often be impressed by the lack of peripheral distortion, a wide intermediate field or lack of an intrusive 'shoulder' encroaching on distance viewing. They may also comment on the excellent visual clarity, crystal clear surfaces, lack of reflections and cosmetic benefits.
Even if your patients are lured by the free progressive lens offers, they may well come back to you later, complaining about poor performance and requesting you update them into the PPLs you initially recommended. After all, you get what you pay for – even those advertising 'free progressives' state that the offer refers to 'standard progressive lenses' and that an upgrade will provide easier adaption and a wider field of vision.
SETUP
Although some practitioners prefer traditional methods of 'dotting' up spectacles, a number of instruments have been developed to 'simplify' the process and improve visual outcomes. Colloquially known as 'towers', these instruments use sophisticated technology to determine and compensate for rotation, head and eye movement, postural preference and tilt, among other measures. They have become more popular over the past twenty years, but are still not universally used.
NEXT LEVEL CUSTOMISED PPLS
Now you can take customised PPLs to the next level. Around a decade ago Zeiss released its iProfiler and associated iScription system. More recently Rodenstock released its DNEye scanner.
These instruments use a patient's subjective refraction and consider pupil size in varying conditions, higher order aberrations, eye shape and more, to further enhance the final lens design.
Improved contrast, colour vision, low light performance, visual comfort and accuracy to 1/100th of a dioptre is now possible.
PROGRESS YOUR PRACTICE
Check out what our lens partners have to offer and incorporate this amazing technology into your everyday practice.
It will help safeguard against the race to the bottom, while providing much better margins.
ALPHA BY OPTICARE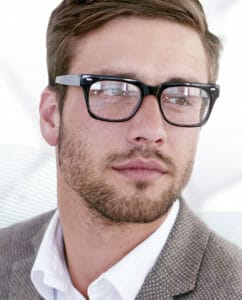 Alpha is a next generation freeform digital progressive lens from Opticare.
Designed in Australia at Opticare's laboratory using German freeform technology, Alpha creates the optimum balance between distance, intermediate, and near visual zones to produce the perfect lens.
Alpha has an extremely wide distance zone with minimal peripheral distortion. An optomised intermediate zone facilitates seamless movement to the reading zone. A unique pyramidal reading zone continues to widen as the eye tracks down. Alpha can be used regardless of what the patient has worn before and is available with Opticare's Blue Guardian, Blue Sun, Clear, Hivex, Litrex, Sunmatic, and Transitions series.
Contact: Opticare (AUS) 1800 251 852 
SHAMIR AUTOGRAPH INTELLIGENCE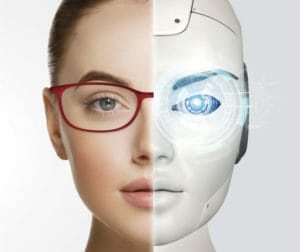 Shamir Autograph Intelligence is a technological breakthrough in progressive lens design. Very simple to dispense, Shamir Autograph Intelligence adapts to the diverse needs of today's presbyopes by mimicking human behaviour, thanks to the following three new technologies developed by Shamir and incorporated into this lens:
New eye point technology AI,
Continuous design technology, and
Visual AI engine
The result is a lens that feels like single vision, and provides an optimal user experience for presbyopes involved in diverse activities.
Shamir offers a range of ultimate and everyday certified progressive lens designs suitable for presbyopes of all ages, that are Australian made and supported by highly regarded service with consistent, fast delivery times.
Visit: www.shamir.com.au 
UNITY VIA ELITE
Unity Via Elite incorporates the following calculation technologies and new optical features:
Variable inset technology for a near point accurately calculated for a larger, more comfortable reading area.
Automatic reading height optimisation automatically customises the most suitable progression length for every PD, fitting height, and frame style with a generous reading area that always fits inside the frame.
Digital viewpoint technology optimises vision at every point in the lens and reduces peripheral distortion while expanding visual fields.
Advanced fit technology allows the wearer to more easily find intermediate and near areas at their preferred reading distance, for a more natural posture and unsurpassed visual comfort.
Surface power optimisation ensures a higher level of prescription accuracy compared to conventional lenses.
Contact: VSP Australia (AUS) 02 9697 8080 
INFINITY HD PROGRESSIVES
The Infinity HD progressive – powered by Camber technology – uses Camber lens blanks from a section of the 'Elephant's Trunk' curve (pictured) for a unique variable base curve front surface that continually increases in dioptre from top to bottom. This provides larger viewing areas in both the distance and near zones, along with improved cosmetics, and easier adaption.
Progressive lenses have always had two distorted lateral zones that cause a peripheral power error from both cylindrical and spherical error components.
Infinity HD strictly controls the spherical power so the spherical power errors at the periphery are close to zero, significantly reducing lateral astigmatism and swim effect.
This lens provides wearers with better peripheral vision – wearers get the benefit of superior image stability, even in dynamic conditions. Wearers also enjoy maximum visual fields for all distances, and slight increased magnification at near distances.
Contact: Hastings Optical Supplies (AUS) 02 6581 3759 
ESSILOR VARILUX X SERIES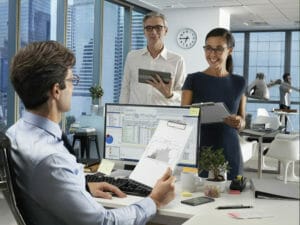 Modern presbyopes are highly active, connected, and constantly multitasking. Essilor's Varilux X series reinvents near vision, offering extended vision at arm's length.
Near Vision Behaviour (NVB) tracks how presbyopes use their near vision. This provides complete personalisation of the 3D volume of vision for the individual wearer.
Varilux X series ensures the highest match with every wearer's visual needs at arm's length, regardless of their posture and visual behaviour. With Varilux X series, wearers can clearly see multiple objects in a single line of gaze without having to move their head. Nine out of ten wearers say they don't need to move their head any more to see sharply.*
Contact: Essilor Account Manager 
Reference 
* Single-centre study – Eurosyn – France (n=42). % of wearers who need a little or no head movement to see clear. Wearers chose among: 'Not at all', 'A little, just right', 'Too much', 'Far too much'.
ZEISS PRECISION TECHNOLOGY
Zeiss Precision Technology delivers fast focus, sharp and dynamic vision all day long with thin and lightweight lenses. The Zeiss Progressive Lens portfolio actively responds to changing trends and consumer needs in order to provide better vision.
Digital devices have become part of our daily life. Zeiss Progressive Precision Pure considers the closer reading distance necessitated by digital device use.
Fashion trends are constantly advancing with new shapes and sizes. With Zeiss Progressive Precision Plus, you can optimise the lens for the eye, regardless of the frame. Zeiss Progressive Precision Super considers your patient's physiological facial parameters ensuring best vision potential. Along with differences in anatomy, style and visual preference, patients engage in different daily activities.
Zeiss Progressive Individual 2 takes into consideration the wearer's daily activities and ensures the best natural vision in any situation.
Contact: Zeiss Account Manager 
INTUITIV BY OSA
Intuitiv progressive lenses by OSA incorporate ergonomic technology that takes into account the natural path of patients' eyes, based on the different postures of right and left handers. To cover this difference, Intuitiv's mid and near zones are positioned differently for left and right handers.
Not only does Intuitiv go one step further in understanding your patients' vision, now they can have the latest in ultimate fashion with the range available in Transitions Style Colours – the four fashion forward colours of sapphire, amethyst, amber and emerald.
Contact: Essilor Account Manager 
RODENSTOCK FREESIGN 3 WITH DNEYE PRO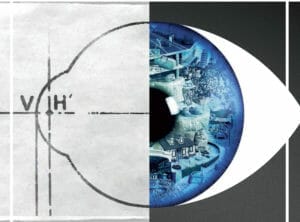 With the introduction of the DNEye PRO, Rodenstock can include the individually measured anatomic parameters of the patient's eye to calculate the lens rather than a reduced eye model, to place the image on the retina. In this way the lens design is perfectly replicated, giving sharp images and minimum swim.
The DNEye 2 uses aberrometry, topography and pachymetry to calculate the individual aberration, both lower order and higher order, from both cornea and crystalline lens. Axial length is calculated from the measured parameters and Rodenstock then uses its inhouse developed wavefront calculation tool to produce a lens completely personalised for the patient.
The design includes eye rotation due to Listings Law for both distance and near, pupil size in mesopic and photopic conditions, and a separate near refraction can be incorporated. Combined with frame measurements from the Rodenstock ImpressionIST, these are Rodenstock's most accurate lenses to date.
In an internal development study, practices commented, "Price becomes far less relevant as the focus remains on delivering the best visual solution".
Contact: Rodenstock (AUS) 02 9748 0988 
HOYA MYSTYLE PROFILE & LIFESTYLE 3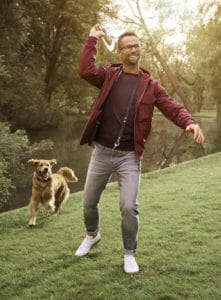 Hoya's premium progressive lens, MyStyle Profile has five pre-defined designs – modern, adventure, stable, detail, and expert – so lenses can be customised, without extensive consultation, to different wearers' common visual requirements for far, intermediate and near vision.
MyStyle Profile's Balansis Technology offers: smart analysis, which considers key factors affecting visual performance to optimise vision; binocular harmonisation to improve depth perception and provide comfortable binocular vision; and integrated double surface design to reduce distortion and provide natural head posture during near work. Position of wear frame parameters are optional.
LifeStyle 3, Hoya's new generation of LifeStyle designs, is an improved progressive lens design that responds to today's vision challenges, and the particular needs of lens wearers, including active presbyopes.
Three clearly defined design variations (indoor, urban and outdoor) make it possible to customise the lenses to the customers' vision requirements with just a few simple questions about the wearer's lifestyle.
LifeStyle 3 is equipped with premium binocular harmonisation technology and verified with Hoya's binocular eye model.
Contact: Hoya Account Representative