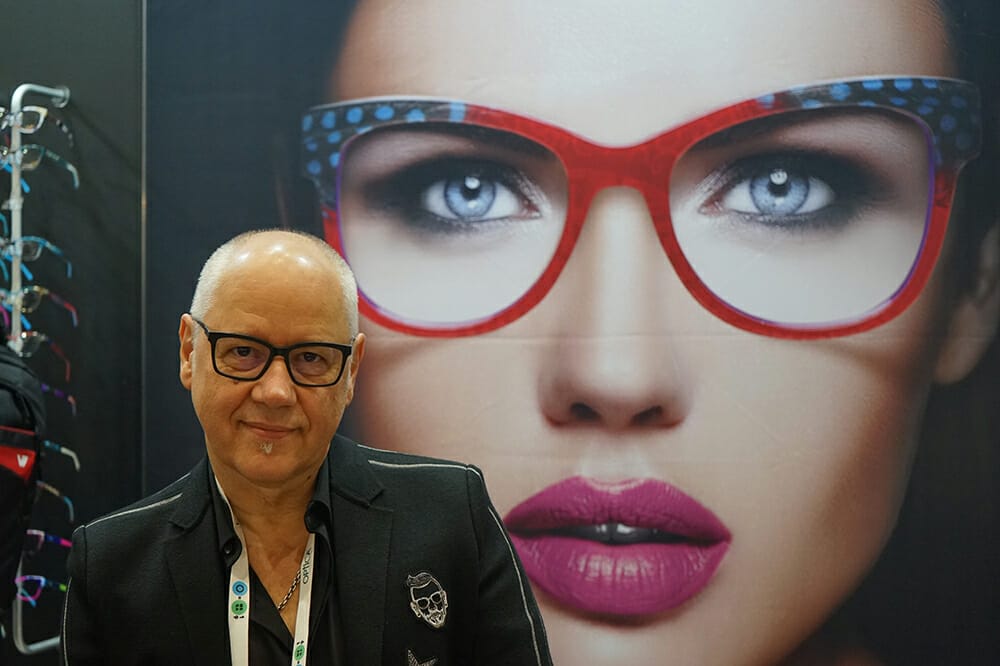 Coco Song founder Elisio Tessaro
The first O=MEGA trade show – O=MEGA19 – has delivered on the organisers' promise of being "the biggest eyewear show in Australia". Presented by the Optical Distributors and Manufacturers Association (ODMA) and Optometry Victoria/South Australia, the three day trade show presented the best of what the industry has to offer from 130 exhibitors. Many frame distributors took the opportunity to launch new brands and/or frame collections.
Lacoste Paris Collection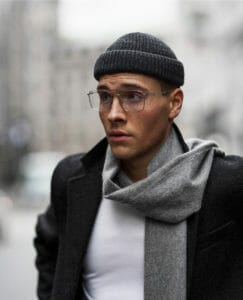 The show was massively successful for VSP Optics, which won the Award for Excellence for its Lacoste Paris Collection men's frame and was runner up for best large custom stand.
"We were thrilled with the response to our brand launch of Victoria Beckham, and we also received great interest in Kendall and Kylie, our Lacoste Paris Collection and sunsync elite lenses," said Maren Carson, Head of Marketing at VSP Optics.
"Winning an ODMA Award for Excellence for the Lacoste Paris men's frame (L2504PC) is a testament to our dedication to our brands, and to the talent of our design team. We are thrilled this new collection has been recognised with such a prestigious award."
JF Rey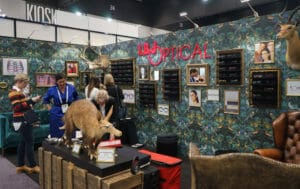 Prue Rennick, owner of LBJ Optical Australia said the show was a great confidence booster for the industry. "The market has been flat, and as a newcomer to wholesaling, the general feeling of negativity wasn't encouraging," said Ms Rennick.
"However the atmosphere at O=MEGA19 was very positive, I received plenty of interest in my collections and a lot of optometrists were excited to discover that I had just been appointed as the Australian distributor for JF Rey and Boz Eyewear."
AM Eyewear + Mason Garments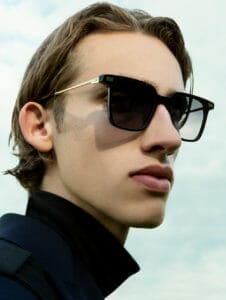 AM Eyewear showcased a new frame, which is the result of a collaboration with Mason Garments – the luxury shoe brand based out of Holland.
"We used Mason Garments' shoe leather and incorporated their signature eyelet on the temple tips," explained founder /designer Simon Ponnusamy. "All Mason Garments shoes are made in Italy, as was this frame… it's been really successful."
After several years spent building up his business in Europe, Mr Ponnusamy said he is excited to be back in Australia and focussing on the local market. Speaking of O=MEGA19 he said, "The show went very well… we were very happy with the sales generated".
MA Hunter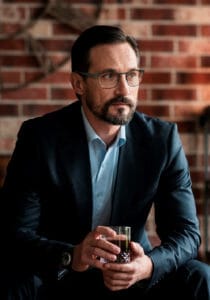 At ProOptics, owners Jacque Katsieris and Raymond Kessler said O=MEGA19 had been the "best ever" trade show. "It felt like the trade shows of 10 years ago," said Ms Katsieris. "There was so much excitement, it brought everyone together, and so many buyers who wanted to do business".
ProOptics launched its latest eyewear brand – MA Hunter – at O=MEGA19.
"Mathew Albert Hunter was the first man to melt titanium in 1910. All frames within the collection are made from titanium and have the number 22 engraved in them, which is the symbol for titanium." Frame fronts are pure titanium, while the temples are made from beta titanium for flexibility and comfort. "They're all hand made in Korea, and dual coloured using a heat treatment, so they hold their colour.
"We took these frames on in response to our research into what men want in a frame – they've got a little bit of colour on the back but it's really all about beautiful shapes, with sizing from 46 up to 59 and an affordable price point".
Coco Song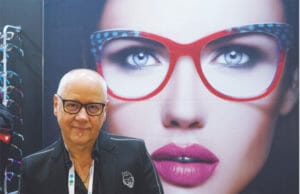 Coco Song founder Elisio Tessaro travelled from Italy to attend O=MEGA19. He explained that the concept for this brand was conceived 15 years ago while he was living in Hong Kong.
"I was attracted by the culture of the ancient dynasties of China – the colours, the feathers, flowers, the silk – I wanted to make a collection where I could fit all these elements inside the frame. It took some years of experimentation to achieve this."
Mr Tessaro said the concept was revolutionary – not only in terms of production, but also because at the time, people in the west were not supportive of China or its culture. Creating the frame material takes over two months, and involves placing coloured silk on a thin layer of white acetate which sits on coloured acetate. The feathers and flowers are placed on top of the silk before a final transparent layer is laminated on top, effectively melting the elements into a single piece ahead of being cut into shape.
Coco Song is distributed by Mimo.
Ronit Furst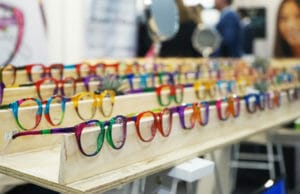 Ronit Furst frames are hand painted by a group of ten artists in a kibbutz in Israel. Once painted, the frames undergo a four layer coating procedure to achieve a crystal shine or sandy matt finish.
There are over 3,000 colour schemes available and customers can custom order the combination they like. Templates are retained for every frame so they can be duplicated if required, either as a complete frame or for replacement parts. Delivery is six weeks from the time of order.
Ronit Furst is distributed in Australia and New Zealand by See Me Eyewear.
Next up: OShow 2020
Looking for more? ODMA will host OShow at the Hordern Pavilion, Moore Park in Sydney from 16-17 May, 2020.