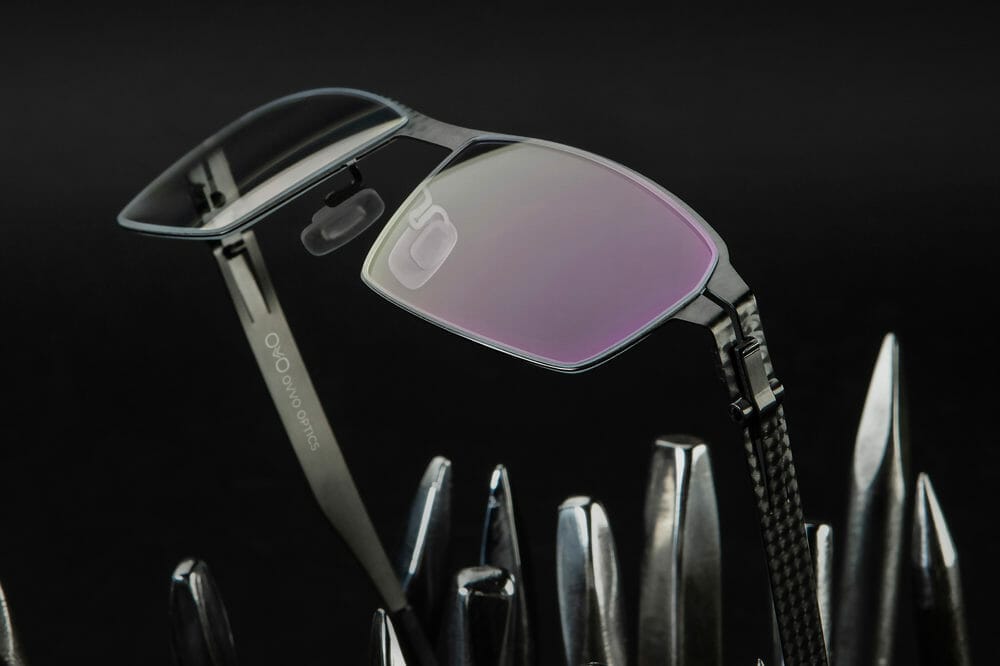 OVVO eyewear was founded and is operated by Artur Pilat and Margareta Augustyn. Designed in their home city of New York, the couple has every frame manufactured in their family owned factories in Germany and Poland. mivision caught up with Margareta to find out more about this fresh new brand that takes advantage of military grade materials to develop eyewear with impressive form, function and strength.
How did OVVO come about?
My husband and I created the brand in 2011. We had absolutely no prior experience in eyewear. My husband was working in finance and I was an art director at a French company. However, I had been exposed to eyewear early on, as my uncle owns two eyewear factories in Germany and Poland. He has been manufacturing glasses since 1980. One summer, when we were visiting our families, my uncle gifted a few frames to my husband. His friends at work loved their lightness and durability. That triggered the idea to bring this technology to the United States. We decided to create our own brand and showcased the line at Vision Expo in NYC. That is when our adventure really started. Our Wall Street sales and art experience quickly proved very handy, and eight years on, OVVO is now available in over 2,000 optical stores in the US and in 30 countries worldwide.
What makes OVVO stand out from the competition?
We focus on using advanced technologies to manufacture high quality, durable yet light-weight eyewear. Our proprietary core material – a fusion of surgical steel and titanium composite – was originally developed for spacecraft and the military, and we are the only eyewear company to use it.
This material is light, hypoallergenic, and super strong. That means our eyewear is also incredibly strong – it can withstand a stretching force of up to 40kgs. Yet, once the weight is released, the frame comes back to the original form. Also our patented screwless hinge is very durable. It was tested with 300,000 close and open rotations, which is the equivalent of 205 years of usage. It revealed no changes in its strength and structure.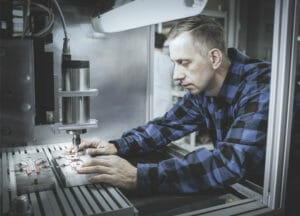 Our latest release, the Diamond-like Carbon (DLC) Collection, is the first application of a rare scratch resistant coating in the eyewear industry. It is considered the closest you can get to the real diamond in the artificial environment.
What does OVVO 's typical customer look like?
Our typical customer is a sophisticated and active man, aged 30+. He mainly chooses OVVO for the high quality and durability, which is tangible and visible in details.
Has OVVO won any design awards?
Yes, the latest was from International Design Awards (IDA), 2018. We won gold for our Wood & Carbon Fibre Collection, in design and innovation. The technology that we used for the collection was invented by the constructor of the America's Cup yachts. He was the first to combine wood and carbon fibre for the eyewear industry, specifically for OVVO.
Who designs your frames?
Our design team is a mix of creative talents from industrial design, optical and engineering backgrounds. Since our main office and main market is in the US, our design team is in New York, but we also work with a few talented young designers in Italy.
Inspiration for design most often comes from sport or concept cars, modern architecture, and fashion. It may come from a single line, a curve, or a small detail of a car or building.
Is there an iconic OVVO style?
Our iconic model is style 2483, created five years ago. It highlights the OVVO substance: slightly sporty, contemporary and striking at the same time.
Where is OVVO made?
We are very proud of the fact that all our OVVOs are made in our family-owned plants located in Germany and Poland. In fact, not a single piece of manufacturing material is imported from outside of the European Union.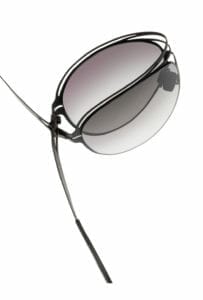 First the sheets of military-grade surgical steel, sourced from Sweden, are laser cut in our German plant. Next, after arriving at the Polish factory, the raw cut frames undergo a very robust control process to eliminate any imperfections in preparation for the most important production part: the fusion of raw material with titanium. During this process, atoms of titanium are fused with steel up to a depth of four microns. This process, originally invented for spacecraft manufacturing, takes anywhere from 24 to 36 hours and the resulting frames get a perfect ratio of 70% surgical steel to 30% titanium. This ratio creates a material that is durable and mouldable, yet light and neutral, which is ideal for frames.
After another control process, frames are polished, bathed and transferred to the paint department. We use electrostatic paint application and baking to ensure strong, thin and equally applied layers of paint. Depending on the collection, we also work with carbon fibre wood composites and gold.
The total production process takes from 85 to 125 steps to be completed and lasts eight to 12 weeks depending on the collection.
What do you think will be the next big trend in eyewear?
Variations of hexagons and squares… also large eye size frames.
What has OVVO got planned for the future in terms of design?
This is a company secret. We are further exploring different high tech materials and technologies, and testing new symbioses of hardy matters to further revolutionise the world of eyewear.
OVVO is distributed in Australia by Aaron's Eyewear (AUS) 07 3367 8447