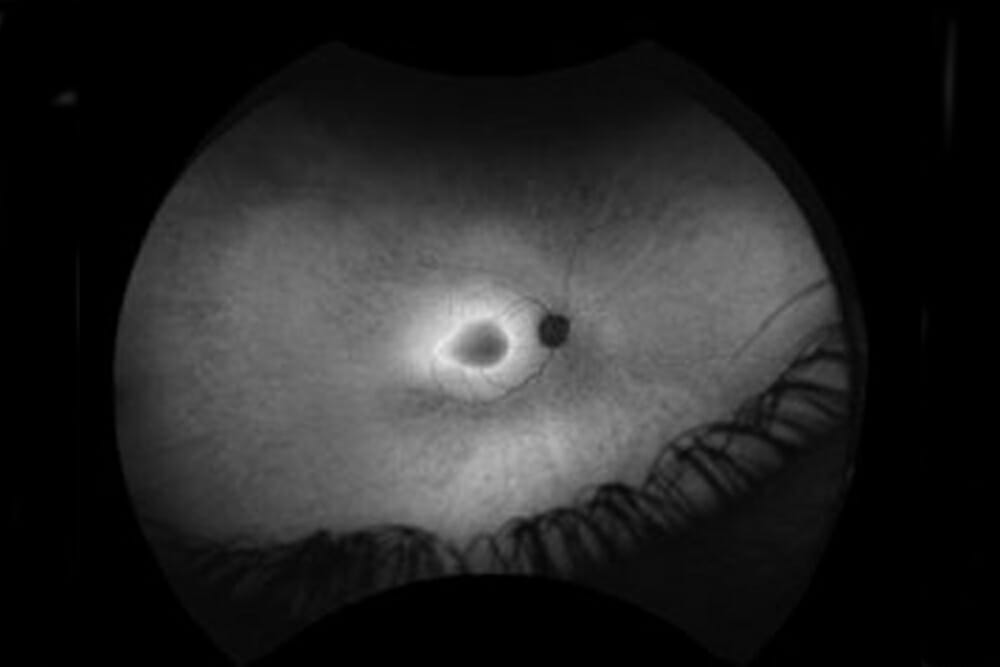 The case of a patient reporting difficulty seeing objects in his lower visual field, whose fundus examination was unremarkable, highlights the importance of performing routine fundus autofluorescence.
A 29 year old male entered our practice for an examination. The patient complained that he wasn't seeing as well in his lower visual field. His ocular and medical history was unremarkable. He explained that his deceased grandfather had lived with poor vision.
Visual acuity: R 6/4.8, L 6/4.8
Intraocular pressures: R 15mmHg, L 15 mmHg
The fundus examination was relatively unremarkable. The discs and maculas were clear (Figures 1 & 2). I performed a Sita Faster 24-C visual fields test, which told a very different story: the patient had severely constricted fields, with visual field indexes of 34% in both eyes (Figures 3a & b).
DIAGNOSIS
The patient's condition only became readily apparent on fundus autofluorescence using my Daytona Plus – he had retinitis pigmentosa (RP) (Figures 4 & 5).
On closer inspection of the fundus autofluorescence images, numerous black spots can be observed in the mid to peripheral retina, correlating with dysfunction of the RPE.
DISCUSSION
Bone spicules are generally observed in the mid and far retinal periphery, which represents aberrant aggregation of melanincontaining cells. In this case there was only slight spicule formation in the superior retinas of either eye.
In RP, there is typically an initial degeneration of the rods in the peripheral retina moving centripetally with subsequent degeneration of cones.1 Rod photoreceptor density increases rapidly and relatively uniformly outside the fovea, reaching 60,000 cells/mm2 at two degrees from the fovea and 100,000 cells/mm2 at around 15 degrees, which is also referred to as the rod ring.
Autofluorescence enables us to observe early changes in the retinal pigment epithelium. In ageing and disease, lipofuscin (LF) accumulates within RPE cells. LF consists of incompletely digested photoreceptor outer segments, lipids and proteins. LF also contains fluorophores that auto-fluoresce when excited by specific wavelengths of light.
Because rods are primarily affected in the early stages of RP, LF is expected to accumulate in greater quantities where the rod density is highest. This correlates to the rod ring 15 degrees from the fovea, which has the characteristic hyperfluorescent glow observed in figures 4 and 5. Increased autofluorescence suggests that the RPE cells are being placed under greater metabolic strain, which occurs before RPE cell death, upon which the signal becomes hypofluorescent.
Mark Koszek B.Optom, M.Optom, Grad Cert Oc.Ther graduated from the University of New South Wales in 1996, completed his Master of Optometry in 2002 and his Graduate Certificate of Ocular Therapeutics in 2012. Mr Koszek is a founding partner and the Professional Education Officer of EyeQ Optometrists which has 25 practices Australia wide.
He is a former councillor for the Optometry Association of Australia (NSW division) and is on the board of the Cornea and Contact Lens Society of New South Wales. Mr Koszek was a fourth year clinic supervisor between 2002 and 2015 and has lectured extensively throughout Australia, New Zealand and Asia on contact lenses, dry eye and ocular diseases. He has a special interest in contact lenses, orthokeratology, dry eye, ocular diseases and behavioural optometry.
Reference: 
Dias MF, Joo K, Kemp JA, et al. Molecular genetics and emerging therapies for retinitis pigmentosa: basic research and clinical perspectives [published online ahead of print October 31, 2017]. Prog Retin Eye Res.