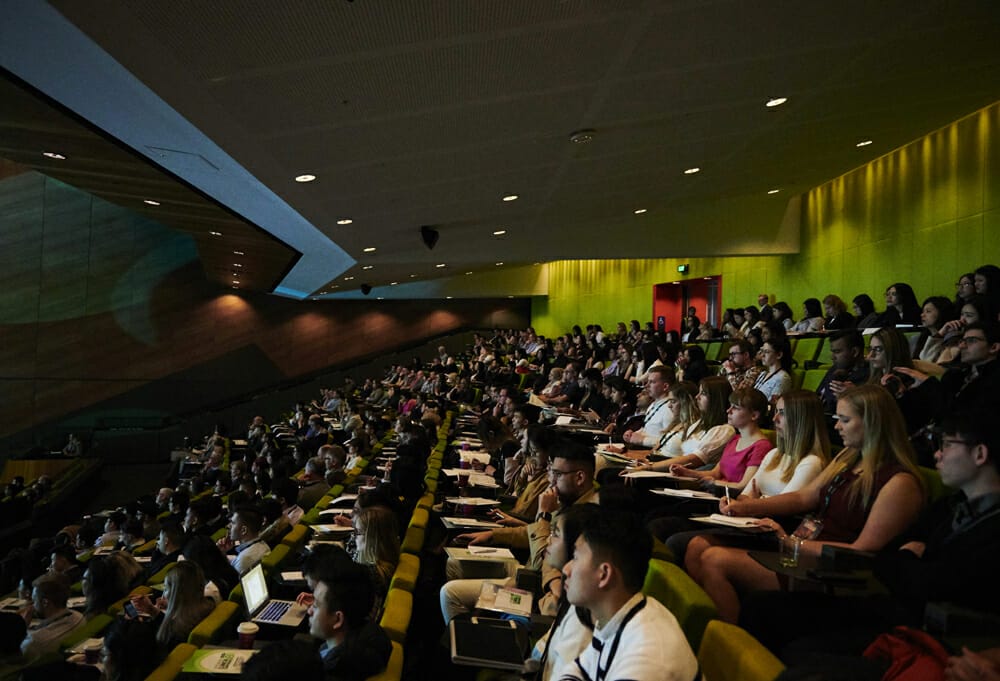 Optometrists, ophthalmologists and industry representatives from Australia and New Zealand attended the annual Specsavers Clinical Conference in Melbourne in early September. Although the conference primarily focused on two leading causes of blindness – diabetic eye disease and glaucoma – it also provided useful insights into paediatric eye care, ocular inflammation and more.
A highlight of the annual Specsavers Clinical Conference was a presentation by guest speaker Professor Peter Scanlon from the United Kingdom, who is widely acknowledged for his work to dramatically reduce the incidence of blindness caused by diabetic retinopathy.
Professor Peter Scanlon described the United Kingdom's national, systematic program for screening the eye health of people with diabetes, which has been enormously successful.
The screening test was introduced in response to the high number of very late presentations of people with diabetic retinopathy, despite effective laser treatments being available.
Introduced in 2003, by 2010 diabetic retinopathy was no longer the leading cause of blindness in the working age population of England and Wales. Significantly, this was at a time when only laser treatment was being used to treat diabetic eye disease. The use of VEGF inhibitors for diabetic macular oedema did not come into widespread use in the UK until 2013.
The program's success inspired Australia's Associate Professor Peter van Wijngaarden to initiate KeepSight, the collaborative program led by Diabetes Australia and launched in Australia in April this year, which is also designed to reduce diabetes related blindness.
Professor Scanlon, who was instrumental in getting the UK program off the ground and continues his involvement, acknowledged that getting the government's support required the united voice of ophthalmologists, optometrists, GPs, academics, patient groups etc.
One of the keys to achieving government support was to provide evidence that screening for diabetic retinopathy using digital photography would be economically viable and effective in reducing the incidence of diabetes associated blindness.
Most screening for diabetic eye disease in the United Kingdom is conducted in dedicated screening centres though some optometry practices are also able to provide the service. Digital photographs are graded according to severity of diabetic retinopathy and maculopathy by trained technicians.
Professor Scanlon said the quality of screening and grading has been paramount to the program's success.
"To ensure ongoing quality assurance, each technician must grade a minimum 1,000 photos a year and must undertake monthly grading set tests. Technicians who fail grading tests are required to re-train."
In a country where the number of people with diabetes is growing by 274,000 every 12 months, Professor Scanlon noted that the screening program for diabetic retinopathy is increasingly important.
He reported that in 2018 there were 64 centres in England which offered annual screening to 2.7 million people with diabetes. Of those, 2.2 million were screened. People who have had a retinal examination in the public hospital system and people who are terminally ill are excluded. Pregnant women with diabetes are screened more frequently than others due to the associated risk of developing diabetic eye disease.
Professor Scanlon reminded the audience that a screening test of this nature is not expected to be diagnostic. "You perform a simple test on a population… and an effective test will pick up 90% of people with the condition and one in ten picked up will be a false positive," he said. By picking up the disease early, patients can be monitored and managed to reduce the risk of disease progression.
Associate Professor Peter van Wijngaarden followed with a presentation on Australia's KeepSight program which is particularly targeting the 50% of Australians with diabetes who do not currently have their eyes screened regularly. Led by Diabetes Australia, with the support of Vision2020 Australia, A/Prof van Wijngaarden reported that to date, 15,000 people with diabetes have been registered with KeepSight and projections suggest that registrations will reach 67,000 by the time the project has been running for 12 months. KeepSight aims to register 200,000 patients by the end of 2020.
GLAUCOMA DIAGNOSIS AND MANAGEMENT
Dr Dru Daniels from Western Australia, presented an overview of glaucoma, reminding the audience that because the condition is so incredibly common, it is important to take a rational approach to its management.
He stressed that diagnosing glaucoma requires assessment of intraocular pressure (IOP), optic nerve appearance and visual fields. Although IOP used to be considered critical to diagnosis, we now know that IOP is just a moment in time – it can vary from day to day, throughout the night and in response to particular stress related conditions – so while it is important, it needs to be put in context, with optic nerve appearance and visual fields.
Dilation is critical to assessing damage to the optic nerve and visual fields should be used to confirm the optic nerve assessment – there should be a correlation between the two. Importantly, visual fields alone cannot be used to diagnose glaucoma – a patient will have lost about 50% of their optic nerve before any change is seen on their visual field.
As well as being used to confirm the optic nerve assessment, visual fields are useful for monitoring and educating patients about disease progression.
Age is key when diagnosing glaucoma – being a chronic disease you need to ask yourself whether the optic nerve will last the patient's lifespan.
Glaucoma management is about reducing pressure. High pressure glaucoma is much easier to treat than normal pressure glaucoma because in the latter there is no pressure to reduce. Additionally, there can be multiple factors associated with normal pressure glaucoma that require management over the long term.
Drops are a first line treatment however over time they can lead to ocular surface disease. Additionally, more than 90% of patients will be non-adherent and nearly 50% will stop taking their medications before six months. Dr Daniels noted that non-compliance particularly increases when you prescribe more than one drop – thankfully there are some combination therapies available.
Alternative treatments, particularly for patients who are non-compliant with drops or suffer ocular surface disease, include minimally invasive glaucoma surgery (MIGS), such as Xen implants and the iStent. Dr Daniels said his own patient data has shown that the iStent delivered "a nice reduction of pressure and medication use… I was quite surprised to see how effective the iStent had been over a year".
Speaking of the Xen implant he said, "The jury is still out, when they work well, they are very good." Although the Xen implant is minimally invasive, he noted that "recovery can be bumpy with blurred vision/ discomfort. There is also a risk of infections and you can get some hypotony".
Summarising, he said it is important to tailor glaucoma management to the patient – taking into consideration whether they will be compliant to treatment, and how motivated they are to 'go the distance'.
"Co-management is the way of the future due to staggering numbers of glaucoma. Specsavers sees 2,500,000 patients a year – there is no way we can do without co-management. But initial diagnosis and development of the management plan needs to be done together," he said.
PAEDIATRIC EYE HEALTH
Dr Caroline Catt delivered instructive cases in paediatric ophthalmology, focussing on clinical assessment and management.
She spoke about a case of non-organic vision loss – a psychiatric condition defined as "a subconscious internal conflict which becomes converted into a symptom – visual loss is due to unconscious problems or mental disturbance outside their awareness".
The condition typically occurs in children aged between six and 16 years, and beyond age 10 there is a female dominance of 3F: 1M. Symptoms for this condition do not fit with known ophthalmic diseases – the patient can present complaining of blurred vision, visual field defects, and distorted colour vision, usually in both eyes.
Other indications of non-organic vision loss can be variable results on different days, monotonous and very slow reading of all the letters on the chart regardless of their size, and a severe subjective vision defect in the presence of normal objective physical and moral objective findings.
Stressors or possible causes of non-organic vision loss include family disharmony, school stress, a change to usual habits, bullying, sibling rivalry, a recent vision test, or a friend who has recently been given glasses.
Dr Catt said being a subconscious condition, retinal and fixation strategies that 'trick' the patient into revealing their visual acuity can be useful.
Better vision can often be achieved with encouragement, and coaxing. However for some patients, it can take many years of ongoing management.
CONTACT LENS DROP OUT AND THE DESIRE FOR LASER SURGERY
In an entertaining presentation A/Prof Colin Chan spoke about spectacle and contact lens drop out.
He said that the drop-out rate after three years of contact lens wear is still high despite advances in contact lens technology, most commonly due to dry eye disease (DED), blepharitis and contact lens infiltrative keratitis/giant papillary conjunctivitis (GPC).
Patients who drop out typically turn to an ophthalmologist for refractive surgery.
A/Prof Chan said DED is everywhere in an optometrist's patient population. "One of the most common reasons they get refractive surgery is they have tried contact lenses and couldn't continue with them due to DED. Most of them don't have their DED managed adequately."
He recommended that optometrists educate their patients with DED about potential dietary modifications including oral essential fatty acid supplementation, about ocular lubricants and the use of lid hygiene and warm compresses.
Patients with blepharitis should be educated on the importance of lid hygiene and daily lid scrubs. "The challenge is compliance – only about 50% of patients will keep doing lid scrubs after a month of being told – so you have to constantly remind them," he noted.
A/Prof Chan also spoke about the need to be suspicious of contact lens infiltrative keratitis/GPC among unhappy contact lens wearers.
"If you've got a long term contact lens wearer who doesn't change their lenses much, you need to be suspicious."
He went on to discuss treatment for both and said patients should be treated until the signs of the disease are resolved, and then for an additional month. If the treatment does not work, refer on.
SCC 2020
The 9th annual Specsavers Clinical Conference will take place in Brisbane from 12–13 September 2020. Once again, non-Specsavers optometrists will be invited to attend. For more about presentations at the 8th Specsavers Clinical Conference, visit mivision.com.au