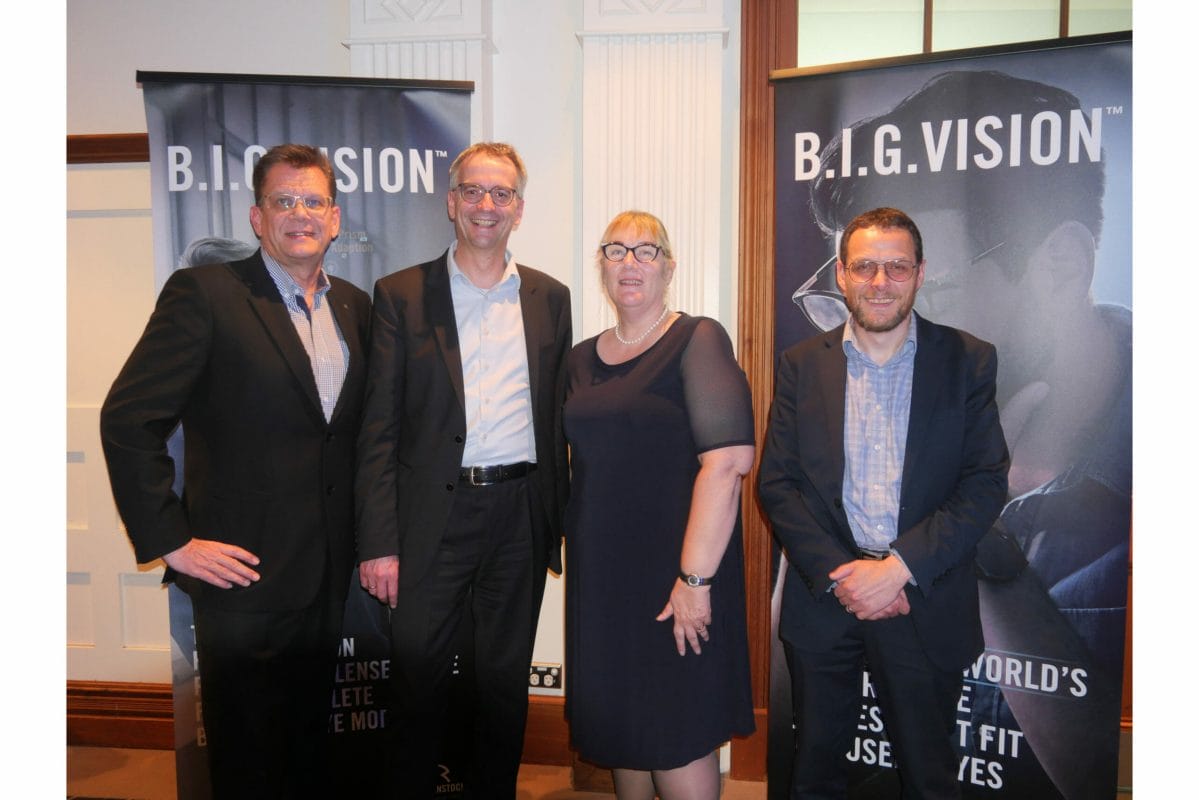 Rodenstock Germany's  head of research, development and strategic lens marketing – Dr Dietmar Uttenweiler – has travelled to Australia to launch 'B.I.G. Vision For All' to eye care practitioners.
Australia is just the second country in the world to be introduced to the concept by Dr Uttenweiler, and guests at the roadshow were eager to hear about this new philosophy for lens design which effectively delivers a new category in spectacle lenses – Biometric Intelligent Glasses (BI.G).
as a new lens category, B.I.G Vision For All provides optometry practices with a technology focussed point of difference that will be hard for competitors to follow
The roadshow aims to demystify the complex science behind the lenses so that optometrists can clearly communicate the precise features and benefits of the lens philosophy to patients.
The new approach to lens design determines the biometrics of the whole eye, including its length and several thousand data points in the eye. According to the company, it was developed following the realisation that progressive lenses available until now only precisely fit 2% of wearers' eyes.
At the Sydney presentation, Dr Uttenweiler addressed an audience of optometrists, practice owners and lens specialists. He explained that until today, development of progressive lenses has been controlled by a "narrow mind-set" focussed on understanding the eye from the limited perspective of Gullstrand's (emmetropic) standardised reduced eye model rather than understanding that the biometry of every person's eye is unique. Importantly, in designing lenses, we need to consider the complete vision system: we see with the brain rather than the eyes and the brain relies on receiving input simultaneously from both our peripheral and focus vision in order to determine what is going on and the action that needs to be taken. In essence, our peripheral vision enables the brain to orientate and detect changes while our focus vision moves to the point of interest the brain picks up. Additionally, eye movement is continuous with the human eye moving up to 250,000 times a day, to focus at near, mid, and far as well as the periphery. To effectively manage all of these demands, progressive lenses need to support vision at every angle.
Dr Uttenweiler said the B.I.G Vision for All philosophy takes all of this into account by combining the technology behind the DNEye scanner with the company's patented technologies to determine all relevant biometric data. This data is used to create a unique biometric eye model, and based on that model, Rodenstock is able to calculate a lens that matches each individual to the micrometre.
Referred to as DNEye PRO technology, Rodenstock is the only lens manufacturer in the world that is able to digitally transfer all of these measurements to lens production.
Nicola Peaper, Professional Services Manager at Rodenstock Australia, said although other progressive lenses work, feedback from people using B.I.G had been "phenomenal".
Indeed, independent research conducted to determine patent satisfaction with B.I.G. has found that they deliver up to 40% sharper vision at near and intermediate distances, and an 8.5° wider field of sharp vision at near. When asked about their experience with B.I.G. in a Swiss study, a high percentage of users experienced a wide-range of benefits to their vision. For example, 88% of participants noticed greater visual comfort with their DNEye glasses compared to their old glasses. 92% experienced sharper vision than before, 84% experienced better contrast vision, and 87% experienced reduced adaption time," the company writes.
Big Story, Easy to Communicate
Highlighting Rodenstock's finding that other progressive lenses only fit 2% of eyes precisely, Ms Peaper said the BIG Vision For All concept provides "a very definite story" that is easy to explain to the front of house staff doing the measurements and makes it easy for them to communicate the information to patients.
She added that as a new lens category, B.I.G Vision for All provides optometry practices with a technology focussed point of difference that will be hard for competitors to follow.
Also in response to research is a shift away from using fashion focussed visual marketing communications to a more technology drive approach. Dr Uttenweiler explained that research has shown customers perceive Rodenstock to be, first and foremost, a technology company driven by scientific research.
From April 2020, Rodenstock will support the optical trade with advertising materials designed to attract new and existing customers and strengthen the image as part of a broad-based spring campaign. Additionally, a film and a comprehensive brochure will be provided on the website www.rodenstock.com/bigvisionforall.
The Academy of Advanced Ophthalmic Optics has developed a training module to support use of the B.I.G Vision For All concept in practice.
Australia a Leading Market
During the roadshow, Günter Raichle, Managing Director of Rodenstock Thailand Operations and Asia Pacific Sales, who has responsibility for the Australian market, took the opportunity to advise that 2019 was a record year for Rodenstock, "thanks to our outstanding lens technology".
Advising that it was also a record year for Australia, he thanked and congratulated the Rodenstock Australia team and its customers.