EyeQ Optometrists at Ramsgate Beach Plaza in Sydney has celebrated 40 years of continuous business in the community. The practice has operated from the same site (albeit expanding into adjacent premises over time) and still has members from the original team on staff.
At a celebration on 19 February, which was attended by NSW State government MPs the honourable Eleni Petinos (MP) and Steve Kamper (MP), practice partners Ray Fortescue and Mark Koszek acknowledged the milestone achievement and congratulated all involved in the practice's success.
patients have become friends and staff have become family
Thanking Ms Petinos and Mr Kamper for joining the celebration, Mr Fortescue said both had been long term patients – Ms Petinos since her school years and Mr Kamper since commencing his career "as a budding young accountant" nearby.
Continuous Generational Service
Since the practice's opening day on 19 February 1980, Mr Fortescue, who is also the Executive Chairman of the EyeQ Optometrists group, said his practice had been  servicing the communities of St George and the Shire continuously and generationally.
"Just last week I examined  a recent grandmother who I had first seen in the early 80s as a primary school student – it is so rewarding, but also a reminder of how quickly time passes," he said, adding that over the years, "patients have become friends and staff have become family".
Mr Koszek, who has practiced at EyeQ Ramsgate for 20 years, also reflected on the rewards of developing loyal patients over time. "Coming to work is like having the opportunity to catch up with 20 friends every day of the week," he said.
Over 40 years, EyeQ Ramsgate has managed more than 300,000 patient visits. The existing team includes four staff members who have worked with the practice for over 30 years and two who have been with the practice for over 20 years (Founder Ray Fortescue, Maureen Scott who commenced in 1985, Craig Ingram in 1986, Cheryl Pressley in 1990, Mark Koszek in 1999, and Vicki Tsamardos in 2000). Mr Fortescue's daughter Amy Yewdall, an optometrist who is currently on maternity leave, has worked in the practice since she was 15 years of age.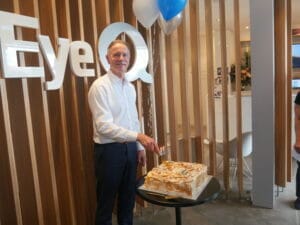 Mr Fortescue put the practice's long term and continuous success down to "our specialty skills such as orthokeratology and behavioural optometry, our state of the art equipment and the respect we have earned from other health professionals".
EyeQ Optometrists comprises 26 practices across all mainland states. The group evolved from Ramsgate as one of the founding practices.