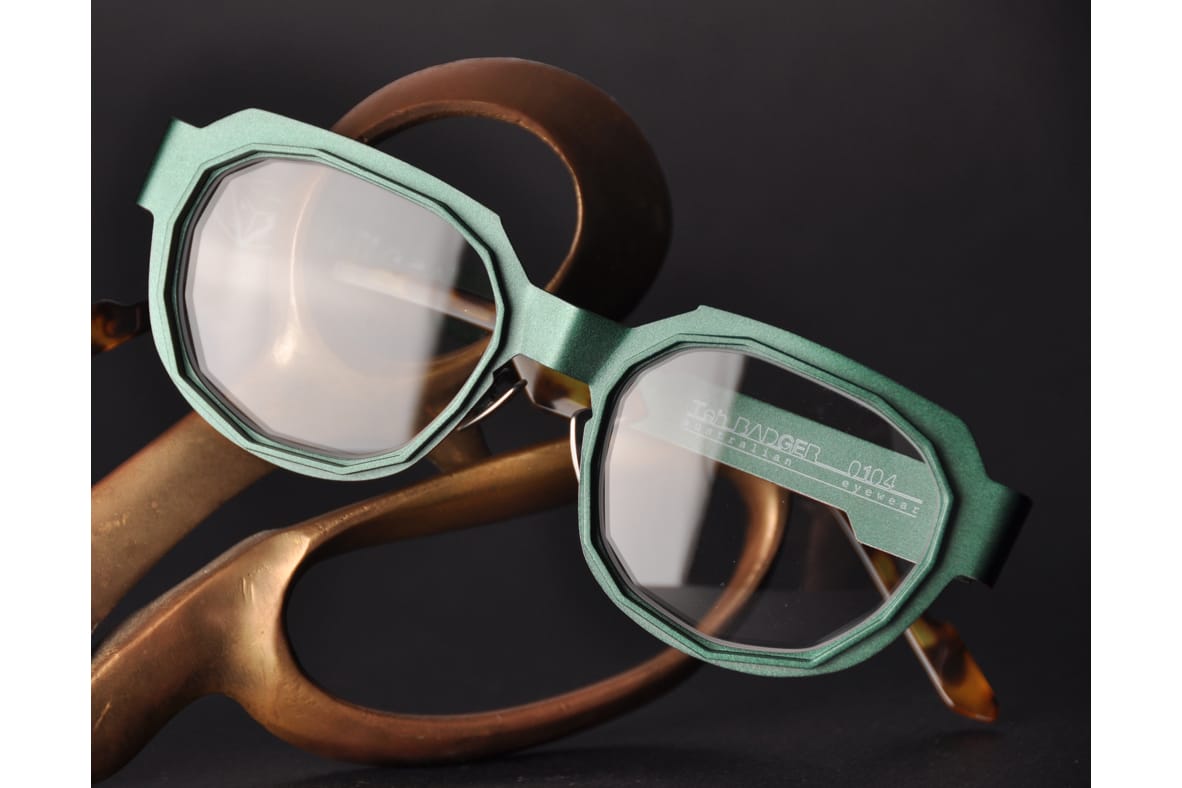 Niloca is a Melbourne based eyewear brand that has gained an "incredibly niche but loyal" following around the world. Known for crafting frames with quirky form, function, and endless optimism, there's nothing industrial designer/optical dispenser Colin Redmond enjoys more than to push the envelope in pursuit of new concepts that surprise and delight.
Q. What makes Niloca unique?
A. Wearing a Niloca frame is like wearingcustom made shoes, it'll put a smile onyour face and make you feel 10 feet tall.
Niloca is atypical to off-the-shelf frame purchases and designers. I invest heavily in form and function, experimenting with materials and construction techniques in my workshop. The process is tedious and time consuming, it's not uncommon to see 80+ glasses (both wine and eyewear glasses!) sitting on the concept development table for three years until I'm happy for them to be released as a collection.
In a day and age where algorithms attempt to cater to our desires even before we know it, Niloca offers something unpredictable and adventurous.
There are two elements Niloca clients have in common; they're drawn to the optimistic vibrancy of the collections and can read the design language. Patients who need glasses just to get out of bed want their eyewear to become part of their personality, not just a medical aid. If you take pride in the presentation of your personal brand, then Niloca is for you.
Q. Is there an iconic 'Niloca' style?
A. I coined a phrase 'frame in a frame' fora concept I sketched in 2012, released inMilan at Mido 2013. A lot of people still remember this frame, it was bright, colourful and fun – it was copied, watered down, re-hashed and rebranded by countless 'designers' and companies. But it's endearing to still meet those who love the original frame and make time to speak with me. The inspiration for that frame came from camera surveillance. The idea was to create a rectangular block frame to cover your face and protect your identity, while still maintaining the wearer's sense of character by having another frame shape within it.
The other iconic frame I have requests for is the poly-faceted, projector-style titanium frames of 2013 and 2016. The original concept was influenced by A Clockwork Orange. 
I'm really proud of my latest collection though, the Suburbs Collection, featuring a 'floating frame front' with 'nude' temple legs. It's a stripped back classic collection using premium HD Japanese acetate with a quirky use of traditional components.
Q. What experience in design did you bring to the table and how did you apply it?
A. I've been working as a professionalIndustrial Designer for more than20 years. I have university degrees in Automotive Styling and Industrial Design. Before focusing on eyewear, I started my career as a car designer in Germany for Audi in the late 90s.
In 2005, I self-funded one of Australia's first fully independent 3D Printing and Design consultancies. It was a real thrill, no two hours in the day were the same. I sold that business in 2010 to focus on eyewear. In 2017, I completed an Optical Dispensing Cert IV course so now my parallel skills bounce off each other in really useful ways. Automotive styling is great for creating extravagant 3D forms. Industrial design is perfect for problem solving and being an optical dispenser allows me to understand patient needs. It's creative problem solving and trend analysis on steroids.
Q. Tell me about the studio you are establishing in rural Victoria.
A. A few years ago, my wife and I decidedto leave busy inner-city Melbourne to growNiloca and our family. Getting the work/ family/community balance was our top priority.
When I first moved to rural Victoria, my studio was home based, it was incredibly isolating for work but great as a primary carer juggling domestic duties, kindergartens and chemist trips with work trips to Paris, Milan and New York. Once the kids were both in school, it was time to step things up. I've always wanted a workspace that would cater for design, right through to sales. I'm finally making that dream come true; my new studio/shop will be on the main street of my small artsy town an hour north of Melbourne.
Q. As a small player, what are the challenges you face and how do you overcome them?
A. At Silmo Paris last year a friend who ownsa large independent European boutiqueasked what different roles and tasks I do in the business? I told him, then he looked at me with a concerned furrow and said, "We have 17 people in our business doing what you do". He meant it with genuine concern. To be honest, I don't find size so much an issue, as access to markets. By doing all the tasks myself, it frees up cash flow for the expense and time required to reach bigger markets and suppliers overseas. They are time consuming trips but always worth it.
Sometimes though, I do wish Niloca was bigger, had a marketing or advertising budget, and its HQ in Paris!
Q. Where are your frames made?
A. I find this a mute topic. I choose qualityover origin. The location is irrelevant if themaster-crafter I work with can create my design proposals to the highest order.
Q. How do you work with suppliers to source materials and tooling?
A. I meet new suppliers when I'm in Paris at Silmo or Milan at Mido.
When vetting them, I skip the sales pitch and head straight to the workshop looking for best practices and working conditions. It's crucial for a supplier to have people, not workers, making frames with my name on them. Years ago, I visited a French workshop, it had unskilled, non-French speaking workers on repetitive tasks, with no interpreter. The samples reflected the workshop, but not the country's formidable status in eyewear. The relationship didn't last longer than lunch.
For production, I collate a 60+ page handover document, encompassing drawings, spreadsheets, material specs, component details, colour codes and quality checks.
The process to make the Chopstick Collection was very challenging, starting in 2015, with an aim to create eyewear from rods. If the idea worked, then there would be zero production waste and a massive saving in energy. We eventually figured out a way to bond acetate intrinsically onto itself, using a trusted supplier, a secret process and special forming tools. It took a solid 18 months to figure it out, but the final result more than made up for it.
Q. How involved are you in the manufacturing process?
A. I'm heavily involved in the beginning,then hands-off. The small suppliers I usereally enjoy making my glasses, they like the challenge and opportunity to show their skills and ultimately, be appreciated. They're not just another number in the process, I know them all by name.
Q. You've said you're not so interested in accolades and awards – what does drive your design?
A. Awards are about the past butdesign is about the future, you're onlyas good as your next design. When a Niloca client falls in love with the frame, I see it in their eyes and face, they're radiant, lighting up the room with happiness, it becomes contagious. It's such a rush to see a design have a positive effect on someone, it's perpetual motivation, evolving as the client does through their life's journey.
Q. Niloca is far from mainstream. Why should optometrists feel confident about introducing your brand to their customers?
A. Niloca is a design led business, thecollection is inherently positive with adistinct point of difference. Niloca Eyewear challenges the status-quo of luxury and innovation, it makes many traditionalists uneasy, but in doing so, it serves as a beacon for those progressive clients who value being on trend.
For many people, the power of good design matters. I had one client who couldn't find my frame in LA, so they flew to the UK to find it there. Not every customer will do that, but that is the power of great Industrial Design. I fill an incredibly niche market with Niloca but that market is passionate and loyal about my work. They want me to keep pushing the envelope and so do I, I love it!
Email: Niloca eyes@niloca.com