Among the broad spectrum of patients frequenting your practice with diverse needs and desires, are teenagers… This customer group requires a specific formulation of comfort and style to cushion the often difficult process of adjusting to what could be their first optical frame. While ensuring the perfect fit is essential, it's also important to be aware of your teenage patients' lifestyle needs, and the social, physical and academic factors that accompany their approach to selecting the perfect frame.
The teenage years are often when common vision problems first arise. A U.S. study conducted in 2016 found that 51.9% of girls and 38.8% of boys aged 14–17 wore glasses or contact lenses,1 highlighting the prevalence of eyewear need in the teenage cohort.
Good Vision For Life, an initiative by Optometry Australia,2 has outlined the four main factors that may impact vision during teenage years – self-image, too much screen time, being active and playing sports, and nutrition and hygiene.
Common vision problems for this age group include asthenopia – tired eyes often caused by frequent screen time and looking between the board and computer screen or book in a school environment, hyperopia – farsightedness where people have trouble focusing on things close up, and increasingly, myopia – the inability to see things clearly unless they're close to your eyes.
When finding the perfect frame for your teenage patient, it is important to be aware of their vision needs and how to best assist in improving eye health. However, to ensure complete patient satisfaction, it is equally as important to be attuned to the demands of a teenage lifestyle.
A TEENAGE PERSPECTIVE
Eighteen-year-old Isabella recently developed eye strain and a bout of irritating eye twitches after a prolonged period of screen time. Her optometrist advised she start wearing glasses. "The lens I was prescribed was relatively mild, only 0.75," she said. "Yet it was the aesthetic idea of having to wear glasses and feel confident in them that made me feel vulnerable. I felt incredibly insecure at the thought of having to wear glasses for the first time."
Considering her age, Isabella also said she questioned why she needed glasses when her parents eye sight is completely fine. Having grown up with good eye health, she felt disheartened by the sudden changes in her vision and worried about further deterioration.
Finding a frame to suit Isabella was a balancing act between fashion and fit, as well as taking into consideration her sensitivity to the idea of glasses in the beginning.
"With time, I started to put this new reality into perspective, and tried to shift my thought to something more positive. I tried to look at wearing glasses as an opportunity to purchase a new accessory and found a pair that fits my style," said Isabella.
Understanding the perspectives of your teenage patients, and providing encouragement and comfort when needed, is vital to getting things right.
SUITING AN ACTIVE LIFESTYLE
Teenage-hood is a time in an individual's life where lots of different factors meet to make up a busy and bustling lifestyle – academic, social and sporting endeavours all compete with one another for centre stage. As optometrists, it's important to be aware of the multi-faceted life your teenage patients are leading, and approach each case fully equipped to manage all needs.
At age eight, Chloe was prescribed her first pair of glasses due to short-sightedness. "At the time I loved wearing my glasses to school because not many kids wore them and everyone was really interested in them," she said.
However, when Chloe entered her teen years, her attitude towards wearing her glasses in a class environment changed. "When I started high school, I felt a bit shy wearing my glasses because I never found a frame that I liked and that I thought suited my face."
Chloe transitioned to contact lenses in year eight to better suit her active lifestyle. Playing netball, water polo, soccer, track and field and more recently AFL, contact lenses provided the perfect solution to Chloe's sport-based needs, all the while improving her self-confidence.
"After a while, I started wearing contacts every day at school because it meant nobody could tell I had bad eyesight."
Now in her later teenage years, Chloe says she's come to enjoy wearing glasses just as much as contact lenses. Having found a frame that suits her face-shape, she feels more confident wearing glasses for day-to-day life activities, reserving contact lenses for sport.
When it comes to active teens, it's important to remember that contact lenses might not work for everyone. As optometrists you can also offer your patients optical frames that provide the protection necessary for a range of physical needs. Whether this be impact resistant glasses for sports where teens are at risk of eye injury, and/or, recommending accessories such as straps, to ensure a secure fit to the face when rock-climbing or sailing.
THE IMPORTANCE OF A GOOD FIT
As well as taking into consideration fashion and functionality, it is imperative the optical frames you prescribe your teenage patients fit well. There is no point having an aesthetic frame if they cause headaches or suggesting an impact resistant lens if they slide down your face. If frames don't sit where they should, the patient won't be looking through the optical centre of the lens, causing poor vision.
Ensure that the frames you prescribe fit the width of the face, sit well on the nose, stay in place and are comfortable to wear. In a classroom environment teens will frequently look up to the board, then back down to their book. If movement like this causes frames to slip and readjustment is constantly needed, then your patient may be tempted to give up entirely, especially if they already have reservations about their new frames in the first place.
References 
Rock Star
Filled with energy, Rock Star delivers the latest mini-celeb looks while inspiring individual style and self-confidence. This bright young range pops with personality with its fashion-forward design and fun pattern and colour fusions.
Contact: Aarons Eyewear (AUS) 07 3367 8447 
Lacoste T(w)eens
L3636 (pictured) is a T(w)eens interpretation of Lacoste's famous colour block concept. With classic branding, such as the highly recognisable Lacoste Croc positioned on both temples, it's playful and lively, making it perfect for young teens. Extremely flexible and backed by Marchon's unconditional warranty, T(w)eens frames are durable and comfortable to wear. Available in classic havana as well as pastel azure and coral.
Contact: Marchon (AUS) 02 9697 8080 
Random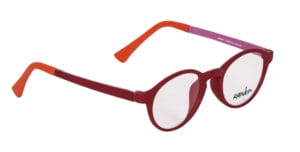 Less is more with Random eyewear. Simple frame designs are presented in fashion forward colours and crafted with care for maximum comfort and durability. Italian designed to appeal to every teen.
Contact: ProOptics (AUS) 02 8007 6041
InStyle
Modern, elegant and budget friendly, Instyle frames are fashioned with high quality materials and styles to attract your younger patients.
Instyle can be ordered on consignment through Opticare's Frame & Fit Package.
Contact: Opticare (AUS) 1800 251 852 
Joules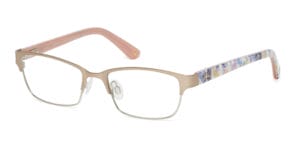 Crazy about colour, dotty about detail and passionate about prints… Joules eyewear comes from a long history of UK based fashion design. Petite sizing and vibrant colours are at the heart of the latest collection, which offers sizes that fit perfectly, patterns, finishes, colours and details that delight.
Contact: Mondottica (AUS) 02 8436 6666 
ic! berlin young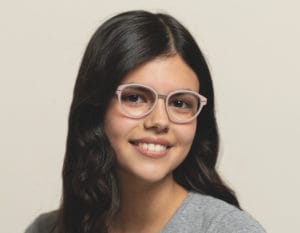 ic! berlin young is a product line specifically developed for a young, yet growing generation of wearers. Models take into consideration the expectations of adolescents, especially in relation to proportion, fit and timeless design.
Pictured is Sophie-Charlotte, one of four new models made from feather-light material, partly coated with skin-friendly rubber, and bearing old German names.
Contact: Eyemakers (AUS) 02 9960 7766 
AM Eyewear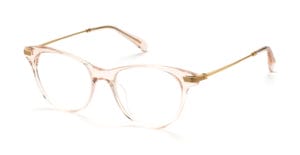 The younger demographic has always been a core customer of AM Eyewear, which designs light weight, somewhat inconspicuous frames to attract their attention. The latest collection includes clear acetates and ultra-thin titanium temples, so they're very strong yet not too heavy on the face.
Contact: AM Eyewear (AUS) 02 9357 4550 
Maui Jim
Ah Dang! captures the spirit that lives within each of us; the wonder when you see a beautiful sunset or the excitement when you hear a special song that makes your day. This lively fashion nylon frame is available in four charming colour combinations and comes with SuperThin (ST) PolarizedPlus2 lenses.
Contact: Maui Jim (AUS) 02 9452 5575 
Mars Fashion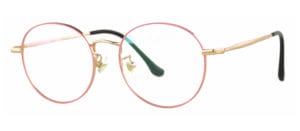 Mars Fashion Eyewear presents stylish affordable frames for teen girls and boys. Bold yet simple designs, fashionable colours and titanium, acetate and metal constructions make these frames popular and long lasting.
Contact Bonastar (AUS) 02 9310 1688 
Le Specs Optical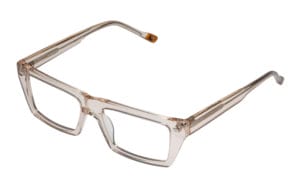 Le Specs' popularity with the teenage market has been key to the brand's success globally as a leader in youth-fashion eyewear. When designing the Le Specs optical collection with Blake Kuwahara, the group was very conscious to ensure the frames resonated with the teenage market in terms of fashion while also offering a series of smaller fitting eye sizes that can cater to growing faces.
Contact: Sunshades (AUS) 02 8303 7333 
The Book Club
Realising there is no such thing as perfect, is the perfect life lesson.
The Book Club eyewear is designed for teens who want to feel comfortable in themselves. Be on their side! There are plenty of challenges to face in life, so give them a helping hand with great eyewear that makes them look and feel good.
Contact: Sunshades (AUS) 02 8303 7333