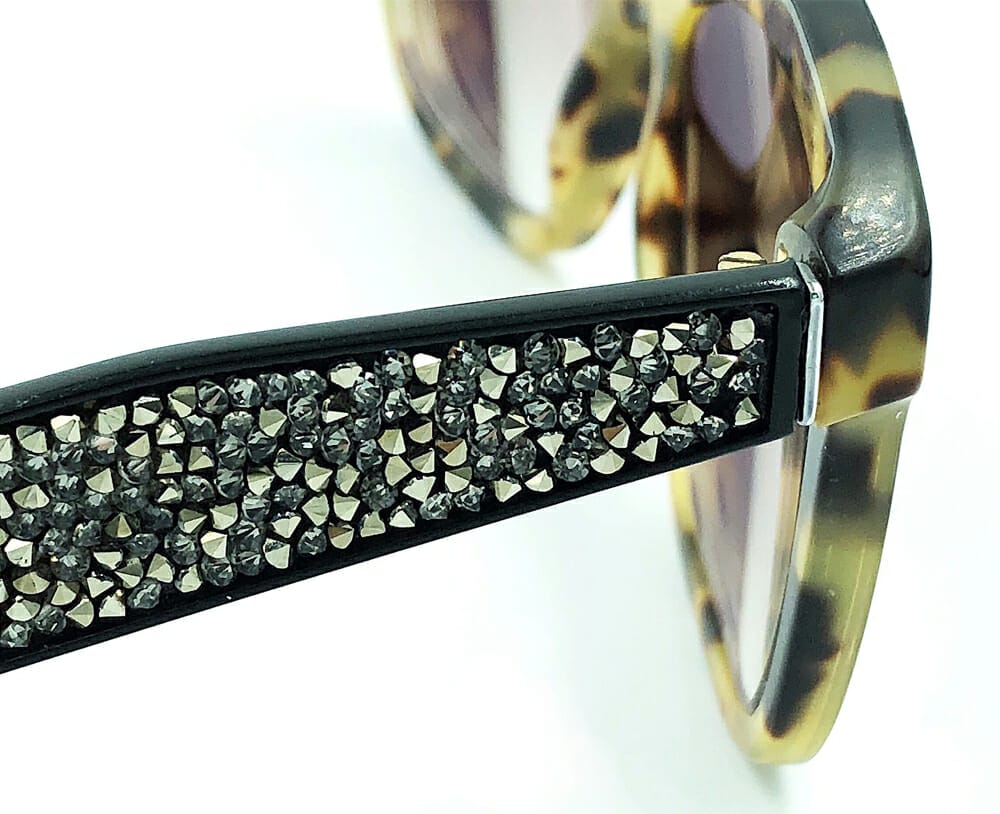 Whether it's transforming a full frame into a half frame, lifting a bridge to remove pressure from a cancer wound, repairing a hinge, or performing a total colour make-over, there's a team of alchemists at FrameCare happily working with optometrists to individualise eyewear for patients with unique needs.
People require spectacle modifications for a number of reasons – the most basic of which are repairs to broken springs or spring hinge mechanisms, bridges, nose pads arms etc. However sometimes things get a little more complicated and that's where life at FrameCare gets interesting.
Sometimes a customer will have found the frame they love, with the perfect fit, but they can't get it in the colour they dream of – we're able to provide a solution
Operating from Cairns in the top end of Queensland, FrameCare has built a successful business around meeting the needs of customers who typically turn up at their local optometrist with a damaged or non-ideal frame in hand.
Kylie Lange is one of 13 technicians, including founders Per (Peter) and Lene Anderson who work at FrameCare to help these optometrists meet their patients' needs.
"Our technicians come from a range of backgrounds – I come from the optical industry but we find many of the skills we need are common with the jewellery and model car building industries," Kylie told me. "It takes a certain mindset to be able to think up all the weird and wonderful solutions we find to modify spectacles!"
Frames sent to FrameCare for modification are typically turned around within a day of receipt, though more complex jobs can take three to four days to complete as glues and paints are given time to set.
"Depending on the job, it can be quite a process," Kylie said. "Over the years, through experimentation, we've developed special glues to suit individual materials and purposes. All our metal repairs, including titanium, are micro-laser welded together. This process produces very little heat to the surrounding material, which enables us to work very close to plastics without heat damage, unlike good old soldering."
Individual parts for custom jobs are crafted in-house, while some standard parts are sourced from overseas.
MANAGING THE EVERYDAY
Along with the everyday requests for repairs to hinges, bridges, and nose pads, come requests for temples to be shortened or lengthened, ptosis bars to be attached and frames to be lifted.
"The most common modification requested is to fit adjustable nose pad arms to a shell frame to lift it up and away from the face. This creates more space for cheeks and eye lashes.
"To do this, we remove the existing moulded nose pads and buff the frame before fitting metal pad arms in silver, gold or gun metal. We use a mounting screw to keep the pads secure and a small locator pin to prevent any rotation, which is sometimes seen with other designs. These can be fitted to all materials without any issues. These nose pads are very popular because they are easily adjusted to perfectly fit the nose. They can also be fitted to many different materials.
Other options for alternate fit modifications include installing longer moulded pads, which are particularly useful for small nose bridges. In this instance, the existing moulded pads are removed and the frame is buffed. Clear longer pads are fitted in the desired spot, either by drilling, gluing or acetone welding, depending on the material of the frame.
Another option is a half-moon bridge, which is drilled on the back of the shell bridge without removing the existing moulded nose pads. The beauty of this option is that it can be removed later should the need arise.
"We fitted this onto a frame for a customer who had a skin cancer removed from the side of her nose. Moving the frame pressure from the side to the top of her nose was a perfect solution for her," Ms Lange explained.
Re-colouring damaged frames or entirely changing the colour of a frame is another reasonably common request. "Sometimes a customer will have found the frame they love, with the perfect fit, but they can't get it in the colour they dream of – we're able to provide a solution," Ms Lange said.
EYE-OPENING REQUESTS
In a world where frame choices seem limitless, some of the requests that FrameCare receives can still surprise.
"One customer asked for a round shell frame to be turned into a half eye, so we cut the top half of the eye wire away and fitted a nylon wire across the top to secure the lens – you couldn't tell it wasn't made like that," Ms Lange said.
Another unusual request came from a customer who wanted a half lens fitted into a full shell frame to work as a bifocal/half eye.
"Again, we fitted a nylon wire from each side of the eye wire to hold the half lens in place. The customer loved it so much she had another two frames made the same way," Ms Lange said.
Yet another unusual request came from a customer who wanted temple-end spacers custom fitted to a shell frame to reduce a splay resulting from high minus scripted lenses.
"We cut a piece of stainless steel in the right thickness to perfectly fit the end of the temple and attached two pins to the back of it using micro laser welding. They were secured by drilling into the plastic temple, then polished to a high shine and finally, gold plated to match the existing metal parts on the frame. They looked absolutely beautiful, and certainly did the trick."
UNIQUE SOLUTIONS FOR OPTOMETRY
As a small company working from the very north of Queensland, FrameCare's reach extends right across Australia. With innovation, creativity and flexibility, they're helping optometry practices deliver unique solutions that are entirely tailored to each patient's needs.
Contact: FrameCare (AUS) 07 4032 4141