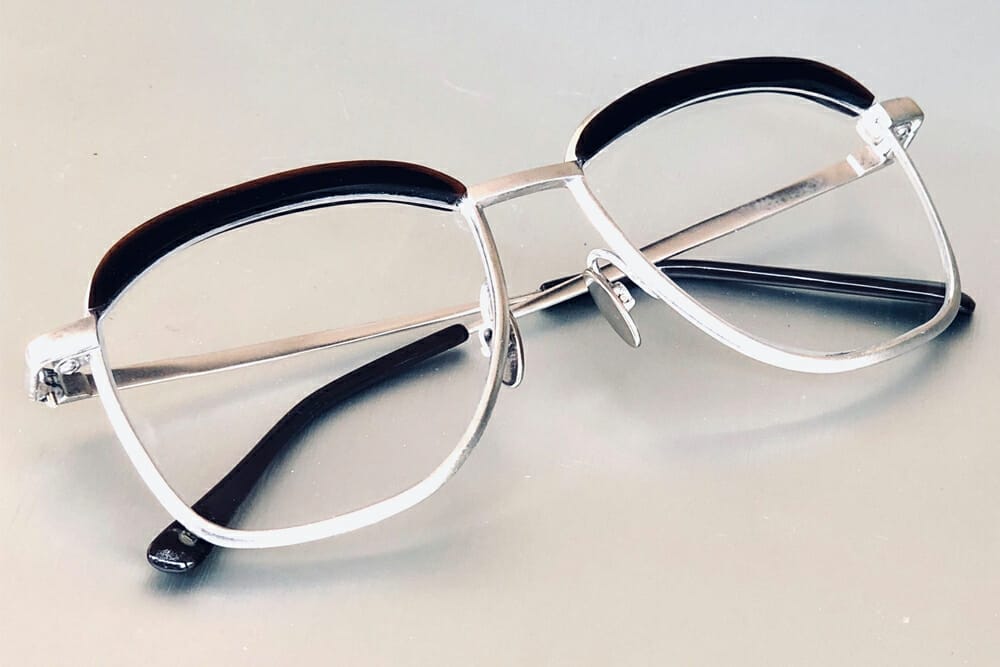 Peter Coombs Eyewear has been recognised with international design awards in Japan and Australia, and has appeared in museums and private collections globally. With a background in design, jewellery and metalsmithing, founder Peter Coombs combines a complexity of ideas and techniques to create eyewear that is quite simply beautiful.
mivision recently caught up with Peter to find out how his passion for designing and crafting eyewear has evolved.
Q. Tell us about you, your art and your passion for eyewear.
Eyewear, jewellery, flatware, hollowware; my art is the result of an ongoing and provocative journey of design and metal play. I am a designer, jeweller and metalsmith. I know metal intimately. I've pushed and pulled it, bashed it, bent it, carved it, cast it, fused and soldered it.
I'm not into fads and I don't follow mass fashion edicts. I believe good design is always in style and beauty is timeless
Eyewear especially intrigues me. How far can I push, with artistic purpose, the boundaries of fashion and function to arrive at chic, wearable and collectable pieces? In 1985 I made my first pair of spectacles while studying for a Bachelor of Design (majoring in Jewellery and Metalsmithing) at The University of South Australia. From there evolved a 35-year eyewear relationship exploring alternative, innovative ways to form and colour a variety of metals. It has always been important to me that there is art, expression and individuality expressed in each piece. The mechanical function/ hinge element design has been an ongoing intrigue and has become the defining feature of my work.
I consider my eyewear 'Jewellery for the Face'. All pieces are rare, if not one-off designs, and many have been the result of private commissions over the years. Some I have just made because I needed to prove that I could.
Q. When did you start Peter Coombs Eyewear?
I have been making collectable one-off and custom eyewear since the late 80s. In 2013 my wife Rebecca and I embarked on designing and producing a limited-edition collection for high-end boutiques, which we launched at Silmo Paris in 2014.
Q. What makes your eyewear stand out from the crowd?
I am a jeweller, so Peter Coombs Eyewear is an extension of the high-end custom jewellery I design and make; special, luxurious, unique and remarkable. The frames are all designed with my own construction methodology for function and variable comfort. I use no off-the-shelf components. I design and make all the hingeing and hand finish metal components to deliver a long-lasting lustre and luxurious feeling of softness on the skin.
Q. How do you profile your typical wearer?
Our typical wearers are style-conscious individuals who seek out and invest in quality items which enhance their unique identity. They desire to be noticeably different and recognised as educated connoisseurs by their choice of lifestyle products. More often than not, they are confident leaders and creative innovators in their professional and personal lives. One of my greatest joys is connecting with these people who often become friends for life.
Q. What's your philosophy for life and how do you interpret this through your eyewear design?
My philosophy for life centres around the rewards of quality versus quantity or "less is more". I'm not into fads and I don't follow mass fashion edicts. I believe good design is always in style and beauty is timeless. As a result, I do not design a new collection per season. I progressively evolve style ideas, adding them to my collections, and I evolve design methodologies and construction solutions, releasing them in new collections when they are resolved to my complete satisfaction.
Q. What do you particularly enjoy about designing eyewear?
I love designing eyewear. I love the process of bringing an idea to life; being curious, exploring possibilities, pushing boundaries, finding unique solutions. I love the end result; a happy customer surprised at the comfort of a metal frame, helping a wearer to transform their identity and build their confidence, the lifetime connections made as a result of the personal interactions with trade and private customers.
Q. You've custom designed eyewear for celebrities such as Elton John. Can you describe a couple of standout experiences – in terms of the process of designing, creating and seeing the end product worn?
I have designed and made eyewear for numerous celebrities and collections over the years and that has been thrilling but the stand-out custom projects have been with clients who have done their research, made contact and invested their time and savings into a design process that results in a frame that is unique to them.
Last year I was approached by a costume design department with a brief to re-frame the famous actor Daniel Radcliffe, known for his iconic round Harry Potter eyewear. The brief was for a bold 70s design to build on his character Tim Jenkins in the movie Escape from Pretoria. Design options were researched, and the final design was crafted into two Argentium silver and Japanese acetate frames. Daniel was a gentleman to work with. Since the international release of the film in 2020, I have remade the frames on commission for collectors in the USA and Europe. The style is named Jenkins.
Q. Recently you opened your atelier in Rundle Street – what has been particularly rewarding about this experience?
Our new atelier COOMBS+CO on Rundle Street in Adelaide has been a very rewarding and surprising experience. We now have a better understanding of who our customers are and what it is about my story that resonates with them. This is the first time ever that I have had a space to show the full Peter Coombs current and archive collections in one place.
The atelier allows the opportunity to offer custom eyewear direct to the public where they can see the process unfold. All of my frames can be customised – shape, size, colour, finish, fit. We have preferred local optometrists that we send our customers to if they require a recommendation for prescription lenses.
The opportunity to publicly practise my craft in the front window of the atelier at my jeweller's bench makes me somewhat of a curiosity. It is satisfying to demonstrate what real 'handmade' looks like.
Q. How does your manufacturing process differ from mainstream eyewear companies?
My design process starts with drawings of ideas and progresses with hand cuttings of all designs in aluminium until the final design is perfect. The majority of my final frames I hand cut and send off for colouring in Australia where necessary. I have in the past had titanium components made by specialist titanium producers in Japan but found that the minimum order quantities are prohibitive for my exclusive, limited edition offerings. All hingeing, cutting and fitting of lenses, shaping, finishing and packaging is done in my studio or at my atelier. I have components on hand but do not hold finished stock. All frames are assembled and packaged when wholesale orders are placed.
Q. What is your preferred material to work with when crafting eyewear and why?
I work with precious and refractive metals for luxury and utility. Titanium, gold and Argentium silver (which is a much harder silver with a higher tarnish threshold). I use less gold and silver these days and more titanium due to recent market preferences for lighter weight eyewear. This is not a universal trend however; I have Russian clients who prefer heavy solid gold. I have also incorporated precious and semi-precious gems into designs. Argyle diamonds, Queensland sapphires, South Sea pearls – again, I am a jeweller, so the custom options are endless.
Q. Where do you get your next ideas from?
I'm inspired by a piece of music or a conversation, a person's style or movement, the way a structure looks, or how engineering is articulated. More recently my experience as an advocate in the Australian design community has been inspirational. As current Chair of SA/NT and National Councillor of Design Institute of Australia for the past five years, I have been exposed to design industry leading innovations and ideas in building construction, engineering, lighting, furniture and more, which seed ideas in my own work.
Q. What can we expect to see next?
I have just completed a range of eyewear which was all designed at my new atelier. I have focused on smaller faces as it was something that I was missing from previous collections. The range is called Coombs+Co after my atelier on Rundle Street, Adelaide and the styles are named after the neighbouring streets and laneways. The base collection is a reflection of past collections utilising the silver hinge design I have been producing for a few years now with new contemporary shapes and a high polished titanium finish. The ever-expanding range of 12 styles can be customised with a selection of hard ceramic colour coatings.
Q. What's your advice for practices emerging from the COVID-19 pandemic?
COVID-19 has changed our world forever. People are changing their thinking and doing things that they have never done before. At the time of writing we have already experienced, in our atelier, that customers are more willing to try new things, see differently and be confident in something new, something innovative – a fresh start perhaps. There is also very strong support for local businesses and brands. If you don't have Australian eyewear designers as a part of your collections, then now is the time to seek them out. There are world-class, quality Australian eyewear designers to discover and your customers are looking for them too. For now, be present, positive and safe. We are all in this together.
www.petercoombseyewear.com