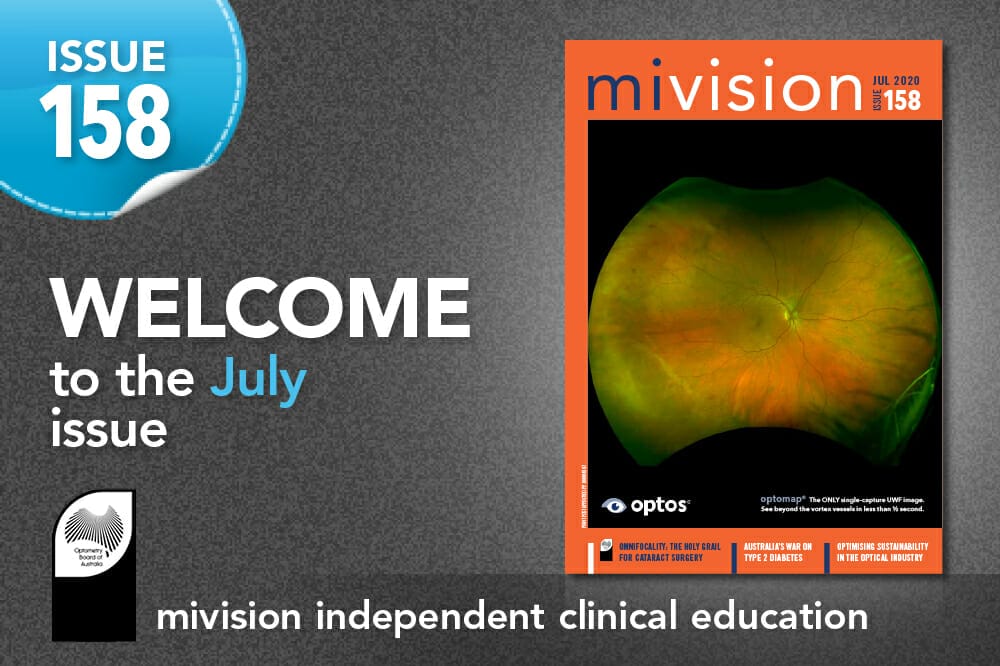 It's a great honour to have our Australian of the Year, Dr James Muecke, write for mivision this month. Dr Muecke is passionate about increasing awareness of the risks of type 2 diabetes (TD2) and introducing effective ways to reduce its incidence. In this issue, timed to coincide with National Diabetes Awareness Week (12–18 July), he tells the heart-wrenching story of a middleaged husband and father with TD2 who has lost his sight, and in the last 14 months alone, undergone nine surgeries in an effort to combat the progress of this insidious disease. Dr Muecke also outlines his plan to fight TD2 in Australia. The greatest challenging will be getting businesses and governments on board.
Optometrist Ryan O'Connor tells another powerful story, this time of a young woman trying to conceive her first child while fighting the ravages of type 1 diabetes, which had already badly affected her vision. As Ryan says, advice about what she could do to protect her overall health may enable her to have children and see them grow up.
Of course, eye care professionals can't get messages out there if patients don't come into practices for check-ups in the first place. This is where KeepSight is beginning to have a real impact – via Diabetes Australia, eye check reminders are now being sent to people with diabetes who have registered with the program. As A/Prof Peter van Wijngaarden says in this issue, it's hoped that this effort to supplement your own practice recall letters will result in more patients with diabetes turning up more often for eye checks.
Dr Amy Cohn rounds off the discussion on diabetes by looking at existing, new and future technologies to diagnose and manage diabetic retinopathy. These increasingly sophisticated technologies, coupled with government intervention and education to change behaviours, will hopefully one day stem the rising tide of this devastating disease.
Over the past few months there's been unprecedented energy put into public health messages aimed at protecting the community from COVID-19 and research aimed at finding a vaccine. Imagine if we were to put a similar effort into a battle against diabetes. With 1.5 million Australians living with TD2 right now, it makes sense.
Let the battle begin.