Rabia Mobeen, a University of New South Wales School of Optometry and Vision Sciences (UNSW SOV) PhD candidate, has been announced as a recipient of the prestigious 2020 William C. Ezell (Rod Tahran / Essilor) Fellowship by the American Academy of Optometry Foundation (AOF). Ms Mobeen was the only international candidate to receive an Ezell Fellowship award in 2020.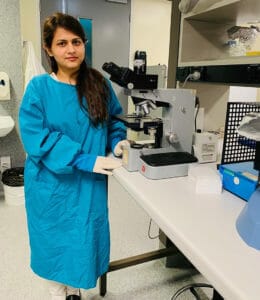 The Ezell Fellowships, which have been awarded since 1949, aim to encourage talented people to pursue full-time careers in optometric research and education in a school or college of optometry. These fellowships provide support to graduate students enrolled in a full-time program of study and training in vision-related research that leads to a Master's or PhD degree.
Over the years, the AOF has awarded more than 430 Fellowships to students pursuing graduate studies. Among the list of former Ezell Fellows are more than 20 deans and presidents of optometric schools and colleges, over 100 faculty members and over 100 Fellows of the American Academy of Optometry, including three of its presidents.
Now a flagship program for the AOF, Fellowships are for one year and the current amount of the award is US$8,000. Each student also receives travel grants to the annual meetings of the American Academy of Optometry and the Association for Research in Vision and Ophthalmology, which are $750 each.
A GOLDEN OPPORTUNITY
Ms Mobeen told mivision she was excited about the opportunities that the Fellowship presented to her.
"The Ezell Fellowship is always a golden opportunity for an optometrist – I found out about it online years ago. It stood out to me as something that would enable me to use my talents, my experience and my skills to the best of my ability," she explained.
Ms Mobeen's primary research is focussed on the ocular surface immune response in contact lens wearers across different age groups. Additionally, through her studies, she has acquired extensive optometric clinical and laboratory experience and skills required to conduct human translational research to better understand complex ocular neuroimmunology.
"The multidisciplinary approach of this project I am undertaking is one of its key strengths," Ms Mobeen said. "I have gained a high level of expertise in the application of in vivo confocal microscopy techniques to critically investigate corneal immune cells and corneal nerves. This enhanced understanding of the complex ocular neuro-immune crosstalk is crucial in our efforts to improve the safety of contact lens wear.
"I am very excited about the opportunities which getting this fellowship can provide me and the chance to meet excellent leaders across the globe," Ms Mobeen added.
"This fellowship will strengthen my ability to achieve my goals. I believe my recognition as an Ezell Fellow will significantly complement my current efforts to strengthen my research focus, improve clinical skills and advance the optometry profession."
The Ezell Fellowship identifies leaders who have contributed not only to research but also to education, teaching and clinical practice. Ms Mobeen's application comprised three reference letters along with her biosketch outlining her qualifications, experience, awards, achievements and contributions to science, and her publication bibliography.
TALENTED EMERGING SCIENTIST
Described by Professor Lisa Keay, Head of School at UNSW SOV as "a talented emerging scientist with a very bright future", in 2019 Ms Mobeen was one of two researchers outside the United States to receive a Joe and Janet Barr Early Career Cornea and Contact Lens Research Award from the American Academy of Optometry Foundation. Additionally, in 2019, she became the first UNSW student to be awarded the Hikaru Hamano Travel Fellowship. "This is testament to the great work Rabia is doing, not only in her research, but also within the school community" said her coordinator Dr Maria Markoulli. A/Prof Isabelle Jalbert added, "UNSW and the School are very proud of her".