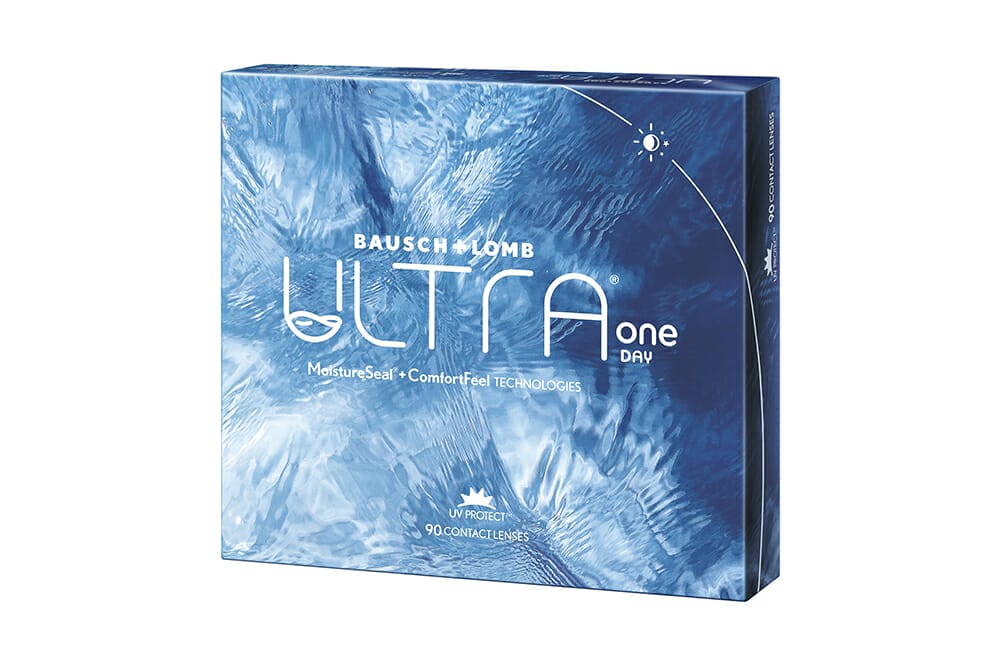 Supply of Bausch + Lomb's Ultra One Day daily disposable silicone hydrogel (SiHy daily) contact lens has been given the green light by Australia's Therapeutic Goods Administration (TGA).
Described by Bausch + Lomb as "breakthrough technology", this new contact lens features a next generation contact lens material (kalifilcon A) with Advanced MoistureSeal technology to deliver a highly wettable surface and excellent breathability for healthy lens wear.1
Advanced MoistureSeal works synergistically with Bausch + Lomb's new ComfortFeel technology, which infuses the lens with eye health ingredients, such as moisturisers/conditioners, osmoprotectants and electrolytes, to deliver outstanding comfort for a full 16 hours of lens wear and to support a stable, healthy ocular environment.1
Bausch + Lomb states that these combined technologies provide a complete design of high oxygen,1 low modulus,1 easy handling,2 UV blocking*1 and High Definition Optics3 to meet the demands of today's contact lens wearer.
"The Australian TGA approved our submission Bausch + Lomb Ultra One Day daily silicone hydrogel daily disposable contact lenses in approximately two weeks. We are excited to include this breakthrough and innovative new lens as part of our robust portfolio of contact lens products in Australia," said Paolo Sasso, General Manager, Bausch + Lomb (Australia) Pty Ltd. "We look forward to offering Bausch + Lomb Ultra One Day daily to eye care practitioners and their patients across the country in early 2021."
Bausch + Lomb anticipates that the new contact lens will be available to selected practitioners in Australia by the beginning of the fourth quarter of 2020, with a national launch in early 2021.
References
1. Data on file (2020). Development of an innovative contact lens product that promotes ocular homeostasis and addresses patient symptoms of contact lens related dryness. 30 April.
2. Data on file (2019). B+L Kalifilcon A statistic & data. Study BL 893 Topline table, Pg11. 24 Oct.
3. Data on file (2020). Spherical Aberration Control of kalifilcon A LD181019 SVS Lenses. #LDR201001. 8 May.
* Warning
UV-absorbing contact lenses are NOT substitutes for protective UV-absorbing eyewear, such as UV-absorbing goggles or sunglasses, because they do not completely cover the eye and surrounding area. The effectiveness of wearing UV-absorbing contact lenses in preventing or reducing the incidence of ocular disorders associated with exposure to UV light has not been established at this time. Wearers should continue to use UV absorbing eyewear as directed. NOTE: Long-term exposure to UV radiation is one of the risk factors associated with cataracts. Exposure is based on a number of factors such as environmental conditions (altitude, geography, cloud cover) and personal factors (extent and nature of outdoor activities). UV-blocking contact lenses help provide protection against harmful UV radiation. However, clinical studies have not been done to demonstrate that wearing UV-blocking contact lenses reduces the risk of developing cataracts or other eye disorders.