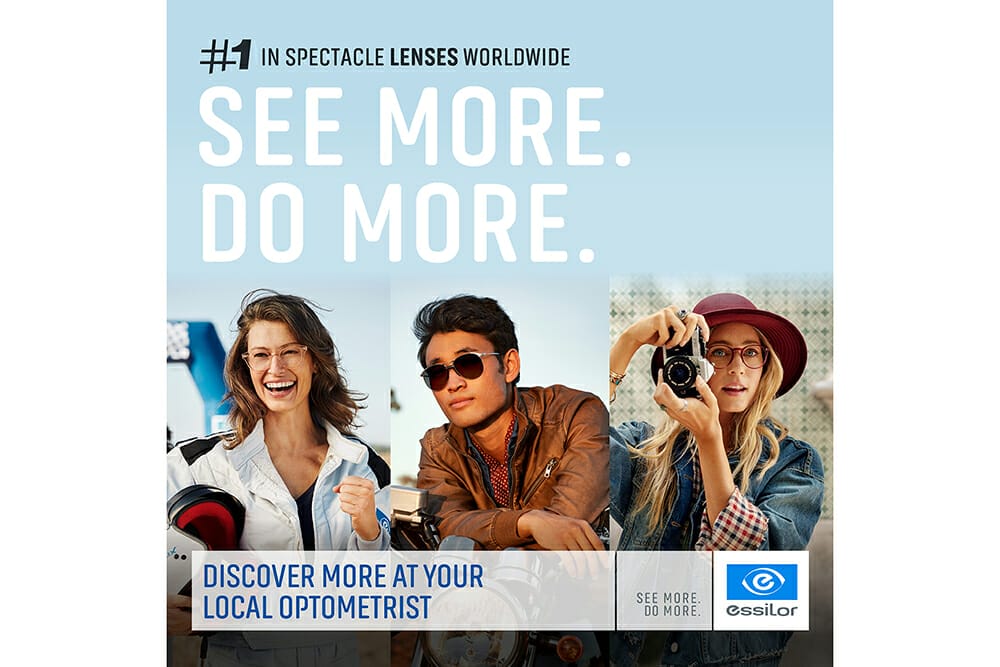 Essilor – See More Do More – a brand advertising campaign initially announced in April 2020, has recommenced, having been delayed due to COVID-19.
Initially revealed at the company's Xchange Roadshow events for Reach and Platinum Partners, which also showcased the latest innovation including Transitions GEN8, the campaign was put on ice until the market stabilised.
Simplified Branding
The new campaign is designed to bring together all of Essilor's flagship products: Varilux, Eyezen, Crizal and Xperio – under one umbrella brand: the Essilor brand. Additionally, it will feature a multi-pair offer, tying in the new Transitions GEN8.
Tara McCabe, Director, Business Partnerships and Marketing, said comprehensive advertising, marketing and public relations initiatives supporting Essilor's products will encourage consumers to visit their local optometrist.
"We're going from a house of brands to a branded house so we can promote the strength of the Essilor brand to consumers."
In doing so, she said the aim is to reduce confusion so patients simply ask for an 'Essilor lens' and can then be guided to the most appropriate sub brand by their eye care professional.
Ms McCabe said the See More Do More campaign will educate consumers about the "superiority" of the Essilor brand, and in doing so protect the brand in an increasingly commoditised market.
Planned media includes outdoor across a wide range of locations in Australia, and the development of a very strong digital presence leveraging mobile, video and social with geo-targeting to drive consumers to partner stores. In-store and merchandising materials have been provided to customers to leverage the campaign in store.
Driving Growth
Pierre Longerna, Essilor's Chief Executive Officer for Australia and New Zealand, said the campaign will support customers as they rebuild following COVID-19.
Emphasising Essilor's approach to partnering with customers, he said the eye health market is growing year on year, and although some new entrants are driving consumer interest in price and fashion, "it is fundamental and critical that the vision care segment – particularly independent optometrists – captures all possibilities and is able to outperform the market. If we don't protect the vision care segment, then there will be a race to commoditisation in the market."
Mr Longerna said that as a global player, "Essilor needs to service all needs… but to drive growth in vision care and pull the whole market in the right direction with innovative services and quality".
Additionally, he said the company's AU$1 million investment in its branded direct consumer campaign, See More Do More will accelerate growth for the segment and independent optometrists.
"We're very confident in the development of the industry for the next few years," he said. "That's why we are investing in research and development, technology, our partnerships and consumers. We want to have a very transparent and open approach."