There's no more challenging time than right now to keep staff motivated and engaged.
Sure, they're probably feeling the need for job security more than ever before, but that doesn't mean they're totally on their game and giving their best to your patients and practice.
Increasingly, pay and perks are not enough to maintain motivation – staff are looking for purpose, continued learning and flexibility.
mivision asked industry experts about some of the often espoused theories on staff motivation and retention, to find out how they play out in practice.
During every adult's working life, chances are they will spend up to 4,821 days – or around 13 years – working on projects that may not inspire. While some people can put up with intermittent, or even long periods of disengagement, others may choose to leave. This is an expensive proposition for any business as, when you factor all direct and indirect costs of losing and replacing an employee, the cost has been estimated at 30-150% of their salary, depending on business size.1 
Helping your team members find purpose in both their personal and professional life will make a huge impact on their productivity, happiness and even their health – and in turn, the success of your business.
Purpose, continued learning and flexibility are key for the future workforce, leading to increased engagement, higher job satisfaction and ultimately, better business performance
According to Marcela Slepica, Clinical Director of the not-for-profit employee assistance program AccessEAP, "Purpose is integral to any successful working environment, especially for younger generations. Millennials, who will make up 75% of the Australian workforce by 2025, are particularly driven by purpose. As such, businesses need to focus on ensuring this need is being met for their employees or else they may leave. Purpose, continued learning and flexibility are key for the future workforce, leading to increased engagement, higher job satisfaction and ultimately, better business performance."
For some, purpose comes with feeling appreciated and recognised, others are looking for work that contributes to society and many want to make a difference.
So what are the experts in eye care doing to create purpose, ensure continued learning, provide flexibility and reward effort at a time when change is a constant and business security is in flux?
Be Open About Growth Opportunities
Sasha Kempen 
Retail Partner, Specsavers Sydney Central, Sydney Chifley Square and Sydney MetCentre
They say staff who have a clear career path will be inspired and motivated from day one – how important is this in reality and how can practice owners work with team members to develop a plan? 
Having a clear pathway for progression is one of the most important aspects when you're recruiting new employees. It can be demoralising if you don't have a clear goal or aspiration to work towards, and in retail this complacency can be our biggest enemy.
In every interview I have with a prospective employee I am clear on how we can support them in their career journey and on pathway opportunities that are available within Specsavers. I want people working in my business that aspire to bigger things, and I want to help them achieve – even if it takes 10 years for them to take that next step, having a goal to work towards means they don't get bored with the same job day in day out, that there is always a challenge and they are always learning something new.
The way I approach my team's development is to treat them as partners – even before they are. That honesty and transparency is rewarded with mutual trust and respect, and means they treat my store as if it is their own and have the same level of commitment to my business as I do.
I'm very transparent in the way I run my business. I know if my team don't have the same vision for my practice and my customers as I do, then we aren't going to be able to achieve our business goals. I truly believe that investing in the growth of my team is an investment in my business. I know that when I bring someone into the business, they won't be ours forever – it's no longer the case that someone works the same job for 20 years. One of the biggest mistakes you can make in retail is not to progress your staff because you don't want to put in the effort of training someone else when they move on.
But it's also essential to know when a team member is going to make a move, because their departure will change the dynamic of your business. If you are aware of their intentions, you can future proof your people plan. If you can work collaboratively on a pathway that keeps them engaged and keeps them within the business – rather than passing that skill set on to a potential competitor – you've been successful both as a business owner and a manager.
GIVE EMPLOYEES A VOICE
Jenny Zhu 
Optometrist at Bailey Nelson, Westfield Sydney
Some of the best ideas for building employee loyalty come from employees themselves. How can practices create environments that are open and willing to hearing new ideas, no matter where they came from?
We have a balance of informal and formal mechanisms for providing feedback and working together to constantly improve each practice within Bailey Nelson. Each year we run an 'engagement survey' that provides a comprehensive opportunity to provide feedback and suggestions on almost every element of the business. It's viewed as a critical tool to gauge how we are going as a company, and each year, the leadership team commits to changes in the company based on feedback received.
In the most recent survey, we saw a consistent theme recommending changes to our appointment offerings and clinical management best practices. Based on this feedback, we moved to 30-minute standard consult times. The company is also focusing on new training opportunities for dispensing teams, and working on strengthening relationships, processes and performance between our optometry and retail teams.
I'm impressed by the thoughtfulness behind these kinds of changes. I have been with Bailey Nelson for 3.5 years now, and have seen it grow from a small team into a global business which values feedback from all their staff, and uses that to help shape the long-term direction for optometry and patient care.
EMPOWER WITH TRUST AND VALUE
Karen Harmsen 
ProVision Business Coach
People who feel trusted and valued tend to reciprocate those feelings, assume greater responsibility and go above and beyond to improve the work environment and practice outcomes. How do you empower team members to engage at this level? 
Empowering teams boils down to clarity of purpose, psychological safety, quality conversations and praise.
Tell them what you expect – Clarity of purpose is at the heart of every team's ability to be successful, so a clear and vibrant vision is the first step to evoking a sense of purpose and commitment in people,
Make them feel safe – Psychological safety,in my experience, starts with inclusion andcreating a sense of belonging, progressing to a sense of safety around learning, experimenting and giving and receiving feedback. As the level of safety grows, people start to feel they can use their skills and talents to contribute in a meaningful way, challenge the status quo and be innovative. The freedom to contribute and be your authentic self without fear of judgement is a powerful tool to enhancing team cohesiveness and performance,
Thank them and tell them how much you value them – People want to believe what theydo matters, and they want to be noticed andcelebrated. When you catch people doing things right and praise them, you create trust and an intellectual and emotional boost, encouraging repeated behaviour. Be frequent, immediate, genuine and specific about what you are praising.
Make quality conversation a priority – Itcan become very difficult, among abusiness owner's overwhelming number of responsibilities, to actively share information, mentor and grow the confidence and potential of your people. That is why it is essential to save time to have quality conversations; regular team meetings, weekly one-on-one coffee catch ups, and monthly or quarterly performance management discussions, and
Banish micromanagement – Finally, stopany micromanagement tendencies you haveand practice authentic and empowering delegation. Provide clarity around the end goal, context for how it fits into the mission of the business and then step away. Give people the space to have full ownership of the task and the outcome. The most motivated team members are those who have autonomy over what they do, how they do it and who they do it with.
PROVIDE DIVERSE OPPORTUNITIES
Laura Rankin 
Senior Human Resources Business Partner, Luxottica Optical ANZ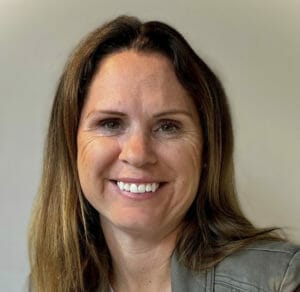 Companies that openly encourage staff to experience broad opportunities will diversify their workplace, knowledge and skills, and help staff find specific areas of interest. How can this be achieved at practice level? 
Luxottica Australia's strong market proposition and the career pathways offered to employees enables us to attract, retain and develop a truly diversified workforce.
Before they even graduate, we offer university students the opportunity to work as dispensers in our stores. The chance to experience firsthand, all areas of our business, allows them to truly find their passion, and helps them throughout their career. Once they join the company, the possibilities to create a bespoke career path are endless, with opportunities in retail, optometry, support and beyond.
Across our ANZ network, we have over 3,000 employees which translates into a broad range of expertise that we leverage through facilitated advisory panels, which encourage the internal sharing of skills and expertise, and the creation of tools and resources for the broader team. Additionally, our employees have access to a dedicated online learning portal which houses a vast array of self-paced learning modules, conducted by experts across our global organisation.
We also have specific tools in place to help employees understand their career opportunities and develop in the areas they wish to specialise in.
Throughout the year we have transparent, honest and open ongoing conversations about goal setting, feedback and overall development. In this way, everyone knows how they can contribute to the whole organisation, and how to reach their full potential while following their passion, whatever area in the business they choose.
One very good example of successful career development is the progression of our Vice President of Sales and Operations. He started as a graduate optometrist, became a store manager, then moved into the field and subsequently into eye care management roles. After that, he relocated to China, where he led our retail business before returning to Sydney to take up his current role.
One of the biggest mistakes you can make in retail is not to progress your staff because you don't want to put in the effort of training someone else when they move on
OFFER TOOLS, TIME AND PROFESSIONAL DEVELOPMENT
Margaret Lam 
Optometrist and Head of Professional Services, George & Matilda Eyecare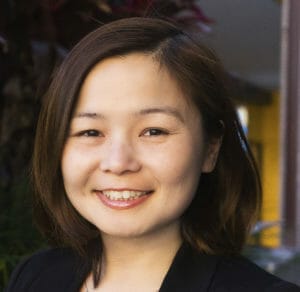 Companies that provide staff with quality equipment, time and opportunities to develop professionally, will be rewarded with loyalty, happier patients and a more profitable business. How can practice owners facilitate this? 
As humans, we naturally seek interaction and connection. To optimise how we work, we need to feel at home with the organisation we work for and that our values are aligned.
At George & Matilda Eyecare our values revolve around partnership, empathy, trust, inspiration and simplicity.
Our identity is built on being the leading eye care experts in our local community, which makes professional development and team support critically important. To this end, a lot of time and effort is invested in education, and in reinforcing our organisation's values. This ensures clarity around decision making and that all decisions are made for the collective good of our team and business.
Since COVID-19, we have had weekly live Town Hall meetings, which have helped build our sense of community and ensure our team remains aware of what is happening in our practices, no matter where they are in our 90 practices across the country.
As independent practice partners, we don't take a prescriptive approach to the development of individual team members, however we do recommend regular catch ups as well as providing support and mentoring as required. Our culture of high expectations and high performance is backed with a very personal approach and a lot of one-on-one support to help our team members grow, learn and reach their full potential.
Decisions on day-to-day practice operations and investment in things like equipment are made by our support office in partnership with local teams. This collaborative approach ensures decisions are made with the benefit of strong business expertise and helpful on-theground insights into nuances specific to the individual practice.
From this foundation of partnership, practice performance and financial goals are transparent. Even though some might consider George & Matilda 'big', we manage to keep it personal – Chris Beer, our CEO, is only one phone call away and always ready to discuss insights and opportunities for improvement.
REMUNERATE AND INCENTIVISE PERFORMANCE
Simon Lewis 
General Manager, Eyecare Plus National Office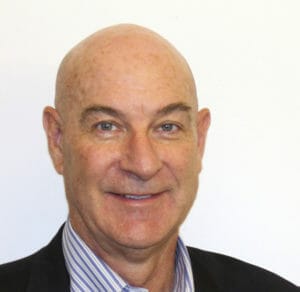 Companies with the highest employee morale and productivity often pay a mix of salary and incentives. Is this something that's feasible in an optometry practice or are there other optimum ways to structure remuneration? 
When run correctly, staff incentives can improve performance, profits, job satisfaction and staff morale. Through workplace rewards and incentives, employers and staff enjoy a positive and productive work environment.
However, different people are incentivised by different things. Therefore, it is important to first determine what will motivate your staff. It could be a gift voucher, team dinner or leaving work 30 minutes early. The system also needs to be fair. For example, a full time staff member may receive a higher value gift card than a part time staff member.
It is also important that an incentive program is well-defined, clearly communicated and periodically reinforced. Keep in mind the SMART – specific, measurable, attainable, relevant and time bound – principle. The program also needs to align with the practice culture and incorporate training.
I strongly recommend including staff in the discussion and organisation so they take ownership of the incentive program. Regular feedback of results – at staff meetings or by posting in the tea room for example – will ensure staff know if they are achieving their goals or if they need to work harder.
Salaries are influenced by experience and, often by the location of your practice as well. Due to the demand of optometrists in regional areas, salaries are often higher and sometimes also come with incentives such as accommodation and/or a car.
The optical industry is small and by asking around you can usually find out how much your competitors are paying. Remuneration should be reviewed with the staff member annually and the terms of this should be set out in the employment contract so that both parties have a clear understanding from the outset. The pay review can be done in combination with a performance review.
MENTOR AND TEACH
Mark Koszek 
Professional Education Officer, EyeQ Optometrists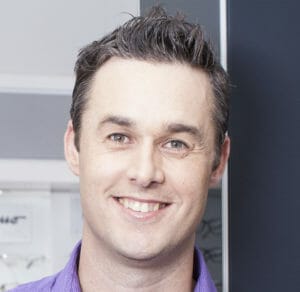 Mentoring is about taking someone under your wing on a permanent basis and providing guidance. Teaching is about helping that person to acquire the knowledge, competencies or values they need to become successful optometrists. How important is it to mentor and teach young optometrists? 
This is critical from many perspectives. We need to help them become the best person they can possibly be – both in terms of satisfying patient needs and also in contributing to the success of the business – the more their clinical and business skills develop, the stronger your practice will become. From the perspective of succession planning, we need to have someone prepared to take over the practice when we're ready to exit.
But mentoring and teaching young optometrists is very difficult – in the first six months you'll probably be called into their consultation room to see almost every second patient. To reduce or avoid the stress that can come with this, you need to plan – you need to afford the young optometrist time to see the patient, allow the senior optometrist time to triage the patient, and ensure the patient is happy to spend extra time in the consultation as well.
It takes a good five years, from a business perspective, to bring a junior optometrist up to the same speed as a senior optometrist but it's well worth it. And you need to remember that while they may be seeing less patients in the first few years, they are also costing you less than an experienced optometrist.
At EyeQ we make a point of visiting the Universities each year to talk to students about the career opportunities we have. As a result of our approach, we have been fortunate to have student optometrists work with us part-time while studying optometry then continue on. Even if they don't remain within a particular practice, they may well work with a different EyeQ practice in the future, or establish their own EyeQ practice elsewhere – so the experience we've provided them is a win win for all of us.
My recommendation to practice owners is to reach out and engage with student optometrists. Mentoring and teaching young people is rich in rewards both professionally and personally.
References 
blog.hhr.com.au/costs-of-employee-turnover
Seven Steps to Empower Your Team Today
Karen Harmsen, ProVision
1. Relaunch your vision and mission to re-engage the team's sense of being part of something bigger,
2. Create a team engagement survey. Gain feedback about what's working and what isn't. Ask them what they would like more or less of and how proud they are to say they work in your business,
3. Conduct a Values Workshop* where you enquire about what values are important to each individual then articulate, as a group, the values they agree will guide the team's behaviours,
4. Work with your team to create a manifesto that details how you will behave as a team and move towards achieving your goals. This creates buy-in and ownership,
5. Make team meeting appointments; weekly one-on-ones; and time to observe team members to provide you with 'praise content' and inform quarterly performance reviews,
6. Find one area in your business where you are prepared to practice full and authentic delegation and make a commitment to start today, and
7. Read Five Dysfunctions of a Team by Patrick Lencioni, and The Carrot Principle by Chester Elton and Adrian Gostick.
* Consider engaging an external consultant to facilitate workshops. This will take the pressure off you as the practice owner and give you freedom to fully participate in the process.