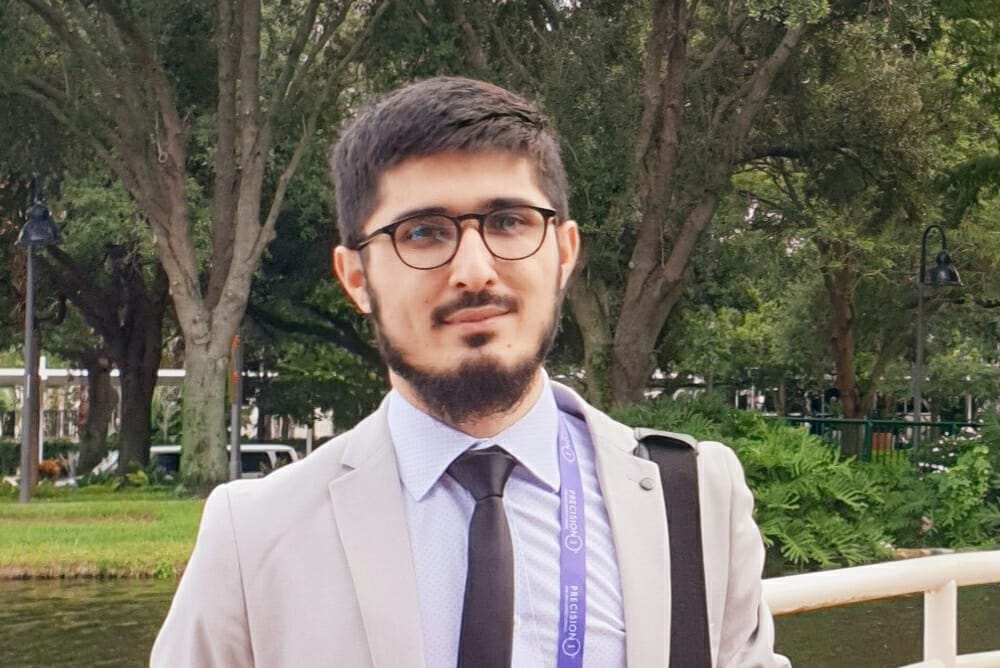 Having started life as a refugee, moved countries four times before age 13, and carried books in a plastic bag to study under a tree from grade one to four, Khyber Alam is about to complete his PhD – an achievement beyond his wildest dreams.
I graduated from optometry in 2016 and started my career with a clinic in Tasmania. After a few months in practice, I received a scholarship to begin my doctoral journey under the supervision of Professor Alex Gentle, Professor Sharon Bentley and Associate Professor Heather Connor, at the School of Medicine, Deakin University.
Like wisdom, beauty and knowledge, love too, doesn't decrease if shared
My parents, siblings and I have experienced much pain and we still carry hidden scars, countless broken dreams, and devastating memories within our weary hearts. There have been many days when I have felt like a delicate flower plucked before it blossomed… Yet despite this, I somehow have managed to pull through. I couldn't have done it without so many amazing people around me who have enabled me to rise again and again, truly tired but still determined and focused… or without my amazing professors who have the softest of hearts, most exemplary values, exceptional depth and extent of knowledge.
Professor Alex Gentle has nurtured me almost like his own son. Kahlil Gibran has said, "the teacher, if indeed wise, does not bid you to enter the house of his wisdom, but leads you to the threshold of your own mind". This is exactly how Professor Gentle has taught me the power of knowledge and wisdom, the strength of quiet influence and the art of continuous learning.
Professor Sharon Bentley is someone I have always looked up to. She is an academic par excellence – a rare gem – and I consider myself lucky to have had the opportunity to learn from her experiences. The energy that pours from her kind soul is palpable. She has inspired and trained a generation of practitioners, and made many contributions to academia and our profession.
Last but not least, Associate Professor Heather Connor has had a wonderful impact on my life. Everyone who has met Heather knows that her grace, empathy, humility and unconditional love is unmatched. Her gift of peace and belonging is priceless. My heartfelt gratitude to her is immeasurable. May she be abundantly blessed all the days of her life as she has so abundantly blessed mine.
Teachers like Heather are the reason that I, and many others like me, are pursuing their dreams. I am grateful to these three people for honouring me with their friendship. I wouldn't be where I am today without them.
HEALTHCARE OUTREACH WORK
Part of why I wanted to be a healthcare professional was to give back, and I've been lucky enough to have the opportunity to do so. In 2018, I travelled to Bangladesh and, with colleagues, provided around 1,000 free eye tests over a week to people who don't have regular access to these services. In May 2017, I volunteered with OneSight Foundation to participate in eye clinics across Far North Queensland, conducting eye tests, prescribing ophthalmic medicines and presenting prescription glasses free of charge to rural communities.
In 2017 and 2020, I accompanied the wonderful Equal Health to the village areas of Tamil Nadu where our multi-disciplinary team provided optical, dental, medical and musculoskeletal physiotherapy health care. In 2017, we examined more than 1,800 patients; prescribed and distributed 3,000 pairs of glasses; managed various ocular conditions including corneal dystrophies, ocular infections, hereditary conditions, strabismic and anisometropic amblyopia, ocular inflammations; and provided referrals for appropriate care. In 2020, our team examined over 3,000 patients, prescribed and distributed 4,000 pairs of glasses, and once again managed a variety of ocular conditions.
PHILANTHROPY IN AFGHANISTAN
I have an orphanage in Khost, Afghanistan. The purposes of the orphanage are to help advance the health, education, and social and public welfare of voiceless orphans, by providing access to quality education and free healthcare, and empowering, enabling and teaching life and leadership skills.
Recently, I decided to expand the orphanages' reach by offering a three-monthly medical service to the general public. Last month, with help from a dear friend, we sponsored the treatment of four patients – surgery for a 64-year-old with kidney stones and for an elderly diabetic widow (along with 12 months of treatment), eye surgery for the sole income earner of a household, and the removal of leg rods for a victim of war.
Economic inequality shouldn't be tolerated, and it is incumbent upon all of us to try and make a modest contribution to our global community before we fade away.
Like wisdom, beauty and knowledge, love too, doesn't decrease if shared. 
Khyber Alam graduated from Deakin University with an Optometry degree in 2016 and will complete his PhD in 2021.