Bungling, inept, heavy handed, an accident waiting to happen… or just busy. You see patients like this come through your doors every week for glasses right?… And then they come back again and again, each time to have their frames adjusted, repaired or even replaced.
Perhaps it's time to take control and recommend they switch to flexible frames.
I've seen plenty of people jump in their car and throw their sunnies on the passenger seat, only to have a passenger jump right in on top of them.
Or throw their specs into a handbag, unprotected, then pack a few extra items in for good measure.
I've seen kids rip their glasses from their face, toss them into the grass and head for the playground as a dog 'helpfully' retrieves them.
Frames, especially when fitted with prescription lenses, aren't an everyday purchase and so they need to be taken care of. But for some, it doesn't matter how much you stress this, they just don't get the message. Bring on flexible plastics and super-elastic memory metals.
THE MAGIC OF MEMORY
Memory metals are quite simply, as wonderful as magic.
Well known for their use in 'indestructible' eyeglasses, they're also used in industries that include medicine and aerospace.
Strong and lightweight, these 'alloys' are typically made up of two metals, such as nickel and titanium known as nitinol, and they can be programmed to remember their original shape.
How It Works 
When you bend memory metal, you deform its crystalline structure, then when you let go, the crystalline structure returns to its original form – its molecules are able to reverse themselves.
The two crystalline states that occur in the original and deformed structures, are called austenite and martensite. When in the form of martensite, the alloy is relatively soft, plastic, and easy to shape. When in the form of austenite, the alloy is harder and much more difficult to deform.
Some memory metals are programmed to return to their original shape when they are heated up, some when they are cooled down, and others, with pseudo-elasticity or super-elasticity, can be bent, twisted, and will return perfectly to the original shape, even without heating.
This, of course, is why they're ideal for your customers who require virtually indestructible eyewear. Eyewear manufactured by the Polish brand OVVO provides a great example of how superelastic memory metal works. These frames are crafted from a military grade surgical steel and titanium composite consisting of 70% steel and 30% titanium, fused together to a depth of four microns. This hypoallergenic alloy was discovered by European metallurgical engineers for military and spacecraft development and offers durability, lightness, flex memory, and heat resistance. Each frame weighs just 17 grams. Coupled with this remarkable alloy is OVVO's patented screwless hinge, which is simple by design yet can withstand 40kgs of pulling force and then, when unweighted, flex back to its original shape. According to OVVO, the hinges have been lab tested to withstand 300,000 rotations – comparable to 205 years of usage. If you search on YouTube you will find a video of a strong man pulling a plane with one!
Maui Jim is another eyewear brand using memory metal to meet the needs of its active wearer demographic. Rob Garrett, Maui Jim's Associate Marketing Manager for Australia and New Zealand, says the benefits are clear.
"Comfort and quality are essential when selecting optical frames, especially when glasses are worn daily for many hours and in ever-changing conditions. Maui Jim's beta-titanium optical frames are lightweight, hypoallergenic and anti-corrosive, and provide superior strength and flexibility compared to standard frame materials".
PLASTIC FANTASTIC
But it's not only metals that offer the flexibility and durability your more active customers demand. Eyewear made from some plastics, like the patented Siliflex material used for Nano Visa frames, can be equally practical, especially for kids.
"These frames are marketed as indestructible," says Andrew Banks, General Manager at Aviva Mann. "Siliflex is lightweight and flexible, and can withstand the harshest of treatments."
In addition to the frame material, a patented hinge design allows for maximum flexibility with 360° of rotation.
"Kids are prone to removing their frames with one hand, which places undue strain on hinge joints, however the Nano Vista hinge design eliminates the possibility of broken hinges," he explained.
According to Mr Banks, patients (and their parents) love them too.
"Practices tell us that once they place a patient who continually breaks their frames into Nano Vista, they don't see them for 12 months because their kids simply can't break them."
Importantly, frames like Nano Vista can be particularly beneficial for people with a physical or learning disability. "Because Nano frames are indestructible, our customers report they are particularly good for patients with, for example, learning disabilities, who may be prone to breaking their frames".
Reference 
www.explainthatstuff.com/how-shape-memory-works.html 
augie Eyewear
A combination of acetate and silicone tipped temples, along with flexi hinges, makes augie Eyewear an ideal frame option for children. Without jeopardising comfort or durability, augie eyewear offers kids a more grown up look. Available in a range of on trend styles and colours.
Contact: augie Eyewear (AUS) 1300 391 440 
Aviva Mann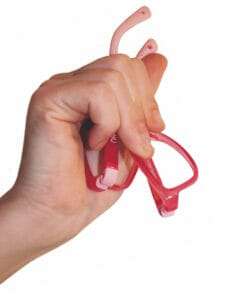 Nano Vista frames are made from lightweight, durable Siliflex material. A patented hinge design allows for maximum flexibility with 360° of rotation, eliminating the possibility of broken hinges.
Contact: Aviva Mann (AUS) 1300 850 882 
Nine Eyewear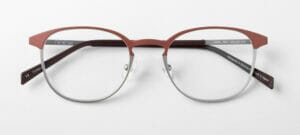 Designed in Denmark and handcrafted by skilled craftsmen in Japan, Nine Eyewear weighs in at just nine grams regardless of shape, colour or material (hence the brand name).
Frames are mounted with ultra-thin and flexible beta titanium temples for a perfect fit, providing softness and comfort.
Contact: Beyond Eyez (AUS) 0435 452 773 
Maui Jim
MJO2511 is a lightweight, flexible and colourful addition to Maui Jim's rimless optical collection. Featuring a three-piece hingeless beta-titanium frame and full rubber sleeve, the MJO2511 is an ideal frame for all conditions and activities. Manufactured in Japan, the square shaped design suits medium face shapes with variations of this design also available in alternate sizes.
Contact: Maui Jim (AUS) 02 9452 5575
OVVO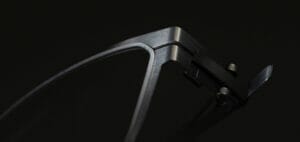 OVVO frames are constructed from military grade surgical steel and titanium composite consisting of 70% steel and 30% titanium, fused together to a depth of four microns. The screwless hinges can withstand 40kgs of pulling force and when unweighted, flex back to their original shape without misshaping. For added comfort, nose pads and temple tips are made from medical grade silicone.
Contact: Aaron's Eyewear (AUS) 07 3367 8447 
Ugly Fish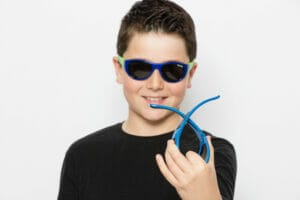 Ugly Fish Indestructables are perfect for those who are a little rough with their sunnies. The thermoplastic polyester elastomer frame is extremely flexible and lightweight, making it virtually unbreakable. These polarised sunglasses maximise UV protection and are available for toddlers, kids, tweens and adults. Frame and lens packages are also available through City Optical, CR Surfacing, Essilor and Hoya.
Contact: Piranha Eyewear (AUS) 1300 369 574 
AuraFlex +
AuraFlex revolutionary frames combine practical styling with memory metal technology that's made using a combination of alloy and titanium.
AuraFlex + (pictured) is the newest addition to the range. This premium memory flex collection features unique architectural forms constructed from titanium with beta titanium temples for flexibility. Exhibiting durability and style, these frames are well suited for the adventurous customer expecting a little more from their eyewear.
Contact: Optique Line (AUS) 03 9853 0796 
Fila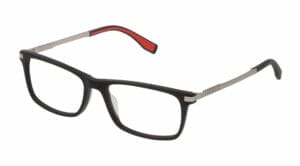 Fila 9323 is an easy to wear shape that's exceptionally comfortable and resilient thanks to a flexible metal temple. This durable frame is an ideal option for anyone looking for a classic style with an innovative touch.
Contact: De Rigo (AUS) 02 9428 1500 
Opticare
Instyle Plus is Opticare's luxe frame collection that's made from premium materials. Designed to be flexible and durable without compromising comfort and style, this collection is a perfect recommendation for busy and on-the-go professionals.
Contact: Opticare (AUS) 1800 251 852 
AM Eyewear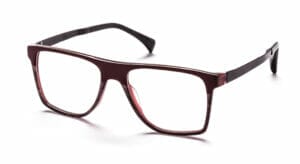 AM Eyewear translates current trends into the Reich frame, combining Italian acetate with flexible aeronautical aluminium temples.
Contact: AM Eyewear (AUS) 02 9357 4550 
Carrera
Carrera has delivered a new selection of styles, both in optical and sunglasses, focusing on one of the most qualitative materials: memory metal.
Flexible, strong and lightweight, this new collection is enhanced to offer maximum comfort for daily use.
Contact: Safilo (AUS) 02 9450 0500