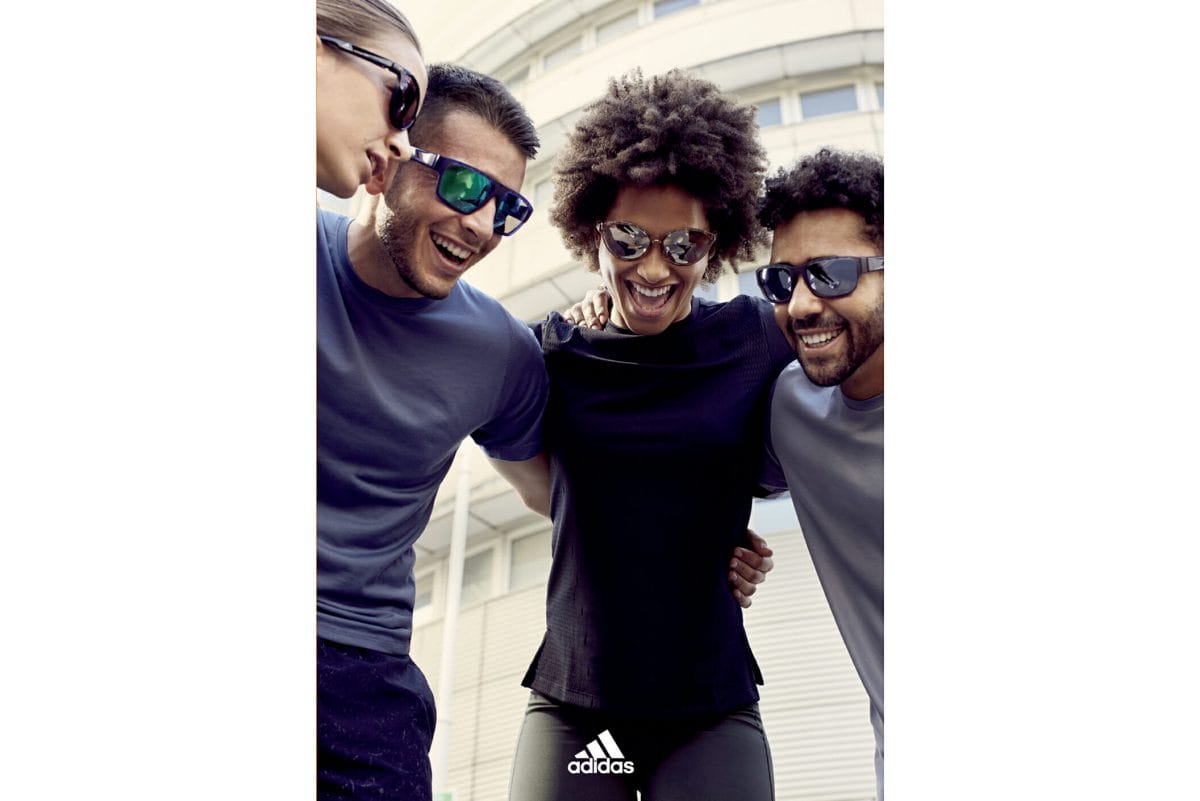 The adidas brand has a long history and deep-rooted connection with sport. Its broad and diverse sports portfolio, from major global sports such as football and running, to regional heartbeat sports such as American football and rugby, has enabled it to transcend cultures and become one of the most recognised and iconic global brands, on and off the field of play.
Driven by a relentless pursuit of innovation, as well as decades of accumulating sports science expertise, the adidas brand has developed a unique and comprehensive sports offering. Spanning footwear, apparel, equipment, and services, adidas caters for all, from elite to professional athletes.
In 2021, Marcolin, a global leader in eyewear, partnered with Shamir Australia, an Australian Made company and the local entity of Shamir Optical Industry Ltd, to fit precision prescription and non-prescription lenses into adidas Sport eyewear.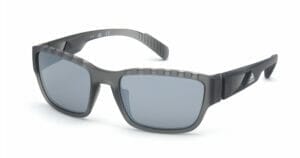 adidas Sport eyewear is the result of a successful collaboration between Marcolin and adidas.
To design and engineer the frames, the Italian eyewear company's designers, its technical, and research and development specialists, work side-by-side with adidas' running business unit and creative development team.
Every frame is designed for purpose and perfectly represents the iconic sports brand's DNA. Additionally, every frame is produced taking advantage of highquality lightweight materials and innovative manufacturing techniques. And now in Australia, every frame is fitted with locally made Shamir Attitude1.6 index lenses that are Nupolar (polarised) and have a Glacier Sun UV coating with full UV400 protection.
As a consequence of this exciting collaboration, Marcolin says adidas Sport eyewear offers a stylish frame with a comfortable fit, ensuring ultimate vision in all conditions, and lens protection for the 20 – 30-year-old market in search of activity and adventure.
FROM STREET TO STADIUM
adidas' mission is to be the best sports brand in the world, by designing, building and selling the best sports products, with the best service and experience, and in a sustainable way.
When it comes to designing and manufacturing eyewear, Matteo Blandi, Marketing, Communication and Events Director at Marcolin says, "Our designs are fresh and modern, perfectly in-line with the adidas Sport collection. Our frame and lens technologies are the musthave for any kind of outdoor activity at any level of performance".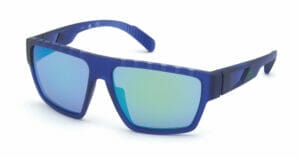 The four pillars upon which the adidas Sport collection is built are lightness, performance, protection and comfort. This requires continuous research and the pursuit of innovation in terms of materials and production techniques. Frames must be highly stress-resistant, ultra-lightweight and durable. By integrating features such as adjustable nose pads and an advanced ventilation system, they must offer all-day comfort and protection, giving the wearer clear vision in every weather condition.
Mr Blandi cites adidas Sport eyewear model SP0001 as a prime example of the four pillars. "It's at the pinnacle of the collection, being the first born from culture and built for purpose," he explains.
Awarded a prestigious Silmo d'Or 2020 in the sport eyewear category, he says this model is "one of the more often used by pro-athletes in the adidas communities and from the Deutschen Skiverband (German Ski Association) biathlon and ski-cross German team".
Exciting to see in adidas Sport eyewear's latest release is model SP0029-H, which is perfect for every sports competition. The injected frame has an innovative nine-hole anti-fog ventilation system inserted in the upper front, to ensure clear vision in every weather condition. The interchangeable sweat-blocker bar further protects eyes and visibility during the most extreme activities. Adjustable nose pads, with a metal core, guarantee individual fit and comfort for every nose. The temples include adjustable rubber end-tips, which also have a metal core to ensure the best grip.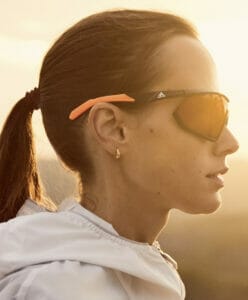 Yellow photochromatic plano lenses that come supplied with the frame (category 1 to 3) offer clear vision in each light condition. Clip-in lenses are easy to fit thanks to a snap mechanism positioned inside the frame.
SPORT READY LENSES
As a world leader in wrap eyewear technology, Shamir's prescription lenses are particularly suited to adidas Sport eyewear frames.
"Our Attitude III single vision and Attitude III sports progressive lenses provide the very best visual acuity across all viewing zones when wearing wrap eyewear, enabling the wearer to comfortably switch from looking closely at a sport watch to looking at obstacles in the distance," said Paul Stacey, Chief Executive Officer at Shamir Australia. "The lenses are edged on a MEI Biosphera edger that perfectly cuts and routes the lenses to fit these sports frames".
Being polarised, these Shamir lenses block blinding everyday glare that can seriously inhibit vision and compromise safety while participating in sport activities. Additionally, they improve performance by improving contrast and visual comfort.
Shamir Glacier Sun UV, a lens coating that is ideal for all tinted and polarised lenses, provides full UV protection on both the front and back surface of the lens.
"This anti-reflective multicoating is perfect for prescription sunglasses and provides maximum protection and visual comfort," said Mr Stacey.
When it comes to prescribing, he advises that the prescription power range recommended for adidas Sport frames is +4.00/-4.00 on -3.00 cyl.
"Anything that is higher than this will create a very thick lens," he said. Additionally, Mr Stacey advised that although the 1.6 index Shamir lens material is four times more impact resistant than standard CR 39 material, the lenses fitted into adidas Sport frames are not categorised as 'safety lenses'.
Mr Stacey confirmed that Shamir lenses are produced to Australian standards and are being fitted into adidas Sport frames in its Australian laboratory, based in Lytton, Brisbane. Order completion requires seven to ten days.
LOCALLY CUSTOMISED EYEWEAR
Mr Blandi said Marcolin and adidas Sport eyewear are excited to have entered into a partnership with Shamir Australia.
"We wanted to partner with an Australian Made company. Shamir Australia is the local entity of Shamir Optical Industry Ltd, a worldwide leader in high-level prescription lenses. Our collaboration with the local entity in Australia aims to offer a high-level customised service to adidas Sport eyewear wearers, who will have the best offer of prescription lenses for adidas Sport sunglasses."
Contact: Marcolin (AUS) 02 8456 0946 Contact: Shamir Australia (AUS) 1300 553 465