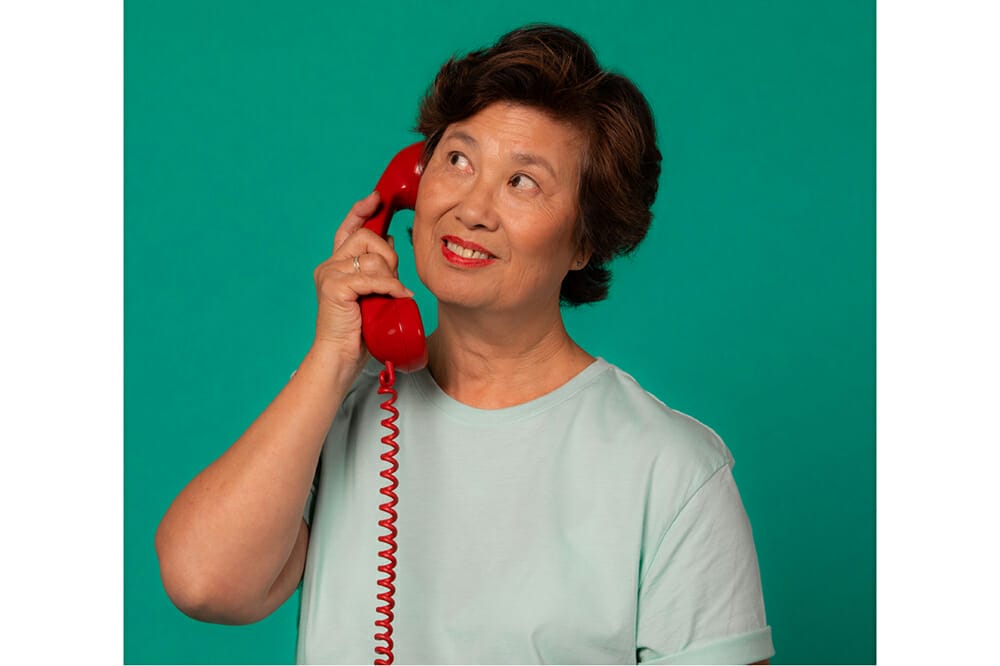 It's hard to deliver integrated care when running a busy practice. But Macular Disease Foundation Australia's (MDFA) qualified staff are here to help by providing holistic, nonclinical support to your patients on every step of their journey with macular disease.
For many people, the diagnosis of age-related macular degeneration (AMD) comes as a shock.
They've visited their optometrist for a routine eye exam or a new pair of glasses, only to be told they're one of 1.4 million Australians living with this country's leading cause of blindness and vision loss.
Once they've had time to process the news in the comfort of their own home, they're eager to learn more about their condition – and the qualified staff on MDFA's Helpline are often their first port of call.
MDFA's National Helpline supports around 6,000 callers a year. While many reach out for more information and resources soon after diagnosis, others just want to be reassured they won't go black blind or lose their independence.
"I think patients can become very scared and worried when they hear the word 'degeneration', so much so that they don't always absorb an optometrist's explanations of the disease or recommendations on slowing progression," said Dilini Manthilaka, an education and client support officer with MDFA.
"I so often hear 'I don't remember what my optometrist said' or 'I was too worried at the time to ask any questions'. MDFA is a one-stop shop for patients to ask questions and gain further information."
SUPPORTING EYE CARE PROFESSIONALS
It's MDFA's role to support eye care professionals in their delivery of integrated care by providing immediate and lifelong information, support and coaching on every step of a patient's journey with their condition, whether they're recently diagnosed or living with low vision.
Importantly, MDFA will always refer patients back to you, stressing the importance of maintaining regular appointments and treatment compliance.
MDFA's education and care team – who all have degrees in Vision Science – can also help your patients navigate complex government services and entitlements, as well as connect them with transport, community support and low vision services.
Additionally, they have time to talk patients through their condition in lay language, help them prepare for their next appointment, and share non-clinical advice that can make a big difference, even if it seems trivial.
Ms Manthilaka remembers one Helpline caller who struggled to recognise her friends and family when she began losing her central vision to AMD.
"The caller could only distinguish people by their body shape and by extension their weight," recalled Ms Manthilaka, "but she couldn't explain this without causing offence".
To avoid embarrassment, the caller cut down her social outings, which took a toll on her mental health.
"A simple suggestion, to replace the words 'body shape' with 'silhouette' changed everything," she continued.
"The patient called back two months later to express her thanks and gratitude. 'I can't thank you enough for everything you have done. I go out to see my friends and family all the time and I'm not frightened of having to explain my vision. I'm so much happier!'
"It was very gratifying to see that the smallest suggestion, of using one word, could have such a profound impact on a patient's life and mental wellbeing."
HELPING PEOPLE TO LIVE WELL
Some callers want to learn more about nutrition and supplements, clinical trials, or genetic counselling for inherited retinal conditions. Others benefit from a detailed explanation of their anti-VEGF injection bills and Medicare rebates, as well as the government services they may be eligible for.
Additionally, the Helpline often receives calls from people wanting to know about low-vision aids and support services for later in their disease journey.
"The shortest interactions can often make the biggest difference, whether it's finding the best local bus route to get home from injections or help solving daily challenges like how to put toothpaste on their toothbrush with low vision – we suggest putting it on their finger first," said MDFA education and client support officer Natasha Knopf.
"We receive a lot of calls about the best apps or software available to help people continue to use their smart phones or computer. We talk them through how to install an app, how to open their settings to change default font size or turn on accessibility features.
"These are often the most rewarding interactions as technology can be quite overwhelming for a lot of people, but once they have the hang of it and have someone to help them set it up, they can really start to see the benefits."
OUTREACH CALLS
More than 40% of Helpline calls are outbound, with MDFA's qualified staff checking in on the welfare of the macular disease community. Last year, following the outbreak of COVID-19, the number of calls escalated with staff encouraging wet AMD patients to continue receiving sight-saving anti-VEGF injections, or simply lending an ear to those in need of a chat during this period of intense isolation.
Education coordinator Nivaasheni Chandramohan recalled speaking to one patient who has lived with diabetic retinopathy for more than 30 years, and has been legally blind for the past 20.
Despite losing his vision to diabetic retinopathy, he'd never understood the effect the condition had on his eyes until Ms Chandramohan described it in layperson's terms.
He said, 'Thank you for explaining the disease to me. I've been living with it for a long time, but no one has ever actually told me what is happening in my eyes'," she said.
"It was incredibly fulfilling to know that I could still provide support and knowledge to a patient who had been living with diabetic retinopathy for longer than I had even been alive.
"It saddened me to know that this patient had spent so long not understanding the reason why he was legally blind, but it highlights the importance of patient focused organisations, such as MDFA in helping people better understand and manage their condition."
RESOURCES AND SERVICES
MDFA tailors support to patients with AMD, diabetic eye disease and lesser known macular conditions, whichever stage of the disease they're at.
In addition to the National Helpline, MDFA can support your patients with printed and digital publications, face-to face and online education sessions, in person and at-home peer support, regular newsletters and research updates, plus advocacy on behalf of the entire macular disease community.
"People can connect with us as little as three times a year by receiving our newsletter, or they can be more involved by participating in peer support groups, education sessions and webinars, check-in calls or information resources," said Ms Knopf.
"A lot of people are comforted by the sense of community that we provide and that our services cost nothing."
For optometrists, MDFA offers a host of free patient resources for your clinic as well as free Optometry Australia accredited CPD courses, created in collaboration with some of Australia's leading retinal researchers. These courses will be available from next month (June) on mivision's education platform, mieducation.com.
All resource content is overseen by MDFA's Medical Committee, made up of Australia's preeminent eye health experts. Support is available in multiple languages.
HOW TO REFER
Eye care practitioners can refer patients to MDFA via Oculo when referring to an ophthalmologist or sending an eye report, by visiting www.mdfoundation.com.au/refer, or by simply encouraging them to call MDFA's National Helpline on 1800 111 709. All MDFA services are free.
Tom Smith is the marketing and communications coordinator at Macular Disease Foundation Australia. 
About the Team
Dilini Manthilaka graduated from the University of New South Wales (UNSW) with a Bachelor in Science majoring in Vision Science in 2015, and a Master of Public Health from the University of Sydney in 2017.
Natasha Knopf graduated from UNSW with a Bachelor in Advanced Science (Honours Class I) majoring in Vision Science in 2017.
Nivaasheni Chandramohan graduated from UNSW with a Bachelor in Advanced Science (Honours Class I) majoring in Vision Science in 2019.
Dilini, Natasha and Nivaasheni are part of the education and client support team at MDFA.