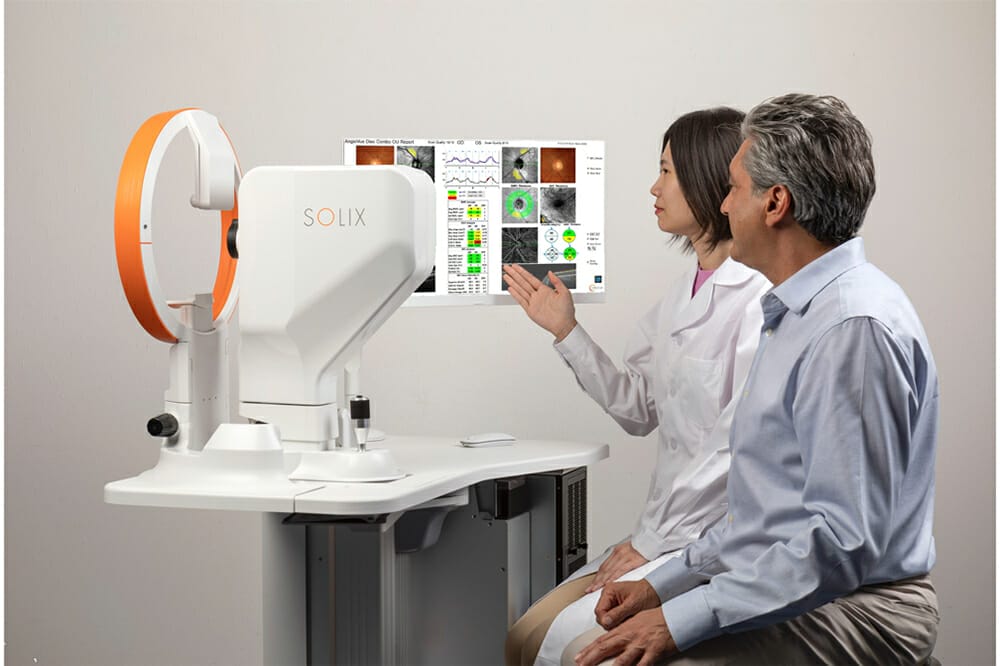 Optovue USA has been manufacturing optical coherence tomographers (OCT) since 2007.
The new i-Vue 80 and i-Scan 80 models supersede previous generations in this series, introducing numerous improvements including a three times faster scan rate and wider OCT scans. The i-Scan 80 is fully automated and compact with a built-in Windows 10 PC, while the i-Vue 80 is joystick controlled with a 'lunch box' size PC, a large screen and custom i-Vue table.
The new Solix FullRange OCT takes OCT technology to an unprecedented level. It delivers pristine images of retinal structures with scans up to 16mm wide x 6mm deep, and captures the entire anterior chamber with 18mm wide scans. Additionally, the Solix FullRange OCT has a scan rate of 120,000 A-scans/second with eye tracking and motion correction technology (MCT). Multi-volume merging and 3D projection artifact removal (PAR) produces OCT-Angiography images with brilliant image resolution and clarity up to 18mm x 18mm montaged; AngioAnalytics provides quantification reports; and 3D vessel rendering enables real-life visualisation of retinal vasculature and vascular connectivity.
BOC Instruments is the exclusive distributor for the complete range of Optovue OCT models.
Contact: BOC Instruments (AUS) 1800 804 331