Mivision congratulates the following eye care professionals and supporters who were among 1,190 Australians recognised in the Queen's Birthday 2021 Honours List.
Member in the General Division (AM)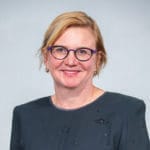 Associate Professor Heather Mack (Victoria), immediate past-president of the Royal Australian and New Zealand College of Ophthalmologists (RANZCO), was recognised for significant service to ophthalmology, particularly to professional colleges.
A/Prof Mack is a board member of Vision2020 Australia and Retina Australia. She is an Associate at Eye Surgery Associates, a multi-disciplinary ophthalmic practice in Melbourne, where her she heads the visual electrophysiology laboratory and clinical trials unit. Her opinion is sought nationally on clinical electrophysiology testing of patients with visual loss.
Associate Professor Heather Mack… was recognised for significant service to ophthalmology, particularly to professional colleges
As President of RANZCO, A/Prof Mack steered the college through the COVID-19 pandemic, and the consequent digital transformation of education and medical practice.
Shayne Brown (New South Wales), was recognised for significant service to medicine through orthoptic associations.
Ms Brown has made substantial contributions to the profession through her many roles as past President of the International Orthoptic Association (1983-87), IOA Australian representative (1975-83), NSW President (1974-77 and 1978-81), board member and National Secretary. In 1979, she was made a Fellow of Orthoptics Australia for her significant contribution and dedication to OA and the advancement of the profession.
Ms Brown was also orthoptist in charge at Sydney Eye Hospital (1978-85), past research assistant at Centre for Eye Research Australia, and she worked for RANZCO (2000-2006). She recently co-authored a book on the history of Australia's early orthoptists.
Associate Professor Anthony John Phillips (South Australia) was recognised for significant service to optometry, and to professional optical societies.
A/Prof Phillips is Head of Contact Lens teaching at Flinders University. Additionally, he Heads the Medical Contact Lens Units at the Flinders Medical Centre and the Adelaide Women's and Children's Hospitals.
He is the co-editor of the standard optometric textbook Contact Lenses now in its 5th edition, and the author of The Optometrist's Practitioner-Patient Manual designed to assist practitioners help patients understand their clinical condition. He has also contributed to other optometric textbooks.
In 1992 Tony was awarded a Churchill Fellowship to study The Medical Use of Contact Lenses in Six UK Hospitals. In 2003 he was National President of The Australian Cornea and Contact Lens Society, and in 2007 he was awarded their Lifetime Achievement Award.
Medal in the General Division (OAM)
Dr Michael Newman (New South Wales) was recognised for service to ophthalmology.
Additionally, Kaye Speed (Victoria) was recognised for service to people who are blind or have low vision.
About the Awards
Appointments to the Order of Australia confer the highest recognition for outstanding achievement and service. There are two divisions: the Civil or General and the Military.
Within each division there are four levels: the Companion of the Order (AC) is the country's highest civilian award; followed by Officer of the Order (AO), Member of the Order (AM) and Medal of the Order (OAM). The Council for the Order of Australia, described as an 'independent' body, considers nominations for appointments and awards in the General Division of the Order.