For those with vision, prescribing and using premium multicoats for spectacle lenses is a no brainer.
Indeed, according to three leading lens suppliers in Australia, between 60% and 75% of orders in their respective labs include premium multicoats and the market is growing by 5% per year. However that means that as many as 40% of orders placed today still do not include premium multicoats.
Multicoats present great potential for conversions and new prescriptions. There are numerous benefits to be had for patients, prescribers and suppliers.
Single layer anti-reflection coatings first appeared on the market around the middle of last century. Back then, most spectacle lenses were crafted from glass, however CR39 plastic was gaining traction. These new lenses were more prone to scratching than glass, necessitating the development of plastic-lens-specific scratch resistant and anti-reflection coatings. Since then, plastic lenses and coating technologies have evolved in leaps and bounds. With benefits such as safety and reduced weight, today they account for the majority of prescribed spectacle lenses on offer.
it is worth explaining the many benefits of premium multicoated lenses, such as improved cosmesis, clarity and night vision
The anti-reflection coatings of old were also known as 'quarter-wave coatings' but today's sophisticated coatings consist of multilayered, broadband coatings covering a few wavelengths. Anti-reflection coatings use the light management principal known as 'destructive interference' to cancel reflected light waves off the lens surface, similar to the way noise cancelling headphones work. This eliminates unsightly reflections and allows more light to pass through the lens to the wearer's eye for clearer vision and higher contrast.
Having finessed anti-reflective and scratch resistant layers, labs began to enhance lenses by developing other coatings, such as UV and blue light blockers, and easy clean layers. Today, as a consequence of lens lab innovation, the following coatings may be applied to a premium multicoat lens:
Hard coating applied to the super clean lens surface – sometimes via ion bombardment – to enhance adhesion/ binding and minimise scratches,
Multilayer anti-reflection coatings to eliminate unsightly reflections and allow more light to pass through the lens to the wearer's eye while minimising bloom,
Anti-static layers to reduce the adhesion of dust and other particles,
Front, and sometimes rear UV coatings to stop UV that strikes the back surface of the lens from being reflected backwards into the eye and onto the eye and adnexa,
Blue blocking layers to help reduce blue light exposure from, among other things, increasingly excessive digital device/ screen usage, (many manufacturers have been able to eliminate the 'blue bloom' that early blue blocking lenses were criticised for), and
Super-slick, easy clean, hydrophobic and oleophobic layers to help maintain clean, optically perfect surfaces that do not unduly streak or grease up.
BRINGING IT HOME
Generally there are two strategies that practitioners take when promoting lens coatings to patients. Some include coatings in the upfront quoted lens price. Others offer a low-cost lens then add a variety of coating options, sometimes at inflated prices…
However if you choose to proceed, it is worth explaining the many benefits of premium multicoated lenses, such as improved cosmesis, clarity and night vision – features that have all been shown to be important to consumers. Having a demo pair of spectacles on hand – with one coated and one uncoated lens – is a great way to demonstrate these benefits. For many, the improved cosmetic appearance of an almost invisible lens is enough to convince them.
Patients who are reluctant to choose a coated lens due to bad experiences in the past – such as coating failures, crazing or the fact that their lenses always looked dirty or greasy – present an opportunity to discuss the quality coatings produced by modern, state-of-the-art lens laboratories. While even the world's top manufacturers have suffered from coating failures, this is very much a thing of the past. Premium multilayer lens coatings require extreme precision in the manufacturing process. A high end coating laboratory is a multimillion dollar investment. Advanced plasma vacuum coating and ion bombardment facilities are staffed by gloved technicians clad in anti-static outfits. They may feature temperature controlled environments with high-pressure filtered air, laminar flow workstations and cleaning stations that recycle and prevent pollution.
Such is the confidence of leading lens labs that many now warrant their coatings for up to three years, providing the lenses have not been obviously abused. This adds peace of mind to patient and practitioner alike. It's worth looking into the warranties on offer from the various suppliers.
It's also wise to caution patients against ordering lenses from low budget coating plants that have popped up in recent years, which can produce lenses of varying quality.
WARRANTIES, CARE AND REPEAT BUSINESS
Even with the very best technology and precisely controlled environments, there still are occasional coating failures. Some failures are aggravated, or caused, by poor lens care. Cleaning dusty lenses with a dirty cloth or T-shirt may potentially damage coating and lens surfaces. Leaving glasses in a hot car may also induce such failures.
Discuss and demonstrate lens care and cleaning, and provide patients with a complimentary, top quality lens cleaning spray and microfibre cloth. Some smart practices offer free top-ups of the cleaning spray, which brings patients back in on a regular basis. While they're in the practice, they may stock up on eye drops or notice the latest sunglasses, fashion frames and accessories, sometimes resulting in a snap purchase or upgrade…
So, there's something to reflect on. Take a good look at the amazing premium multicoated lenses on offer from some of our great suppliers.
CR Surfacing
CR Surfacing is introducing a new generation of premium anti-reflecting coatings. Its new True Clear multicoat provides improved aesthetics and visual comfort, with almost invisible bloom for ultimate transparency and extraordinary thermal resistance for the harsh Australian conditions. CR Surfacing's new True Blue multicoat promotes healthy eyes by filtering harmful blue light, safeguarding your patients' sleep cycle, and offering comfortable, sharp vision throughout the day.
Contact: CR Surfacing (AUS) 03 8795 9111 
Zeiss Vision Care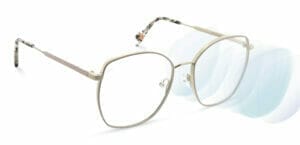 Among the most important features for a spectacle wearer are clear, comfortable vision, improved appearance, superior hardness, and scratch resistant lenses.
Zeiss premium coatings offer a blue residual reflex which reduces luminous reflection on the back side by 20% and ensures a higher luminous transmittance for clearer vision.
By using high energy bombardment, Zeiss premium coatings have an integrated system of densely packed ultra-thin coating layers, which results in an ultra-hard surface and an anti-static layer to repel dust and dirt particles, sealed with a final top coating layer which is easy to clean.
Back surface UV protection is integrated as a standard feature in all premium Zeiss coatings. Zeiss UV Protect Technology eliminates 80 – 90% of the UV rays that come directly through the front of the lens. The remaining 10 – 20%, which sneaks in from the sides and behind the lens, are addressed by Zeiss premium UV coatings.
Contact: Zeiss Account Manager
Essilor Crizal Sapphire UV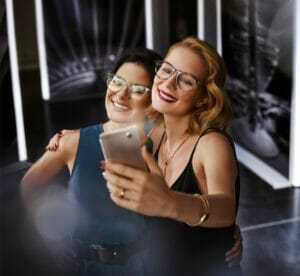 Crizal Sapphire UV is the first antireflection coating designed to reduce reflections from all angles, on the front and back of the lens, caused by natural and artificial light.
Crizal Sapphire UV's multi-angular technology reduces reflections for all incident angles of light falling on the lens from the front, back and sides. The anti-reflection coating, which accounts for light at up to a 45º angle of gaze, provides patients with clearer lenses from all angles. Side-on reflections are reduced 30% and front on by 20%, allowing enhanced visual comfort for the wearer.
Crizal Sapphire UV is E-SPF 35*, for optimal UV protection, is endorsed by Cancer Council Australia.
Contact: Essilor Account Manager 
*except index 1.5 index = ESPF 10
OSA Neva Coatings
OSA's complete Neva coatings range now includes an anti-static coating opposed to regular anti-reflection coatings that usually attract dust, particularly during the cleaning process.
Lenses with Neva Coatings attract up to seven times less dust than their non-antistatic counterparts with benefits including:
– Cleaner lenses that stay cleaner for longer,
– Less time spent cleaning lenses, and
– Lenses that stay scratch free longer.
Neva Max Blue UV offers wearers an E-SPF rating of 35*, the top level of back surface UV protection, plus high level blue light filtering while maintaining a pale blue bloom. Research results show that the Neva Blue Light Filter Coating improves contrast by reflecting and cutting blue light by 18% (400–500nm), which may help to reduce eye strain.
Neva Max Blue UV multi-coat outperforms standard coatings in abrasion, smudge and delamination resistance.
Contact: OSA Account Manager 
*except for Index 1.5 which has an E-SPF -10
Opticare Skeye Multicoat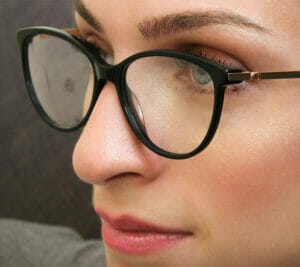 Opticare's Skeye Multicoat is a premium coating for prescription lenses that focuses on functionality, durability, and aesthetics. This coating provides up to 99% light transmission, an increase of up to 8%, giving wearers crisp and clear vision, day and night.
Skeye Multicoat also protects against dirt, scratches, and moisture. It uses the latest technology to produce an extremely hydrophobic and slippery surface to keep the lenses clean.
Finally, Skeye Multicoat reduces reflections, making the wearer's facial features more noticeable in all lighting conditions.
Visit: info@opticare.com.au
Rodenstock X-tra Clean Finish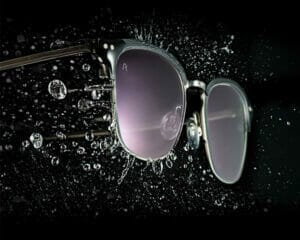 Rodenstock's X-tra Clean Finish has an extremely smooth surface which means that dirt hardly sticks – and if the lens does get dirty, the dirt can be easily removed without leaving any streaks or residue behind.
The finish is made up of functional molecular chains that are responsible for the water- and oil-repellent properties. These molecule chains are inflexible in conventional finishes.
An independent market research study, with face-to-face interviews with spectacle wearers age 40-70 years, showed that:
After cleaning, 100% perceived the X-tra Clean Finish lenses to be absolutely clean without residue, and
93% stated that lenses with X-tra Clean Finish are easier to clean than their current lenses due to the smoothness of the lenses.
Contact: Rodenstock (AUS) 02 9748 0988 
JP Optical 21Ray Coating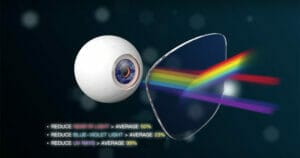 Thorough research of infrared solar radiation has enabled JP Optical to create an effective infrared technology solution, comprising all coatings (UV, hydrophobic, multicoat, smudge repellent and blue filter) into one layer, resulting in 21Ray coating, which is patented in Australia.
21Ray coating provides the following benefits:
Clarity and durability for protection from e-devices,
Reduces eye fatigue and improves visual comfort,
Prevents ageing of the skin around the eyes,
Optimises temperature protection against solar impact, and
Enhances aesthetics and transparency due to elimination of reflections.
All RX-prescription lenses can be coated with 21Ray, including transition and polarisation.
Contact: JP Optical (AUS) 0414 585 487 
VSP TechShield Blue
Appearance matters. That's why TechShield Blue was designed to enhance visual performance as well as personal appearance. TechShield Blue has an attractive, near-clear appearance when not in the presence of blue light, and eliminates harsh reflections from the lens surface.
When considering blue light reduction, it's essential to examine where a product offers the greatest benefit. TechShield Blue targets blue light wavelengths associated with digital eye strain (400- 430nm), reducing exposure by as much as 85% at its peak.
Contact: VSP Optics (AUS) 1800 251 025 or (NZ) 0800 141 444 
Hoya Diamond Finish Coating
"Diamond Finish is one of the hardest anti-reflection coatings available on the market today," says Hoya, with long-lasting anti-reflective, scratch resistant, water, dirt and dust repellent properties that provide spectacle lens wearers with extra comfort and relaxed, clear vision.
Important to note is that Hoya Diamond Finish comes with BlueControl and UV Control, two of Hoya's other premium coatings, offering even better protection and comfort:
BlueControl neutralises blue light emitted by digital screens. It prevents eyestrain and fatigue, reduces glare and improves contrast, offering more relaxed vision.
UV Control prevents UV rays from ageing and damaging the eyes, and protects against UV-related eye disorders and diseases.
Hoya's EnRoute driving lens has an exclusive glare filter coating that combines the properties of a high definition treatment, similar to Diamond Finish, and an anti-reflective coating. Glare Filter noticeably reduces glare by cutting the high-energy visible light from LED and Xenon headlights of oncoming traffic, streetlights and on-board equipment. It also significantly minimises distracting reflections while improving contrast and brightness perception in low-light conditions.
Contact: Hoya Account Manager