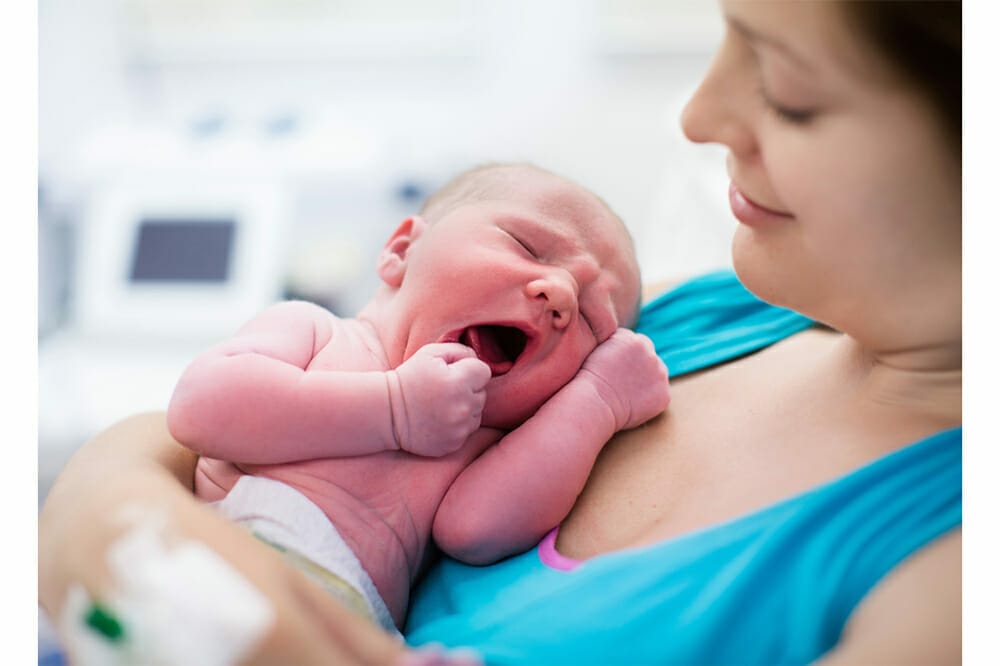 Amniotic membrane (AM) donation enables women having an elective caesarean to donate their placental tissue and membranes, including the amnion, to medicine.
Long used to treat the ocular surface, the unique healing properties of the innermost layer of the placenta are increasingly being recognised and, as a consequence, used to treat other serious injuries.
However, until recently, amniotic membrane was difficult to source in Australia. Now, thanks to the efforts of the New South Wales Organ and Tissue Donation Service, more people are able to benefit from this extraordinary natural healing agent.
AM has been used in ophthalmology as a tissue graft or effective wound dressing for almost 80 years. Its benefits, when applied to the ocular surface, have been well-documented and include stimulation of wound repair and the suppression of inflammation and scarring. Recognising that these properties transfer well to other conditions, AM is increasingly used to treat chronic ulcers and acute wounds such as skin burns.
The other main indication for AM tissue is the treatment of acute skin wounds such as those caused by severe burn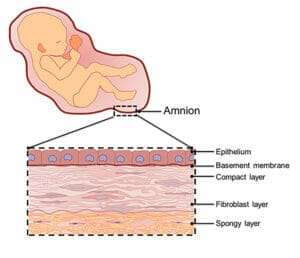 Prior to 2018, surgeons had to apply, via the Therapeutic Goods Administration (TGA), for a special access scheme to acquire tissue from New Zealand. However, for obvious reasons, this process largely precluded AM from being used in emergency conditions and also limited the broader uptake for non-ophthalmic indications. For a short time, the Lions Eye Donation Service in Victoria was another source of AM for local patients, however access was stymied by regulatory requirements.
In late 2018, the New South Wales Organ and Tissue Donation Service (NSW OTDS) established an amniotic membrane retrieval and processing pathway to support local surgical demand.1 This unique living donation program makes use of valuable tissue that would otherwise have been discarded.
DIVERSE, GROWING DEMAND
There's no doubt about national demand for AM. Ever since the amniotic membrane retrieval and processing service was introduced in October 2018, NSW OTDS has been receiving requests for supply from most states and territories.
The majority of tissue requests come from within ophthalmology, primarily to assist with surface reconstruction following ocular neoplasia removal. These are closely followed by requests for AM to be used in corneal injury and ocular surface repair. A small portion of AM requests are for supplementary use following pterygium removal.
Although most requests are for use in the hospital setting, suggesting its restriction to more significant conditions, an article in mivision recently described the use of AM as a treatment for dry eye.2 This indicates growing acceptance within optometry and the potential for broader applications across ophthalmic care.
The properties of AM that make it so valuable within ophthalmology are:
Immunologically inert,
Inhibits scarring,
Reduces inflammation,
Reduces angiogenesis,
Substrate for epithelial cell growth, and
Antimicrobial.
Outside of ophthalmology, there is increasing evidence for the benefit of AM.
Chronic ulcers, defined as unresponsive through at least 12 weeks of standard care, are common in Australia with as many as 400,000 Australians impacted and with associated health-care related costs of more than AU$3.5 billion. Approximately 20% of patients diagnosed with chronic ulcers may be suitable for AM graft – predominantly those with arterial or venous insufficiency ulcers and diabetic foot ulcers. Literature supports a greater reduction in wound size and shorter time to heal when AM is used as compared to standard of care.
The other main indication for AM tissue is the treatment of acute skin wounds such as those caused by severe burns. It can be used as the primary treatment for smaller graft site wounds or as a bridge to larger skin grafts, when immediate skin grafting is not possible, or to provide additional support in extreme cases. AM used in acute skin wounds has been shown to reduce pain sensitivity and, in moderate cases, it leads to fewer wound infections with equivalent safety to standard treatment of care, again highlighting the potential benefits of using this tissue in the appropriate setting.
Making the Difference in Ophthalmology
Dr Con Petsoglou 
Unlike organ donation, where a donor and recipient are matched for compatibility, the characteristics of the amnion mean that it does not have to be matched with a potential recipient. This is advantageous as the amnion can benefit a large patient population and make every donation much more helpful.
Conjunctival tissue is a unique membrane in the human body. It is transparent, flexible and moist to support the cornea and ocular surface. Unfortunately in cases of ocular injury, chemical burns or cancers, conjunctiva is damaged or lost and is unable to be replaced with another membrane from the patient. AM histologically and physically is the only tissue that replicates the layers and characteristics of conjunctiva. It is incredible to see the similarity in the two tissues and how they behave surgically. Having a ready source of AM tissue available, that is cryopreserved, allows for the best possibility of restoration of the delicate ocular surface.
Depending on the size of the amnion, up to thirty patients can be helped from just one donor.
Extensive scientific research shows that the amniotic membrane can have unique healing properties, and is an effective treatment option for serious wounds, eye injuries and burns as well as other topical applications.
WORKING WITH DONORS
With limited exceptions, women between the ages of 18 and 45 admitted for an elective caesarean section can choose to donate amnion tissue. In NSW, the obstetrician remains the primary contact and may introduce the concept of donation during preliminary consultations. Currently, the Mater Hospital in North Sydney represents the main source of referrals for amnion retrieval, however similar relationships with additional hospitals across Sydney are currently being investigated. If consent is given, a basic questionnaire is provided to record general health history. This is supplemented at birth with a blood sample from the mother, which is provided for screening.
Immediately following procurement, the bulk tissue is maintained in sterile packaging and transported back to the NSW Tissue Bank for preparation and eventual storage.
At the preparation stage, the amniotic membrane is separated from the chorion, decontaminated and incubated with antibiotic (streptomycin and penicillin) and antimycotic (amphotericin) solutions. It is then applied to a carrier surface (nitrocellulose membrane) before being cut into standard dimensions (5cm x 5cm, 5cm x 10cm, and 10cm x 10cm). The amniotic membrane is individually packaged and cryopreserved for up to a period of 12 months from the day of retrieval.
AM tissue is also available in a dehydrated form in Australia, but many studies support the structural integrity and higher growth factor levels of the cryopreserved tissue over the dehydration process. The latter may lead to protein denaturation, loss of function and irreparable damage to the ultrastructure.3,4
Microbiology is performed as a batch immediately after separation from the placenta and again as individual grafts during processing to exclude organism contamination and ensure optimal safety.
As this remains a developing service, NSW OTDS has instituted formal surgeon feedback and follow-up protocols to allow further exploration of tissue use and procedural success. Similarly, all donors are followed-up after approximately three months via a phone interview to exclude post-donation concerns. Tissue is not released from its quarantine status until this has been completed.
Beginning the Conversation
Dr Steven Tan 
The Mater Hospital at North Sydney is a proud partner of the NSW Organ Donation Program. As a senior obstetrician at the Mater, I was approached by the NSW OTDS to encourage my patients to become amnion donors. The Mater Hospital delivers over 2,000 babies each year, so we have a plethora of potential donors.
Not all obstetric patients are eligible. However, those having an elective caesarean section are highly desirable donors because their placenta is collected under aseptic conditions which allows the amniotic membrane to be separated and processed.
I usually begin the donation conversation towards the end of the final trimester of a pregnancy. Some mothers have plans for their placentas. These include keeping them or burying them in the garden and planting a commemorative tree for the family at the site. The majority of patients simply agree to having their placenta discarded, so this group is highly receptive to donation.
My patients appreciate the philanthropic benefit, especially as there is no financial benefit to any involved parties. I share with them, my belief that this simple action has wide-ranging benefits. The known healing properties of the amniotic membrane will only become more widely applicable as research continues into the wonders of this very special tissue. I feel privileged to be a part of the program.
THE FUTURE FOR AM IN AUSTRALIA
The NSW Tissue Bank has worked hard to allow for the use of AM, not only in eye surgeries but also non-healing skin wounds and burns. As a result of their efforts, for the first time in Australia, patients in the near future will have cryopreserved AM tissue available to them and subsidised through the Medicare products list. The broad indication for AM tissue use will allow it to become an important part of the armamentarium to treat many complex non-healing skin conditions.
Now the NSW Tissue Bank is beginning to work with local burns units and diabetic centres to increase awareness of the product and begin studies into the effectiveness in patient management.
Although AM tissue will primarily be an ocular product for the treatment of eye diseases, we expect its availability will encourage more research into its healing properties and increase its clinical use for patients.
Amniotic Membrane Treatment for Stevens-Johnson Syndrome
Dr Con Petsoglou 
Ocular damage leading to severe visual impairment and discomfort occurs in up to 35% of patients with Stevens-Johnson syndrome (SJS). Typical acute signs include corneal ulceration and melting, progressive conjunctival scarring, and cicatricial lid changes. If the ocular surface is not managed successfully, chronic ocular surface inflammation and surface failure will occur, leading to life-long blindness after the acute event.
Conventional management with ocular lubrication and topical medication to optimise the corneal surface, and control infection and inflammation, have been shown to provide variable outcomes. Recently, the use of amniotic membrane tissue as a temporary ocular bandage has emerged as a viable alternative with positive results.
A Life Changing Transplant
A 19-year-old female was diagnosed with fulminant SJS following a viral illness. She presented with a widespread blistering rash and ocular discharge. Initial ophthalmic presentation identified bilateral conjunctival geographical epithelial defects, with severe corneal epitheliopathy and minor lid adhesions. Vision was challenging to assess due to difficulty opening the eyes and subsequent photophobia, however pinhole vision provided acuity of 6/18 in right and left eyes.
Initial management included a three-day course of two-hourly preservative free chloramphenicol and prednisolone 1% eye drops, and preservative free lubricants in both eyes. Ocular surface inflammation and the epithelial defect (left > right) increased despite treatment, and the patient described increasing ocular pain despite systemic treatment.
The patient underwent bilateral AM tissue grafting over both eyes with a symblepharon ring inserted. The AM tissue was draped over the whole ocular surface covering the cornea, fornices and tarsal conjunctival surfaces under local anaesthesia. Lateral tarsorrhaphies were placed, and topical medications reduced to just three a day. The AM tissue remained in place for 21 days as her systemic condition improved.
When tarsorrhaphies were released, the ocular surface had completely healed and was white. Patient vision stabilised to 6/6 with minimal corneal scaring. All topical and systemic medication was discontinued after two months. The improvement and outcomes from AM tissue surgery were significant and reflect the outcomes in a recent random control trial to the degree that AM tissue should be considered in all patients.5 
Dr Constantinos Petsoglou MBBS, MMED, CLIN. EPI, FRANZCO is a cornea specialist at the Sydney Eye Hospital. Dr Petsoglou completed a Cornea Fellowship at Moorfields Eye Hospital. He is a Senior Lecturer in the Discipline of Clinical Ophthalmology for the University of Sydney and Associate Director of the NSW Tissue Bank. 
Dr Steven Tan MBBS (Hons 1) BSc (Med) FRANZCOG is an obstetrician and gynaecologist with a medical practice located in the Mater Clinic, based at the Mater Hospital North Sydney, NSW. 
Jane Treloggen RN MHSc(Nurs) BHSc has been the manager at the NSW Tissue Bank since 2011. She holds a Masters of Health Science Nursing from Charles Sturt University. 
Helen McKeon BSc(Hons) is the amnion membrane tissue coordinator at the NSW Tissue Bank. She has been a donor coordinator at NSW Tissue Bank for 25 years. 
References 
Treloggen J et al. (2020) Ophthalmic use of amniotic membrane tissue in Australia: Introduction and initial use of a service. Clin Exp Ophthalmology 48:253-254. 
Lam, M and Epstein, A. Amniotic membranes and ocular surface repair – the new frontier. Mivision Issue 166. April 2021. 
Rodriguez-Ares MT et al. (2009) Freeze drying results in cold damage to the AMT with depletion of growth factors beneficial to the ocular surface Acta Ophthalmol 87: 396–403 
Cooke M et al (2014) Cryopreserved AMT better preserves the structural and biological signalling molecules of foetal tissues J Wound Care 23(10):465-47 
Gupta PC, Ram J. Re: Sharma et al.: Adjuvant role of amniotic membrane transplantation in acute ocular Stevens-Johnson syndrome: a randomized control trial (Ophthalmology 2016;123:484-91). Ophthalmology. 2016 Nov;123(11):e66-e67.