Consumers are increasingly 'going green' in a bid to help stem the effect of mass production on the environment. Brands that embrace sustainability and deliver purposeful products are reaping the rewards and, by jumping on board, so should you.
More environmentally conscious than ever before, your customers are looking for eyewear that ticks boxes above and beyond the standard offerings. Survey findings suggest that millennials, in particular, are more inclined to favour ecofriendly products with 65% of participants expressing desire to buy from purposedriven brands that advocate sustainability.1 
In the eyewear market, these same consumers are looking for the greener option when it comes to picking up a new pair of frames – whether that be optical or sun. They may consider the production side of things, and be curious as to how the eyewear was made and with what materials, as well as the brand's broader ethical approach.
…millennials, in particular, are more inclined to favour eco-friendly product…
Understanding the concept of a 'green purchase', which refers to the activities conducted by consumers to save resources and protect the environment, and responding with 'green marketing', which involves abandoning products that are relatively polluting in order to minimise environmental impact,2 can be beneficial when targeting your conscious customers.
MATERIALS THAT MATTER
The use of eco-friendly materials is a mainstay in green eyewear products. Increasingly, brands are turning to plastic-alternatives as well as recycled and recyclable materials to create sustainable frames, lenses, packaging and accessories. Such differences are significant enough to entice customers on the lookout for low-impact eyewear. Being aware of the green products you stock and what makes them sustainable is important for effective 'green marketing'.
With the tagline 'Protect your eyes, protect the earth', Zeal Optics is one of many optical brands focusing on sustainability. The brand offers a plant-based polarised sunglass range which uses Z-Resin, a material derived from the castor plant, to replace the commonly used petroleum-based plastics. Not only is this source sustainable, it's use also helps to reduce the amount of CO2 produced during the manufacturing stages.
A key buzzword prominent in the world of sustainability is 'biodegradable'. From biodegradable packaging and accessories through to acetate, brands are now implementing sustainable alternatives to their traditional manufacturing processes and end products.
Of particular interest, bio-acetate, a sustainable alternative to traditional acetate, is a biodegradable, environmentally-friendly plastic-alternative used in the creation of eco-friendly eyewear such as that by Jisco Eyewear, which uses the natural material in 35% of their collection. De Rigo has also invested in an eco-friendly acetate known as cellulose acetate, and uses plant-based resin in their new Green Journey Collection.
RECYCLE AND REUSE
When considering what green products to include in your eyewear offerings, be on the lookout for brands using recycled materials. Stocking frames made from recycled plastics, for example, is a great way to let your customer base choose an eco-friendly alternative.
Each year in Australia, around 373 million plastic water bottles end up as waste. Made from recycled water bottles that are cut into chips, pressed into small pellets, melted down and injected into a frame, Dragon Eyewear's Upcycled collection is working to make a difference to this staggering statistic. The production process helps to reduce Dragon's carbon footprint and results in a sustainable, recycled collection suited to your green-conscious customers.
Supporting brands with a strong ethical foundation will also make a positive impression on your customer-base. The epitome of trash to treasure, AM Eyewear, in partnership with Lions Recycle for Sight Australia Inc., donates pre-loved frames that are cleaned and shipped off to remote locations where they gain a second life for those in need. The result is a reduction in landfill, grateful new owners and, at your end, a customerbase proud to be a part of the change.
But your scope of green offerings shouldn't end with eyewear. To complement their new pair of glasses, provide your customers with a range of eco-friendly accessories such as the micro-fibre eco-cloth developed by Optica Life Accessories. With the same cleaning abilities as standard microfiber, this range uses 70% recycled PET plastic to help reduce the amount of plastic in the environment.
LET THEM KNOW
Promoting your green products is the vital last step in developing your image as an environmentally conscious business and letting your customer base know that you've got a finger on the pulse. Consider creating a window display to show passers-by that you stock green products and, once they are inside your store, further deliver on this promise by dedicating a portion of your store to displaying environmentally-friendly products from a range of different brands.
Stocking eyewear that gets the green tick of approval will not only draw in the ecofriendly consumer but allow you to make an impact in the green market.
References 
White, K, Hardisty, D & Habib, R. 2019, 'The Elusive Green Consumer', Harvard Business Review, < https://hbr. org/2019/07/the-elusive-green-consumer > 
Zhang, X & Dong, F. 2020, 'Why Do Consumers Make Green Purchase Decisions? Insights from a Systematic Review', International Journal of Environmental Research and Public Health, 11 September < https://www.mdpi. com/1660-4601/17/18/6607/pdf >
Aaron's Eyewear
Aaron's Eyewear was among the first optical suppliers to introduce fullybiodegradable individual clear frame-bags when shipping their Cocoa Mint, Jensen, Louis Marcel, Rock Star & Land Rover collections to customers. One of the biggest environmental threats posed by our industry, over one billion single-use plastic frame bags are disposed of each year globally. This investment marks the start of a significant strategy working to protect oceans and land habitats.
Contact: Aaron's Eyewear (AUS) 07 3367 8447
Augie Eyewear
Augie Eyewear, named after the founders' first born, says being sustainably responsible in business is an extension of their sustainable lives. Acetates chosen as the main frame material are derived from natural materials and packaging is made from certified recycled material. Augie Eyewear is also designed and manufactured to withstand the impact of kids' lives.
Contact: Augie Eyewear (AUS) 1300 391 440 
Chopard Maison
The Chopard Maison is committed to sustainable luxury as part of its own identity, values and tradition. The Green Journey Collection is produced in Italy, using plant-based materials.
Raw materials used to produce the acetate include cellulose acetate and a plasticiser derived from vegetable sources. Nylon lenses are of natural origin: the resin is produced from castor plants and represents a durable and lightweight alternative to plastic, consequently boasting a lower environmental footprint.
Contact: De Rigo (AUS) 02 9428 1500 
Arnette
Since 2019, Arnette has been on a mission to make a difference in earth-conscious style, and with the first drop of its 2021 collection, it presents Arnette Positive. Beyond high quality eyewear made from bio-based materials, in its design of anything from store props to packaging, Arnette is committed to an environmentally conscious creative concept. With all new plastic styles made from bio-plastic or bio-acetate as well as bio-lenses, the brand turns to sustainable practices with optimism and style.
Contact: Luxottica Account Manager
Swarovski
The cat-eye silhouette is always in style and these frames receive a contemporary twist with sparkling Swarovski Crystal Fabric on the temples. Pictured is model SK5413 055 in Havana.
Contact: Marcolin (AUS) 02 8456 0946 
Maui Jim
Maui Jim continues to lead the way in the "greening" of the eyewear industry. The prescription lens manufacturing process at Maui Jim produces over 90,000kg of waste materials annually, but none of it ends up in landfills. Thanks to Maui Jim's customdesigned system, all waste is recycled – in fact they say there's was the first eyewear brand to have a lab that reuses all fluids and petroleums, and manufactures solids into other products.
Contact: Maui Jim (AUS) 02 9452 5575 
Zeal Optics
Zeal Optics' frames and Ellume Polarised lenses are made from Z-Resin, a plantbased material derived from the castor plant. Castor beans are processed into the brand's proprietary Z-Resin material which replaces petroleum-based plastics in its sunglasses. By replacing traditional plastics with Z-Resin, Zeal Optics significantly reduces the amount of CO2 produced during manufacturing – it's all part of the brand's mission to create sunglasses that enhance time spent outdoors while working to protect the world around us.
Contact: Zeal Optics (AUS) 1800 010 244 
Safilo
Using available bio and recycled materials, the Polaroid Sustainable collection is the maximum expression of what Polaroid can offer as a sustainable choice for patients. Polaroid wants to see beyond the waste of resources and is happy to present its first collection rooted in sustainability.
Contact: Safilo Account Manager
AM Eyewear
AM Eyewear buys back pre-loved frames and donates them to Lions Recycle for Sight Australia Inc., where they're cleaned up, shipped off to a remote location and given to a person in need. This way each frame has a much longer life, reducing landfill.
Contact: AM Eyewear (AUS) 02 9357 4550 
Dragon Upcycled Collection
The story of upcycled began with a single mission: to protect the earth and all of its adventures, five water bottles at a time. Every frame in the collection is designed through a process that repurposes singleuse plastics to reduce the impact they have on the land we love to explore, the air we breathe and the oceans we surf.
Contact: Marchon (AUS) 02 9694 8080 
Otis Rx Eco
The Otis Rx collection brings a sustainable approach to prescription eyewear. Each unique design is exclusively crafted from eco-acetate, made using renewable materials and certified biodegradable at their end of life. Metal frame styles are recyclable too, with all hardware, such as hinges, able to be reclaimed and remade.
More than that, demo lenses in every piece for display are biodegradable too. The glasses are even shipped in fullybiodegradable protective sleeves.
Contact: ProOptics (AUS) 02 8007 6041 
Jisco
Jisco produces 35% of its collection from natural and biodegradable bioacetate which is made from 100% cellulose, the most widespread organic compound in nature. Additionally, 25% of Jisco's collection is made with pure titanium, a 100% recyclable raw material, and a new eco-titanium capsule collection is crafted from 100% recyclable pure titanium and 100% bio-degradable bio-acetate pieces.
Compostable plastic is used to wrap and protect each frame, and where possible, outer packaging – including cardboard shipping boxes and merchandising colour cubes – is made from recycled and recyclable materials.
Contact: ProOptics (AUS) 02 8007 6041 
Van Staveren
Van Staveren's latest collection is made from a material developed by Mazzucchelli and composed of up to 68% renewable sources. Mazzucchelli 1849 has developed a formula combining the physical mechanical characteristics of traditional acetate with a strong eco-sustainability. Known as M49, the product is composed of cellulose acetate – cellulose being a natural polymer derived from cotton – and a plasticiser of vegetable origin. The result is a bioplastic with a remarkable bio-based content.
Contact: VS Eyewear (AUS) 1300 794 007
Optica Life
Be kind to your lenses and the environment with Optica's brandable Eco-cloths. Developed in partnership with their supplier and made from 70% recycled PET single-use plastic bottles, these cloths have all the superior cleaning abilities of a standard microfibre cloth while helping reduce waste plastic in the environment.
Contact: Optica Life (AUS) 1800 199 860 or (NZ) 0508 963 333 
Frames Etcetera
With many years of experience, Frames Etcetera offers a one-stop shop for practice branded recycled packaging, hard and soft cases, microfibre cleaning cloths, as well as lens spray solutions and bottles.
Choose from cases and microfibre cloths in a multitude of colours, styles and grades then have them personalised with embossed finishes, screen printing, or multiple colour digital printing. Practice branded recycled paper gift bags are also available.
Contact: Frames Etcetera (AUS) 1800 708 771 
Contact Lenses for the Planet
SEED 1dayPure
SEED 1dayPure daily disposable soft contact lenses are made in Japan at the company's state-of-the-art manufacturing site, Konosu Research Institute, which is committed to the conservation of the global environment by employing eco-friendly technology and equipment.
A photovoltaic power generation system, installed on the building's roof, facilitates the efficient use of resources with clean energy and heat-shielding effects. An energy control system manages the use of electricity, gas and water supply; compressed air and high-pressure steam eliminate waste from energy usage. A recycling wastewater system ensures efficient use of water resources. The plastic waste from the manufacturing process is also recycled.
Contact: SEED (AUS) 1300 373 718 
CooperVision
In 2019, CooperVision teamed up with organisations worldwide to align with the United Nations Sustainable Development Goals (SDGs) aimed at building a better, more sustainable future over the next decade.
Award-winning conservation efforts, sites certified and recognised for sustainability achievements and renewable electricity resources are sustainability practices the brand takes pride in. Millions of litres of water are saved annually through mindful use and conservation. Energy consumption is minimised and the emphasis is on using clean energy sources like wind-based renewable energy and electricity generated from biomass. Additionally, 95% of materials in production processes are recycled.
Employees are empowered to make environmentally conscious decisions every day, and volunteer their time to assist with international coastal clean ups.
Contact: CooperVision Account Manager 
Miru 1Day Flat Pack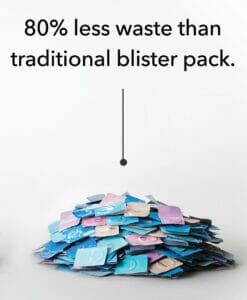 Designed with the contact lens wearer in mind, Miru 1day Flat Pack offers wearers easy handling and cleaner, more comfortable wear.
At barely 1mm thick, each foil blister pack is designed to minimise lens handling so contact lenses can be worn with confidence and comfort. Miru 1day Flat Pack is also eight times thinner than conventional blister packs – resulting in 80% less raw material required in manufacturing.
The thoughtfully designed ultra-slim, lightweight packaging takes up little space for easy storage, and a convenient 30 lens storage case – made from recycled moulded plastic – is great for active patients.
Contact: Menicon (AUS) 1800 639 879