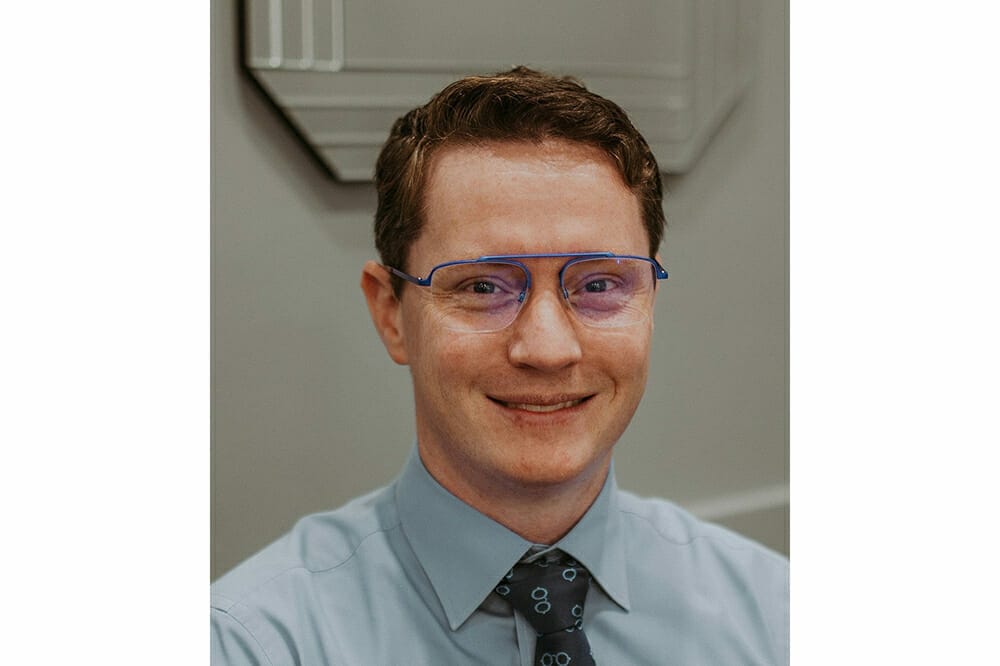 Josh Williams is a Dubbo local, born and bred. Two years ago, he jumped at the opportunity to become a practice partner… and succumbed to a rollercoaster of emotions and experience.
The profession of optometry has appealed to me ever since I completed a week of year 10 work experience. It just ticked all the boxes: a respected health professional with normal working hours and no shift work; the opportunity to help others optimise vision – such an important sense; and good remuneration.
I'd accepted a job in my hometown of regional Dubbo, NSW, and 12 years had flown by with me enjoying practising true full scope optometry. The thought of being a business partner was always at the back of my mind, but it wasn't something I'd proactively pursued. Now married with a young bub, I felt I had my priorities in order.
Until one day, I took a phone call.
An optometrist from a rival private practice was on the other end of the line with a partnership opportunity.
FACING FEARS
My comfortable, ordered mindset was suddenly thrown upside down. I was torn between my brain saying "jump at the opportunity" and my heart putting up hurdles. The financial risk, extra responsibility, the thought of leaving the mentor and friends I had worked with as an integral member of the practice.
Probably the most stressful build-up in the whole process wasn't the negotiation, finding finance or even wading through the legal process. It was telling my long-term boss and mentor I was leaving. I was a mess. I had no idea how she would take it. Would she be upset? Would she reject me? I didn't want any of that. After all, it was she who had given me the opportunity to build a career.
In hindsight, I shouldn't have been so worried. She hugged me and said she would never stand in the way of someone wanting to better themselves.
I hit it off straight away with Tony, my future business partner. We very quickly realised that we were on the same page and so Burgun and Williams Optometrist was born. Now, as it was in those early days, the most serious conversations often circle back to the game of footy or cricket from the weekend, but the patient always comes first.
A NEW LEVEL OF ENGAGEMENT
It is hard to explain the new level of engagement I have had for each patient since becoming a practice partner. Patients, in turn, seem to recognise my heightened enthusiasm, and 'one or two?' is no longer a boring part of the consultation – it helps define our relationship. This flows into the way I manage my patients and the products I recommend. Being an independent practice, we pride ourselves on only prescribing what's best for the patient.
Prior to Burgun and Williams, the practice had an existing relationship with ProVision. This affiliation was one I was a little uncertain about, but within weeks of being in partnership, I began to appreciate its potential for business growth. We have the freedom of independence and the support of purchasing power, marketing strategies, HR advice etc. you would typically only get through a franchise.
I am also incredibly appreciative of our team who have come along for the ride – during the turbulent ups and downs. I really have found a second family. Having influence over the culture of an organisation is very intimidating and a never ending grind. The reward of hard work is the positive feedback you receive from a patient, especially when it's directed towards a staff member. Knowing it's your name on the door, bestows a sense of pride.
The first two years were quite tough for a business novice. A record drought followed by global pandemic. I couldn't have timed it better! However, I look back on the progress of Burgun and Williams Optometrist and what we have achieved as a team. The growth in turnover, new patients and culture. Wow! I have a tendency to look back on my career and wonder why I wasn't more proactive in those early days? Why didn't I take the plunge into the business world sooner?
You can't move forwards by looking in the rear view mirror…
Josh Williams is an optometrist and the practice co-owner of Burgun and Williams Optometrist in Dubbo, New South Wales.