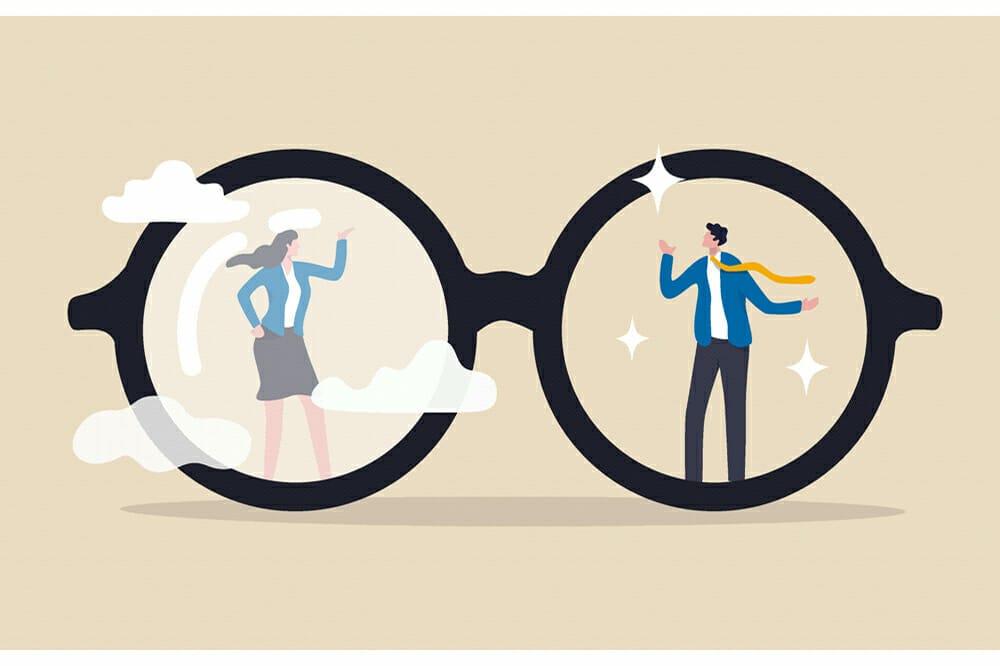 Aside from COVID-19, matters of gender equality and equity have dominated the news in the last 12 months. Sexual harassment, unfair workplace treatment of women, and domestic violence have all been topical issues receiving heightened media coverage in recent times.
When working in ophthalmology and optometry, we may be inclined to think that gender issues do not affect us as both fields generally have very healthy representations of women. However, cracks in our 'gender equal' worlds are quite easily seen by scratching beneath the surface, and some of these cracks have widened during the coronavirus pandemic.
The current ratio of male to female trainees in the Royal Australian and New Zealand College of Ophthalmologists (RANZCO) is 57:43 and the ratio has been increasing to near parity over the last 10 years. In optometry, there have been more female than male optometrists registered with Optometry Australia (OA) since 2014.
Although the proportion of qualified female RANZCO fellows has doubled in the last twenty years, the actual percentage has increased from only 11% in 2000 to 23% in 2020. The persistent under-representation of women in ophthalmology inevitably translates to inequitable workplace conditions, reduced job satisfaction, and poor female representation in leadership roles.
Based on the Australian Tax Office (ATO) data, ophthalmology has the widest gender pay gap of all professional groups.1,2
if we think parental leave and flexible working conditions are restricted for women, it is far worse for men
In a revealing survey of RANZCO fellows conducted anonymously,3 it was identified that female ophthalmologists worked fewer hours per week and earnt less than their male counterparts – even when adjusted for the hours worked; yet female ophthalmologists were more likely to have obtained higher degrees (39.2% vs. 25.3%).
Male ophthalmologists were more likely to be married or be in stable relationships compared to female ophthalmologists (93% vs. 76%), and also more likely to have children (88% vs. 71%).
Of those with children, more female ophthalmologists had their first child after training (55%) compared to males (24%), who were more likely to have their first child either before or during ophthalmology training.
More female ophthalmologists felt frustrated by the amount of time they had to devote to their careers, felt that they often had to choose between work and family, and if given another chance, would choose to have their children at a different point in their career.
More males than females felt they derived 'personal satisfaction' from their careers and more females disagreed that a woman's opportunity for advancement in ophthalmology is the same as a man's, and that they are treated as an equal by colleagues.
This perception of unequal treatment by female ophthalmologists is, concerningly, confirmed by a recently published study in Clinical and Experimental Ophthalmology that identified female RANZCO trainees as achieving 21% lower total surgical volume compared to their male counterparts at the completion of their training, and more data demonstrating that female and male trainees are not receiving equivalent training experiences.4 
This problem is not isolated to ophthalmology. There is overwhelming evidence to demonstrate that gender equality in medicine and medical leadership in Australia has not been achieved.5 Much like ophthalmology training, women have had gender parity in Australian medical schools for decades; however, they represent only 28% of medical deans and 12.5% of hospital chief executive officers.6 These disparities are even greater for Aboriginal and Torres Strait Islander women, women of colour and women with disabilities.
The pandemic has certainly not helped to close the gender gap across the sciences. The New York Times published an insightful article in April this year highlighting the risk of an "epidemic loss of women" in the sciences due to the pandemic.7 It described the strain mothers were placed under when working from home while home-schooling their children due to school closures during lockdowns. Any parent will know that it is impossible to perform to your normal professional standard while looking after young children. Inevitably, home-schooling and childcare duties fall on mothers rather than fathers and therefore not surprisingly, many studies identified that women have published fewer papers, led fewer clinical trials, and received less recognition for their expertise during the pandemic.
AUSTRALIAN REALITY
In Australia, the problem may be even more dire. The STEM (science, technology, engineering and mathematics) Equity Monitor, established by the Department of Industry and Sciences, revealed only 10% of women with a STEM qualification continue to work in the field.8 A yawning gender pay gap, low levels of seniority, high levels of unemployment, and a lack of job satisfaction all contribute to the grim picture.
Speaking with colleagues in both optometry and ophthalmology, unfair workplace behaviour directed at women is still commonplace. A colleague was "asked" to start parental leave early due to last year's COVID-19 lockdown; several colleagues returned from parental leave to find their private practice position or hours drastically altered without discussion; and on more than one occasion, I have had a professional role terminated or assigned to someone else while I was on parental leave as it was assumed that my "priorities had changed".
Gender stereotypes such as "women are not funny" or "she won't want to speak, she has young children" still permeate discussions and decision-making regarding invited lecturers and conference speakers. Despite the best of intentions among some of my male colleagues, without women in senior positions, occurrences like these will continue to take place. During my training, one of my favourite and most respected male supervisors would repeatedly tell the trainees that parental leave is the best time to conduct a PhD. I firmly believed this until I embarked on my first parental leave and discovered that I barely had time to shower, let alone perform high-quality, scientific inquiry.
STEPPING IN THE RIGHT DIRECTION
Nevertheless, it is important to recognise that encouraging steps have been taken at a federal level to evaluate and implement sustainable strategies to improve the status quo. RANZCO has recently had its first female President, and has changed its constitution to include a 30% gender quota for its boards and committees. OA is working on improving workplace flexibility to allow female optometrists to progress in their careers in their 2040 Plan, which recognises the increasing dominance of women in the field. Influential organisations like Science and Technology Australia are developing programs specifically aimed at smashing gender stereotypes on what a leading scientist and STEM professional looks like, and are providing powerful role models for girls to see that STEM can be for them, such as the Superstars of STEM. It works on the adage that "it's hard to be what you can't see". In her National Press Club Address delivered in March this year, Dr Cathy Foley, the Australian Chief Scientist, listed "diversity" as one of the four critical foundational issues she aimed to champion during her term. She acknowledged that it is an incredibly complex and difficult issue, but stressed its importance as "diversity of ideas and experience leads to better results".
There is innumerable evidence demonstrating the benefits of gender equality in science, medicine and global health for societies and economies, that include reduced childhood mortality, improved nutrition, and economic growth.9,10,11 A gender diverse medical workforce also translates into improved medical outcomes. A study investigating female patients with acute myocardial infarction found higher mortality in women treated by male doctors than those treated by female doctors.12 The effect was attenuated if the male doctors had higher exposure to female patients and physician colleagues.12
There is also emerging evidence of the beneficial differences in the way female clinicians practise, leading to lower morbidity and mortality.13-15 For example, a Canadian study found that patients of female primary care physicians had more consistently received information on health screening and had fewer emergency department visits than those treated by male primary care physicians.13 A matched cohort study also found that patients treated by female surgeons had a modest but significant decrease in a composite outcome of 30-day mortality, complications, and readmissions than those treated by male surgeons.15 The authors of these papers concluded that gender is a marker of other behaviours that lead to better outcomes, pointing to evidence that females tend to follow guidelines more closely, spend more time with patients, and have a more effective communication style than male clinicians.13 
EQUALITY FOR MEN TOO
Workplace culture needs to change and is slowly changing. Unlike the last generation of male ophthalmologists, the majority of whom had stay-at-home spouses and for whom feeding kids and changing nappies was an occasional past-time, this generation of junior male ophthalmologists and ophthalmology trainees want to be more hands-on dads than their own fathers were. Yet if we think parental leave and flexible working conditions are restricted for women, it is far worse for men.
For the first time in the history of the Royal Victorian Eye and Ear Hospital, a male trainee recently interrupted training for six-months to be a stay-at-home parent. While this was approved by the hospital and the College, there were undoubtedly eyebrows raised and questions asked about his commitment to training and his career.
We are still living in an age when working mothers are asked, "How do you manage it all?" yet this question is never asked of working fathers. Annabel Crabb, ABC's political writer and broadcaster, summarised succinctly in her book Men at Work – Australia's Parenthood Trap,16 "Women's surge into the workplace has been profound over the last century. But it hasn't been matched by movement in the other direction: while entrances have been opened to women, the exits are still significantly blocked to men. And if women have benefited from the sentiment that 'girls can do anything', then don't we similarly owe it to the fathers, mothers, and children of the future to ensure that 'boys can do anything' means everything from home to work?"
Gender equality matters for health. It is one of the most important drivers of health and health inequities of our time.17 Ophthalmology and optometry are both fields with a growing proportion of women. Therefore, the issue of gender equality is more pressing in our workforces than ever. Quantitative gender equality is a good start, especially by increasing the number of women in leadership positions so that workplace decision-making that is mindful of, and beneficial to, the career progression of female ophthalmologists/optometrists can take place.
But imagine the societal transformation we would witness if we became a culture that supported both men and women equally to be at home or in the workplace; a culture that inherently values transparency, honesty, and fairness? As stated by Shannon, et al in the 2019 Lancet issue entirely dedicated to advancing women in science, medicine, and global health, "Achieving gender quality is not simply instrumental for health and development, its impact has wide-ranging benefits and is a matter of fairness and social justice for everyone."17 
Dr Jennifer Fan Gaskin, MBChB, MD, FRANZCO, is a Consultant Ophthalmologist at the Royal Victorian Eye and Ear Hospital and a Research Fellow at the Centre for Eye Research Australia where she leads ocular fibrosis research. Early this year she was also named one of Science and Technology Australia's Superstars of STEM – brilliant women in science, technology, engineering and mathematics who want to step into the spotlight as experts in their fields. She consults at Armadale Eye Clinic and Hawthorn Eye Clinic in Melbourne. 
Dr Fan Gaskin is a passionate patient advocate through her involvement with Glaucoma Australia. She also advocates for diversity and gender equality through her leadership roles: she is a director of the Ophthalmic Research Institute of Australia (ORIA), the Victorian Representative for the Australian and New Zealand Glaucoma Society, and an examiner of the RANZCO Ophthalmic Basic Competencies and Knowledge Examination. www.cera.org.au/people/jennifer-fan-gaskin. 
References
www.afr.com/work-and-careers/careers/australias-top-50-highest-paying-jobs-20161205-gt3uzx
brendanansell.net/gender_disp_ymllite.html
Danesh-Meyer HV, Deva NC, Ku YK, et al. Differences in practice and personal profiles between male and female ophthalmologists. Clin Exp Ophthalmol 2007; 35:318-23
Gill HK, Niederer RN, Danesh-Meyer HV. Gender differences in surgical volume among ophthalmology trainees. Clin Exp Ophthalmol accepted 1 July 2021
Hempenstall A, Tomlinson J, Bismark M. Gender inequity in Medicine and Medical Leadership. Med J Aust 2019; 211:475
Bismark M, Morris J, Thomas L, et al. Reasons and Remedies for Under-representation of Women in Medical Leadership roles: a qualitative study from Australia. BMJ Open 2015;5:e009384
Mandavilli A. Could the Pandemic Prompt an "Epidemic of Loss" of Women in the Sciences? The New York Times, 13 April2021
www.industry.gov.au/data-and-publications/stem-equity-monitor
Commission on Social Determinants of Health. Closing the gap in a generation: health equity through action on the social determinants of health. Final Report of the Commission on Social Determinants of Health. Geneva: World Health Organisation 2008
Abu-Ghaida D, Klassen S. The costs of missing the Millenium Development Goal on gender equity. World Dev 2004;32:1064-107
McDonald P. Gender equity in theories of fertility transition. Popul Dev Rev 2000;26:427-39
Greenwood N, Carnahan S, Huang L. Patient-physician gender concordance and increased mortality among female heart attack patients. Proc Natl Acad Sci USA 2018;115:8569-74
Dahrouges S, Seale E, Hogg W, et al. A comprehensive assessment of family physician gender and quality of care: a cross sectional analysis in Ontario. Med Care 2016;54:277-86
Tsugawa Y, Jena AB, Figueroa JF, et al. Comparison of hospital mortality and readmission rates for Medicare patients treated by male vs female physicians. JAMA Intern Med 2017;177:206-13
Wallis CJ, Ravi B, Coburn N, et al. Comparison of postoperative outcomes among patients treated by male and female surgeons: a population based matched cohort study. BMJ 2017;359:j4366
Crabb A. Men at Work – Australia's Parenthood Trap. Black Inc, Carlton, VIC, Australia 2020
Shannon G, Jansen M, Williams K, et al. Gender equality in science, medicine, and global health: where are we at and why does it matter? The Lancet 2019;560-69