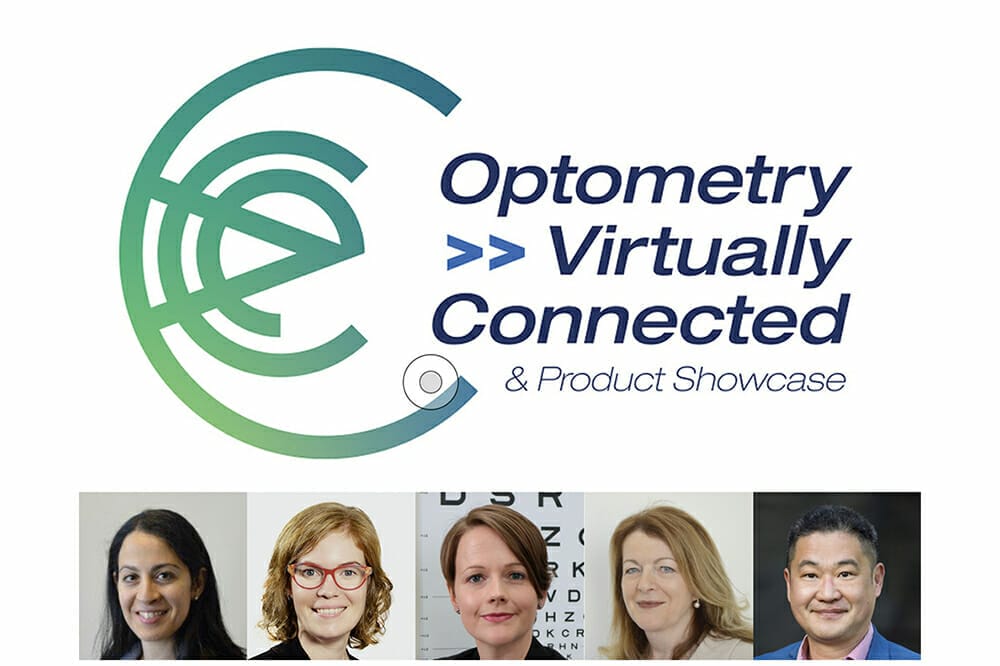 Optometrists from around the world gathered online in June to attend Optometry Virtually Connected (OVC) and Product Showcase, a weekend of virtual education and product displays presented by Optometry Australia.
Run in conjunction with Asia Pacific Council of Optometry's (APCO) Educator's Forum, OVC attracted delegates and exhibitors from Australia, New Zealand, Fiji, Canada, the USA and 12 Asian countries including Japan, Vietnam, Hong Kong, the Philippines and India.
There's no doubt that OVC, initiated by Optometry Australia in 2019 and first staged in 2020, has delivered on its goal to provide quality innovative CPD options to members.
The conference was planned in line with Optometry Australia's stated objective to expand its CPD offering and, in particular, to provide courses that members can access anytime, anywhere.
Lyn Brodie, Chief Executive Officer of Optometry Australia, explained that as a virtual event, OVC, and the organisation's broader education program, is designed to complement the face-to-face CPD offerings from state organisations which enable members to enjoy regular networking and interactions.
"The benefit of holding a virtual conference is that optometrists can access a breadth of quality CPD regardless of where they are located, making this type of event time and cost efficient. We know that this benefit was highly appealing to optometrists as 77% of delegates who attended OVC 2021 cited that they are very interested in attending a future national or international virtual conference and product showcase; with 70% of all international delegates further citing that they would very likely attend a future OVC."
Having cemented its place on the CPD calendar, this year's virtual conference attracted over 2,400 delegate registrations, up 13% on 2020. The majority who attended were Association members, with 280 additional delegates registering from 15 countries.
Ms Brodie said she was delighted with this growth in attendance and the feedback received post-event.
"Delegates cited that the CPD program, and the fact that our program was quality assured, were the main aspects that attracted them to OVC 2021," she added.
Run in conjunction with APCO's Educator's Forum, OVC also contributed to the Association's stated goal of international expansion.
"The collaboration with APCO… allowed us to extend our CPD offer to optometrists in 12 South East Asian countries, the US, Canada and Fiji, and through our partnership with the New Zealand Association of Optometrists (NZAO) and New Zealand's Optometrists and Dispensing Opticians Board (ODOB), we had a good representation of New Zealand optometrists register for the second year," said Ms Brodie.
Explaining the goal to expand overseas, Ms Brodie said, "We seek to take our quality education offshore to share our knowledge with regions where optometry is less advanced and through this, contribute to our social responsibility obligations. By taking our education programs internationally, we can profile the strong contribution that our optometrists make in leading vision and community eye health services in Australia and through this, we can open up new and interesting opportunities for our members and profession."
THE FUTURE OF OPTOMETRY
Among several exciting presentations was one by Associate Professor Lauren Ayton who presented on The Future of Optometry, a talk which covered a number of emerging technologies that are likely to change optometry practice in the coming years.
Assoc/Prof Ayton covered three new areas of therapy; gene therapy, stem cells and visual prostheses (bionic eyes). Excitingly, the Australian Therapeutic Goods Administration (TGA) approved the first in vivo gene therapy in August 2020, for a form of retinitis pigmentosa called Leber Congenital Amaurosis. This has accelerated the development of new gene therapies, with many trials either underway or in the near future.
Assoc/Prof Ayton's team at the Centre for Eye Research Australia are now leading a gene therapy trial for geographic atrophy secondary to age-related macular degeneration, and are undertaking a natural history study into inherited retinal diseases, in order to identify candidates for the next wave of trials. While there are no regulatory approved stem cell or visual prostheses in Australia yet, these are being developed and may be available in the coming years. Assoc/Prof Ayton then spoke about how artificial intelligence (AI) is improving diagnostics for optometrists. AI is especially useful in image analysis, and is already used in many practices in Australia. One of the key advantages with AI and automated algorithms in imaging equipment is that they may allow a faster avenue for translation of research findings into clinical care. Assoc/ Prof Ayton ended the talk by emphasising the importance of being up to date with new therapeutic options for patients, so that optometrists can appropriately counsel and refer. In particular, she strongly advised delegates to find out their local ophthalmic clinical trials centre, and familiarise themselves with current trials. This will ensure that optometrists are able to offer their patients the most current information, and potentially refer them for clinical trials. Complementing Assoc/Prof Ayton's presentation on the future of optometry was a supplier CPD lecture by Professor Mingguang He, Professor of Ophthalmic Epidemiology at the University of Melbourne and Chief Medical Officer of Eyetelligence Ltd.
In his lecture, Prof He spoke about the challenges of accurately classifying glaucomatous disc damage and demonstrated how AI may help standardise this particular clinical practice. Optic disc head assessment is the foundation for detecting glaucomatous damage. Given the variance in optic nerve head anatomy, it can be challenging to identify the glaucomatous disc, both in clinical and screening settings. Autonomous deep learning (DL) algorithms are capable of maximising information embedded in digital fundus photographs and optical coherence tomography to outperform ophthalmologists in disease detection. Prof He explained how investigators have now assembled large numbers of images into training, validation, and testing datasets to successfully train DL algorithms to detect glaucomatous disk damage.
EVIDENCE-BASED MYOPIA MANAGEMENT
Myopia management is a fast moving field of science, requiring the clinician to keep pace with the evidence-base. The best-practice treatments to slow childhood myopia progression are evolving as research and industry innovations grow. In this lecture, Dr Kate Gifford presented the latest evidence on myopia control, alongside guidance on clinical communication and decision making for prescribing.
Key questions explored were:
Which myopia control options works best? 
The best in each treatment class (spectacles, contact lenses and low-dose atropine) appear to have similar efficacy, being the new generation of myopia controlling spectacles (Hoya MiyoSmart and Essilor Stellest), orthokeratology, CooperVision MiSight dual-focus contact lenses and 0.05% atropine. The 'next best' class of treatments, again with similar efficacy within the group, are bifocal and prismatic bifocal spectacles, extended depth of focus (Mark'ennovy Mylo) and presbyopic (CooperVision Centre Distance +2.50 Add) multifocal contact lenses and 0.025% atropine. Progressive addition spectacle lenses and 0.01% atropine show small effects, overall. This is based on the outcomes of total reduction in axial length from randomised controlled clinical trials, as axial length is a more accurate measure of change than refraction and is more closely correlated to long term myopiaassociated eye disease risk.
How should we explain myopia control efficacy to parents? 
Percentage efficacy expressed in a single study indicates how well a treatment works compared to a control group, but it can't be directly compared between studies as the duration of the study, age and ethnicity of participants can all influence the percentage. Percentages can be useful, though, in communication with parents, explaining that the best class of treatments slow progression by 'around half ' or '50%' communicates that we can't promise to stop myopia progression, and also helps to set short-term goals for treatment in line with the duration of the studies. The 'next best' class of treatments can be described as slowing progression by about a third or 33%.
When should we use atropine? 
Dr Gifford advised that atropine should be used as a first-line treatment (0.025% or 0.05%), where optical treatments of comparative efficacy aren't available or suitable; or as an adjunct treatment – although there is currently only evidence for 0.01% increasing efficacy in low (1-3D) myopes wearing orthokeratology.
How do we know if the treatment is working? 
By drawing on data on typical singlevision corrected progression in myopic children, optometrists can gauge success over one year based on refraction using the percentage treatment 'groups' as described above. The free-to-download Myopia Profile Managing Myopia Guidelines Infographics (www.myopiaprofile.com/store) provide support to do this. When using axial length, it is possible to use absolute measures or growth charts to plot percentile changes. Optometrists should endeavour to measure treatment outcomes over a year, to account for seasonal variations in myopia progression; but review myopic patients every six months to ensure suitability, compliance and appropriate vision and eye health outcomes with treatment.
CASTOR OIL FOR DRY EYE DISEASE
Clinical and Experimental Optometry (CXO) is the official journal of Optometry Australia, the New Zealand Association of Optometrists and the Hong Kong Society of Professional Optometrists. Edited by Professor Nathan Efron, with Assoc/Prof Maria Markoulli as deputy editor, and Jessica Donald as publication manager, it has an impact factor of 2.742, making it one of the world's leading optometry journals.
Every year, the journal dedicates one of its eight issues to a specific topic, and in 2021 the topic was 'ocular therapeutics'. At OVC, the guest editors of this special issue, Assoc/Prof Jalbert and Dr Alex Hui joined Assoc/Prof Markoulli to present key highlights from the issue, with a focus on dry eye disease, infection, glaucoma, legislation relating to ocular therapeutics, and pharmacology.
One of the topics covered was the therapeutic potential of castor oil in managing dry eye disease, based on a paper submitted by New Zealand researchers Dr Emma Sandford, Dr Alex Muntz and Assoc/Prof Jennifer Craig.
Castor oil is a natural triglyceride derived from the bean of the castor oil plant.
Its main constituent is ricinoleic acid, which has a very similar structure to the prostaglandin family PGE2. As such, it plays a role in anti-nociception during inflammation and has also been shown to produce analgesia.
The anti-inflammatory effect of castor oil is a result of blocking the path leading to neurogenic inflammation.
In the ocular surface, this property may prevent chronic low-grade inflammation associated with dry eye disease by helping to break the self-perpetuating vicious cycle, where inflammation contributes to ocular surface damage, causing tear film instability and hyperosmolarity, which leads to further inflammation. Additionally, the insecticidal properties of castor oil may decrease the presence of demodex, ultimately improving eyelid health and promoting better meibomian gland function.
Castor oil has also shown activity against a broad range of gram-positive and gramnegative bacteria and fungi.
Ocular surface benefits arising from the use of castor oil were first reported 20-years ago, when it was used as the vehicle for a cyclosporine A emulsion. In this study, the castor oil-based vehicle alone provided unanticipated substantial palliative benefits and improved outcome measures for dry eye disease in all treatment groups. This finding prompted research into the therapeutic potential of castor oil.
Since then, castor oil has been used to treat mild dry eye disease, blepharitis, and contact lens discomfort, as well as meibomian gland dysfunction. It has been shown to increase lipid layer thickness and altered lipid layer composition, with a longer residence time than that of a conventional eye drop. The mechanism of action appears to be multifaceted: the lipophilic nature of castor oil allows it to mimic the natural lipid layer to stabilise the tear film, decrease evaporation and presumably reduce friction between the lids and ocular surface.
Evidence of beneficial effects on the lipid layer, eyelash health and meibomian gland function suggests that topical application of pure castor oil may offer a safe, natural, affordable and effective management option for dry eye disease.
OVC CONTINUES ONLINE
International optometrists who registered to attend OVC continue to have full access to the OVC website, where they can complete on-demand education activities and view any live webcasts that they may have missed during the OVC weekend. Associated assessment programs can be completed, and Optometry Australia will continue to provide certificates of completion, until 20 September when the event formally closes. Visit: ovc.delegateconnect.co.