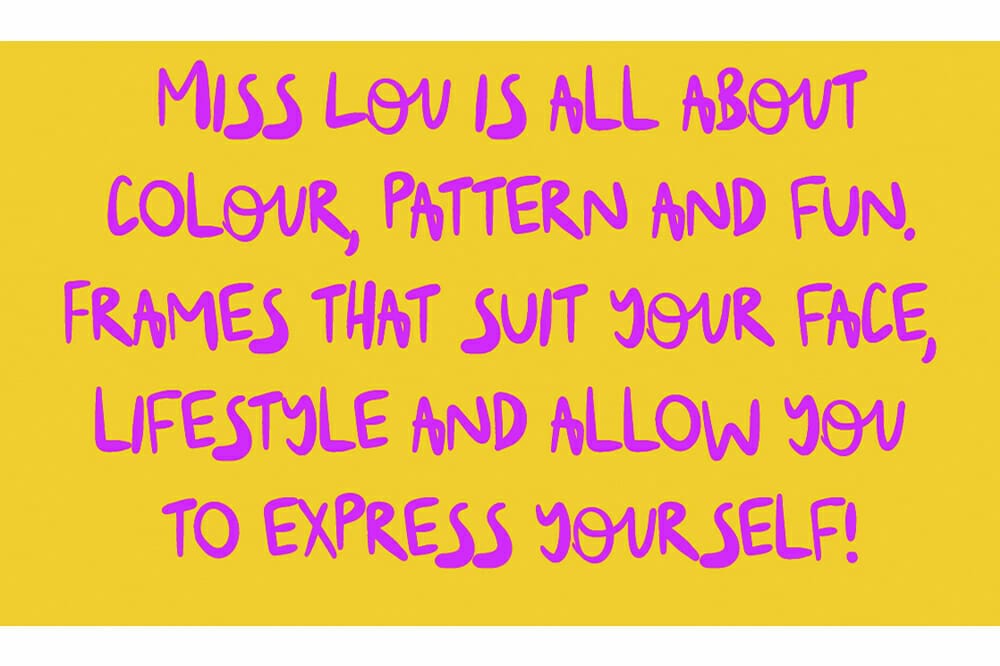 Born in Sydney, Australia, from the rich design experience and expertise of Louise Sceats, wife of eyewear designer Jonathan Hennessy Sceats, The Elusive Miss Lou presents experimental collections of wearable artwork that combine colour and fabric to create unique and beautiful frames.
mivision spoke to Louise and Jonathan's son, Teiger Sceats, about the brand's recent inception and story thus far.
Q. What makes The Elusive Miss Lou special?
The Elusive Miss Lou brings story and life to the eyewear industry. We are committed to not only providing exceptional quality eyewear in fantastic fabric patterns and shapes, but also creating a fun world around it. Miss Lou is an adventurer who takes inspiration from these adventures and turns them into her wearable art.
Independent optometrists provide the best personal attention to each of their patients and we want to live up to this standard by giving them more than just a wonderfully designed frame. We want people to leave with a story.
Q. Tell us about the origins of The Elusive Miss Lou.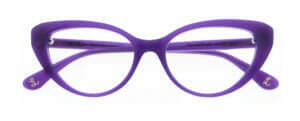 The Elusive Miss Lou started in 2021 when Louise came to me and asked if I wanted to start an eyewear brand with her. She had retired to the beach for a year but had found that it just hadn't stuck. Retirement bored her and so we hatched our plan. Louise is a world-class designer who has learnt a lot over the years from my dad, Jonathan Sceats, so I was very excited when she asked me to help start The Elusive Miss Lou.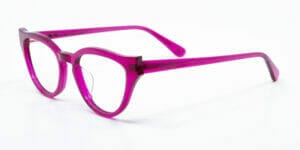 I had just finished a film degree at the Australian Film, Television and Radio School and so have experience writing and producing films – a skill set that I have adapted to running an optical company, alongside what I leant through osmosis growing up. I suppose this is where my emphasis on story telling has come from. I feel that it adds so much to the experience Miss Lou creates.
Q. Why does someone choose The Elusive Miss Lou over other brands?
I believe that we offer a product that you cannot find anywhere else. We are meticulous with our frames – from the fabric printing to the stainless steel hinge on wire, the construction of our frames is second to none. Alongside that, we have a real emphasis on practice and customer satisfaction. Our frames come in a 'jewellery box' with a clamshell case and cleaning cloth. Each frame and pattern corresponds to a story within The Memoirs of Miss Lou, which can be accessed via our website.
All our frames are limited to 75 fabric and 40 solid colour pieces worldwide. This further emphasises that each frame is rare and worth treasuring. All in all, our main point of difference is that we are seriously serious about having fun.
Q. How would you describe The Elusive Miss Lou customer?
Our typical customer is anyone who is looking to add some colour and fun to their lives. We have predominantly women wearing our frames, but many of our shapes can and have been worn by men, myself included. I wear the Pental in Life Brights.
Q. What does Louise bring to the table as designer of The Elusive Miss Lou?
Louise is the sole designer and a wonderful person. She has over a decade of experience in the optical industry and has been learning from Jonathan for a number of years. Her experience in pattern design goes even further back as she has been designing patterns since she was a child and often created amazing tapestries of her own designs.
In the words of Louise, "I have always loved fabric and textiles, as well as embroidery and needlecraft. It's the tiny details that excite me. So, to be able to create my own patterns and designs for Miss Lou, on that tiny scale, is such a joy. I believe that we are unique in the world by designing our own fabrics to fit the frames, a miniature artwork if you like."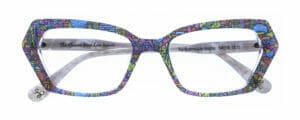 Being able to create this opening collection during the pandemic is testament to her hard work and skill.
Q. Is there an iconic 'The Elusive Miss Lou' style?
I would hope that each and every Miss Lou frame is iconic but if I have to choose I would say Across the Box and the pattern Austranostalgia. They really sum up Miss Lou well. Across the Box is a cute, little frame with flared wingtips and a keyhole bridge. It's extremely wearable while still bringing a little something special and unique to your look.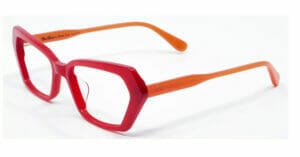 Austranostalgia is a pattern inspired by Louise's experiences growing up in Australia. There are plenty of little surprises and recognisable iconographies in there, from the Sydney Harbour Bridge to the telegraph poles she used to see while lying in the back of the car at night. Both bring the 'Australian nostalgia' to my own mind as well as the minds of our customers.
Q. Where and how are Miss Lou frames designed and produced?
All Miss Lou frames and patterns are designed in Avalon Beach, Australia by Louise. We then have the fabric printed here in Sydney and sent to our factory where it is laminated using a special and rare technique developed with Mazzucchelli.
We use the highest quality materials available, and the special lamination technique, to ensure that the acetate actually flows through the fabric weave without damaging it. This is how we are able to create fabric frames without any fraying at the edges.
Q. What does the future of The Elusive Miss Lou look like?
The Elusive Miss Lou plans to continue releasing amazing wearable art in new and exciting patterns and shapes every couple of months to keep the collection fresh and exciting. Louise aims to experiment with designing her own acetates, using layering to create something beautiful and original. We plan to expand the Miss Lou empire to include the United States and Europe, as long as it's with nice people!
Visit: theelusivemisslou.com