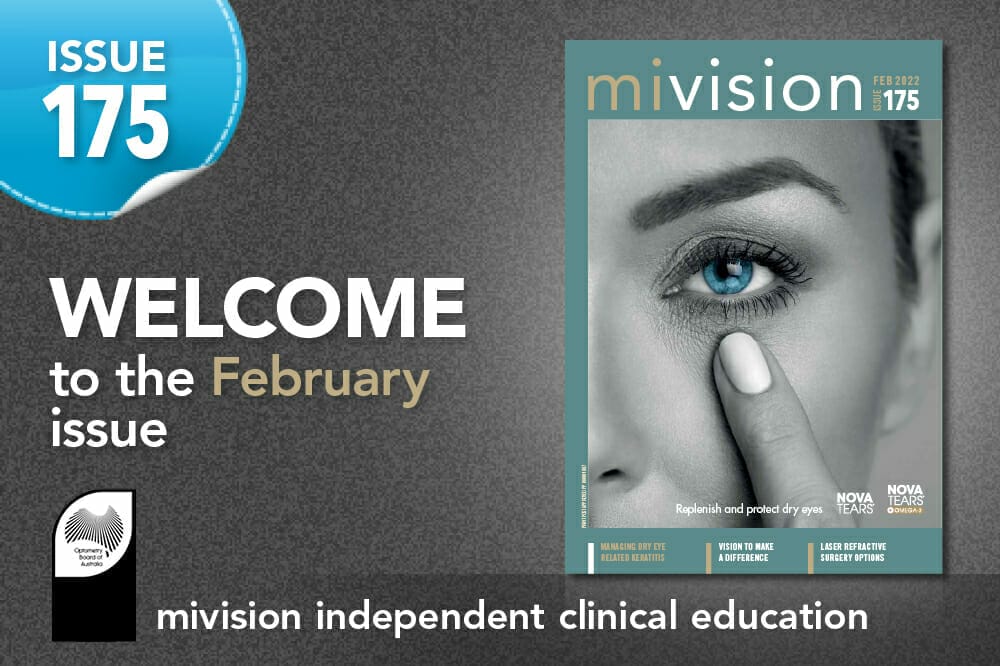 It's fantastic to be back.
I'm looking forward to business as usual in 2022 – or should I say, I have my fingers crossed for it. 'Life-long learning' has become a familiar refrain, particularly in recent years as the profession of optometry has settled into its new CPD registration standard, which came into effect on 1 December 2020. The Royal Australian and New Zealand College of Ophthalmology (RANZCO) has announced that it too will introduce a new CPD framework, with requirements set by the New Zealand Medical Council and Medical Board of Australia.
I'm sure that like me, you've acquired plenty of your own lifelong learnings during the pandemic. In this issue, Dr Chris Raj highlights some of the lessons learnt in eye care. Right at the top of the list, she said, is the practical power of collaboration – with optometrists contributing significantly to the ongoing care of her patients during a time of such disruption. Collaboration is something that Professor Keith Martin also highlights. In our lead story on research underway at the Centre for Eye Research Australia, he says he and his researchers are looking forward to working with eye care professionals on a number of sight saving projects in the coming months and years. This could be your chance to help shape the future of eye health world-wide.
I draw your attention to reforms to the prostheses list, which begin this month. The reforms have the potential to impact surgical choice, patient choice and with that, patient outcomes. The prostheses list, as it stands, currently includes a number of consumables used in surgery – among them viscoelastics, intraocular lenses, glaucoma devices, and more. Importantly, it's not too late to stand together as a profession and speak out against these changes. You'll find more about this on page 36, along with commentary from key opinion leaders including RANZCO President Professor Nitin Verma and Deputy President of the Australasian Society of Ophthalmologists, Dr Peter Sumich. This is another opportunity to help shape the future of eye health.
On behalf of the team, welcome to mivision in 2022. We wish you a wonderful year ahead.
Enjoy this issue.