There's an ever-increasing variety of options when it comes to vocational lenses – or as many prefer to call them – occupational lenses. Often marketed as lenses for office workers, these specialised lenses go well beyond the realms of an office… pilots, doctors, nurses, tradespeople and many others, who work indoors and out, in a variety of environments, can reap the benefits.
Prescription occupational lenses offer professionals the correct lens for their job, enabling them to function optimally in the roles they are required to fulfil.
It is our duty as eye care professionals to discuss, recommend and prescribe the best lenses for our patients
It is our duty as eye care professionals to discuss, recommend and prescribe the best lenses for our patients. In doing so, we not only improve their visual function and comfort but also improve their safety, and – in the case of some occupations – the safety of the public at large.
The last thing we want is a nurse to give the incorrect drug or dose, or an electrician working in a poorly lit corner to incorrectly wire a circuit because they can't see the detail.
SPECTACLE OPTIONS
Increasingly popular office-type lenses are typically optimised progressive reading lenses that also offer clear vision in the middle distance, along with a wide field of view for computer use. The useable distance can be controlled by the lens' dynamic power profile. While these traditional office lenses suit a majority of workers, they don't necessarily meet the demands of people working in complex environments.
Increasingly, workers refer to multiple digital resources at any one time. Some will do this by using a range of screens, at differing angles and heights. Alternatively, they might choose to work on one large 32-inch monitor with multiple files open simultaneously. Each of these situations requires a large, wide field of view both laterally and vertically. In this circumstance, a vocational spectacle design with a low shift and resultant wide field that covers their near range of vision will trump the full progressive which could cause distortion, a narrow field of view or posture issues.
Although many of us are most familiar with such degressive or progressive 'shift' style vocational lenses, we must remain cognisant of other designs available to suit specific occupational needs. This is because, despite the fantastic technology now available, some people simply don't adapt well to some lens types or designs. To this end we need to think outside the sphere, so to speak…
One example is Rodenstock's Datalit Bifocal, which has been around for decades, and is ideal for people who don't want progressives or cannot adapt to a progressive design. As Nicola Peaper, National Sales and Professional Services Manager at Rodenstock Australia explains, the Datalit Bifocal has a very large near segment, which provides a large visual field at near, making it well suited to editors, writers, tradespeople, and the like. Ardis is another less common range of lenses within the Rodenstock portfolio. Ardis trifocals can be made up in different configurations of distance, intermediate and near, with the Ardis ZFN, aka 'Pilots Lens', for example, set up with the top section for intermediate, distance in the centre and a near add at the bottom.
"Rodenstock has the usual office lens suite but many people don't know about the extent of our range that caters to a variety of tasks. Although they are not something that is needed every day, they do answer specific needs for some occupations," said Ms Peaper.
Zeiss, Hoya, Essilor, Shamir and our local labs like JP Optical, CR Surfacing and Independent Lens Specialists in NZ, also offer a variety of occupational lens designs.
Tints and Coatings
Many vocational spectacle lens designs can be provided with specific tints, filters and multicoats. These may include 'blue blocking' coatings, light tints or photochromic options that protect against glare, improve contrast, or provide more comfortable vision in certain indoor and outdoor lighting conditions. Safety eyewear can also be fitted with high impact progressive lenses to meet individual needs.
CONTACT LENS ALTERNATIVES
Increasingly, we are seeing the application of contact lenses for occupational use. For professionals who spend time outdoors, UV protecting contact lenses, including the recently released photochromic Acuvue Oasys with Transitions, can be invaluable for vision, eye comfort in bright light, and protection from damaging UV rays. However, it must be remembered that contact lenses do not provide complete eye protection against UV. Patients should be reminded to further protect their eyes with sunglasses.
For those working in dusty, windy or air-conditioned environments, soft contact lenses can be a successful option, providing visual acuity while also acting as a bandage to help reduce dry eye symptoms and prevent discomfort from grit etc.
Office workers, retailers and hospitality workers may prefer contact lenses with a centre-distance or centre-near design or combinations thereof. Similarly successful for some vocations and workers are extended depth of focus (EDOF) designs.
Progressive contact lenses can be ideal for those who work on one large screen as well as those who need to see a variety of screens spread laterally and vertically. They can also be invaluable for people who need to refer to tables and documents on a wall at an intermediate distance above their workstation.
In many of the aforementioned environments, multifocal contact lens designs can also be very useful as they offer concentric near vision for objects above and below – as well as left and right – while also covering variable working distances.
For those unsuited to wearing multifocal contact lenses, it is important to remember that great success is attainable with monovision/blended vision, a well proven modality over many decades for people in a variety of vocations.
INNOVATING TO MEET CHANGE
As we've seen from these examples, increasing demands placed on the accommodative-convergence system and tear film have led to the development of, and increasing demand for, contact and spectacle lenses that reduce stress for pre-presbyopes or correct specifically for vocational needs in presbyopia.
In an effort to alleviate digital eye strain experienced by increasing numbers of workers, young and old, CooperVision developed the Biofinity Energys contact lens. This innovative lens incorporates an optical design suited for both on-screen and off-screen activities. Digital Zone Optics employ multiple front-surface aspheric curves across the entire optical zone, which evenly distribute power to simulate more positive power in the centre of the lens. In doing so, accommodative burden is eased without impacting distance vision. This means eyes can more seamlessly shift focus between digital devices and offline activities.
OTHER CONSIDERATIONS
As we settle into 2022, we have the perfect opportunity to ensure our patients are well-equipped with vision correction for the year ahead. The key to success is to discuss the work habits and environment of the patient in front of you before making any recommendations.
Patients who predominantly work at a laptop may find lifting their chin to use the lower part of a progressive causes neck problems. In this case, the narrow channel of progressives and potentially limited field in some occupational spectacle lenses, as well as positional and postural issues, can be problematic.
While contact lenses may be an excellent option for those who wear masks during work hours, the majority will still require or prefer spectacles and this makes it important to prescribe lenses with the best anti-fog coatings and lens cleaners.
Australia has a growing workforce – and our workers are now choosing to remain in employment for more years than ever before. Don't close the door on this vital market!
Check out the variety of options in the following product section and get in contact with the providers for more information and staff training.
Spectacle Lenses for Professional Life
Maui Jim Boost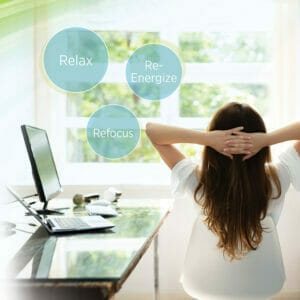 MauiPassport Boost is a new, clear prescription lens design by Maui Jim that combines the benefits of an anti-fatigue lens in the near vision with the experience of wearing a single vision prescription at a distance. This new lens design reduces the fatigue experienced from eyes that are constantly focusing and refocusing as they shift between various digital devices.
An added benefit of the boost is that it also improves the readability of small fonts and other finer details on digital devices. Available in two boost powers, the boost power is strategically placed in the lens according to the severity of your patient's symptoms. This lens can be paired with the blue light blocking lens material, Maui Blue Light Protect.
Contact: Maui Jim (AUS) 02 9452 5575
Opticare ClearPro Office 
Opticare's ClearPro Office platform will give you complete confidence when prescribing prescription Office lenses.
An excellent choice for patients who need customised glasses for an office environment, simply visit www. opticare.com.au, and click on the office range selector in the right menu panel. Enter the patient's add, then select the range your patient needs. The clear visual zone is displayed and shift is calculated for the selected range. When you enter the patient's distance sphere power, the selector will calculate the range and Rx at pupil centre, enabling you to use trial lenses to verify your recommendation with the patient before ordering.
Contact: Opticare (AUS) 1800 251 852 
Zeiss Office Lens Portfolio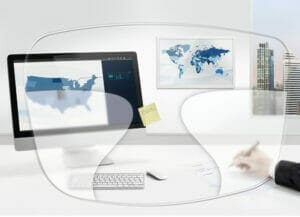 Office work and computer use can place significant visual demands on eyeglass wearers. General-purpose progressive lenses are not designed to offer optimal visual acuity in an office environment. Zeiss Office lenses are designed to provide your patients with strain-free and clear vision when using computer screens and can be tailored to their needs.
Zeiss Office lens designs are available with three maximum intermediate distances (M.I.D.):
Book, which acts like an enhanced reader,providing clear vision to a maximumdistance of 100cm,
Near, which provide clear vision upto 200cm, and
Room for up to 400cm clear vision intothe distance.
For further customisation, select the Zeiss Office lens Individual.
Contact: Zeiss Account Manager 
Shamir Occupational Progressive Lenses 
Shamir's occupational lenses offer flexible viewing and reading zones and are easy to dispense.
The range comprises:
Computer for excellent vision for close tasks,
Workspace for sharp focus for near or intermediate tasks,
Smart Office which is an all-round occupational lens, and
Vocational Digital, which is an ideal alternative to traditional reading glasses and mid distance work.
Shamir's extensive range of purpose built vocational and occupational lenses will ensure your clients see clearer.
Visit: shamir.com.au
Unity Via OfficePro 
Optimised for the everyday office work environment, Unity Via OfficePro is a taskoriented lens that's easy to fit, dispense, and provides effortless vision in the workplace. Along with maximised intermediate and near zones, Unity Via OfficePro is designed to improve visual performance to help alleviate eye strain, improve ergonomic comfort, improve clarity on digital displays, and offer ultra-fast adaptation for wearers. A streamlined portfolio of three working distances makes it easy to match lens choice with every patient's workplace needs.
Contact: VSP Optics (AUS) 1800 251 025
CR Surfacing 
CR Surfacing offers a range of office lens designs, specifically created to fight digital eyestrain, and provide comfort and wide visual fields in office environments. Our Task, Device and IT lenses support the ciliary muscles and prevent symptoms of fatigue, offering enhanced visual comfort and relaxed, clear vision. The anti-fatigue lenses help to alleviate eyestrain from constantly switching focus from near to far objects with a small boost of power at the bottom of the lens.
CR Surfacing's special glare-reducing True Blue coating filters out harmful blue light coming from digital surfaces and artificial lights, protecting and comforting the eyes.
Contact: CR Surfacing (AUS) 03 8795 9111 
OSA EasyWork 
Time spent in front of screens is constantly increasing. Research shows that 43% of employees use screens for prolonged periods during the work day.1 This demands more from our near and mid-distance vision.
OSA EasyWork offers wearers lenses that improve visual comfort with a choice of styles that give convenience and functionality for all working conditions. EasyWork is available in two distance options: EasyWork Mid and EasyWork Long to cater to different working distances.
Contact: OSA Account Manager 
Reference 
1. DigitalEyezed Study by Vision Source.
Nikon Home&Office Neo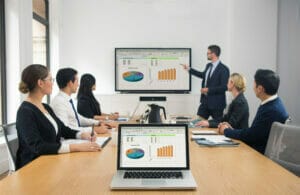 Home&Office Neo now uses Nikon optical design engine optimisation to further reduce aberrations for wider intermediate vision versus the original design. Home&Office Neo is a fully customised indoor solution with different power options and progression lengths to match the wearer's needs.
Home&Office Neo is available in 1.5, 1.6, 1.67 and 1.74 in clear and Transitions GEN8, with three power option designs and two corridor lengths. Optimum results require pantoscopic tilt, wrap angle and back vertex distance.
Add SeeCoat Blue UV to help increase contrast on digital devices and provide lowered transmission of blue light.
Contact: Nikon Account Manager 
Varilux Digitime 
Varilux Digitime's modern ergonomic design focuses precisely on near and intermediate task distances. Provide Essilor with your patient's working distance and Varilux Digitime's perfect power shift is calculated to place the correct intermediate power right in front of the patient's pupil.
With Varilux Digitime, select the right solution for your patient's needs from the following:
Digitime Near – emphasisingsmartphones, near and computer use,
Digitime Mid – emphasising computeruse, around the desk and near, and
Digitime Room – emphasising tasks outto 2m, the computer and near.
Varilux Digitime is available with Essilor Blue Filter technologies; Smart Blue Filter and Crizal Prevencia coating.
Contact: Essilor Account Manager
Hoya Lens 
Coming in April 2022 is a new and improved portfolio of occupational lenses from Hoya, which will provide enhanced visual fields and comfort for spectacle wearers.
Meeting the demands of today's lifestyles, where people are spending increasingly more time indoors and on digital devices both at home and work, this new suite of lenses includes Hoyalux iD WorkStyle 3, Hoyalux WorkStyle Business, Hoyalux WorkSmart Room and the Supereader.
Each lens has unique attributes and is designed to make it easier for wearers to work with near and intermediate vision areas. The launch of this new suite of occupational lenses provides a wide array of options to choose from, so you can offer the right vision solution to suit each spectacle wearer's individual needs.
Contact: Hoya Account Manager 
Rodenstock Ergo Lenses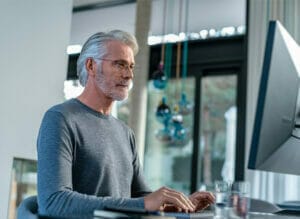 Rodenstock Ergo computer lenses relieve your patients from stressed eyes which will also help ease tense neck and shoulder muscles. They're now available with B.I.G. Exact, which is designed with a biometric eye scan of the individual patient, or B.I.G. Norm which is designed with artificial intelligence from over 500,000 individual scans for sharper, wider fields of vision.
Available in three variations:
The Ergo Book is ideal for shortdistances – vision of between 40 to 60cmand allowing up to 1m with vertical movements of gaze. Perfect for laptop computers and tablets.
The Ergo PC for the widest area ofclear vision at a medium distance upto approximately 1.20m, allows a monitor to be seen in total clarity and without strain with an ergonomic head and body posture.
The Ergo Room allows for relaxedvision, free from fatigue indoors, withcomfortable vision zones from the reading area up to 4–5m.
Contact: Rodenstock Account Manager
Contact Lenses for a Professional Life
SEED 1dayPure EDOF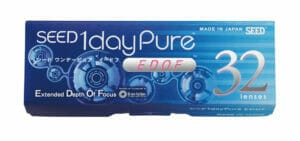 SEED 1dayPure EDOF optics are primarily designed for presbyopia management, but there are other potential uses. According to Lynn White, clinical director at Ultravision in the United Kingdom, the EDOF low design can be useful for patients who suffer from visual stress. One of the benefits of this design is that it reduces vergence and, therefore, phorias. Gong et al1 have shown that phorias in children are pushed into the exophoric direction using multifocal contact lenses, while Kajita et al2 have shown that accommodative microfluctuations are reduced by wearing multifocals with a low addition. The plano EDOF low design can also be useful for emmetropes suffering from accommodative stress due to excessive close work. Relaxing the vergence system can improve reading speed and reduce issues of refocusing from near to far.
References
Gong et al. Accommodation and phoriain children wearing multifocal contact  Optom. Vis. Sci. 2017;94(3):353- 360. doi:10.1097/OPX.0000000000001044
Kajita M, Muraoka T, Orsborn G.Changes in accommodative microfluctuations after wearing contact lenses of different optical designs. Cont Lens Anterior Eye. 2020 Oct;43(5):493-496. doi: 1016/j.clae.2020.03.003. Epub 2020 Mar 19. PMID: 32201056. 
Contact: Seed Contact Lens ANZ (AUS) 1300 373 718 
CooperVision Biofinity Energys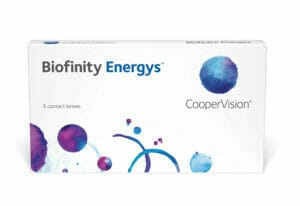 Contact lens wearers' lives and eyes are constantly moving between on-screen and off-screen activities. They need innovative lenses that help their eyes feel less tired, while seamlessly shifting focus from their digital devices to their everyday activities and back.
Biofinity Energys is the world's only contact lens with a digital zone optics lens design, making it ideal for:
All existing and potential wearers ofspherical monthly and two-weekly lenses,
Patients who are highly connected totheir smartphone, and
Patients who spend a large part of theirday looking at a computer screen.
Todays' lifestyles need next-generation technology, so consider prescribing Biofinity Energys.
Contact: CooperVision Account Manager
B&L Oneday for Presbyopia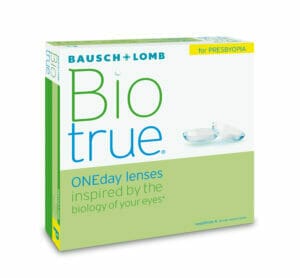 Biotrue Oneday for Presbyopia is an easy to fit1 daily disposable contact lens that features an innovative three-zone progressive design, combined with the bio-inspired hypergel material. This contact lens provides comfortable vision throughout the day and clear vision across near, intermediate and distance.1
The hypergel material2 is inspired by the eye, and designed to match the cornea's water content3 with a dehydration barrier that retains moisture throughout the day.4 The proprietary three-zone progressive design is based on optimising visual outcomes across nine distances and the experiences of patients wearing the lens.5 It has been proven to provide clear, seamless transitions between key distances.1,6 
This proprietary three-zone progressive design is also available in the Bausch & Lomb Ultra for Presbyopia monthly lens material.7
Contact: Bausch & Lomb Account Manager 
References
Bausch & Lomb data on file. Presbyopia Study 814 evaluate product performance.
Bausch & Lomb data on file. D. Heiler, The Chemical, Physical and Spectral Properties of nesofilcon A (78 water).
Hague, S., Dilly, N. and Thompson, G.M., 1987. Morphological changes in the human corneal epithelium associated with surgical corneal clouding. British journal of ophthalmology, 71(10), pp.729-733.
Schafer, Jeffery, et al. Evaluation of surface water characteristics of novel daily disposable contact lens materials, using refractive index shifts after wear. Clinical Ophthalmology (Auckland, NZ) 9 (2015): 1973.
Kinston AC, Cox IG. Predicting through-focus visual acuity with the eye's natural aberrations. Optom Vis Sci 2013 Oct;90(10):1111-8.
Reindel WT, Mosehauer G, Saxon J. Evaluation of a 3-Zone Progressive Multifocal Contact Lens Design on Wearer Experience in the Real World. Poster presented at: American Academy of Optometry Annual Meeting; October 2015; New Orleans, LA.
NaturalVue Multifocal 1 Day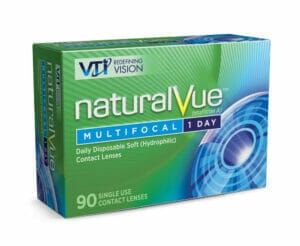 The NaturalVue Multifocal 1 Day contact lense for myopia control is a centre distance design with patented extended depth of focus (EDOF) optics. The EDOF design works naturally with the brain to produce a continuous range of clear vision and stereopsis, comparable to spectacle wear, with an effective add up to +3.00DS. Available in 0.25D steps from +4.00 to -12.25DS, the design has a rapid, continuous and uninterrupted progression in plus power from the centre of the lens through the optic zone. This creates a virtual aperture1 with relative plus in the periphery, and is clinically proven to slow the progression of myopia.2 
Contact: Contact Lens Centre Australia 
References 
VTI Data on file, 2015. N=59. Data assessed after one week of wear. Preference based on those who expressed a preference among brands tested. 
Cooper J, O'connor B, Watanabe R, et al. Case Series Analysis of Myopic Progression Control with a Unique Extended Depth of Focus Multifocal Contact Lens. Eye & Contact Lens: Science & Clinical Practice. 2017;44(5): e16-e24. 
Miru 1Day Upside Multifocal and Miru 1Day Flat Pack Multifocal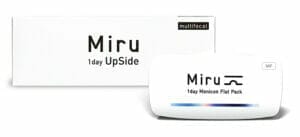 Miru 1day UpSide multifocal and Miru 1day Flat Pack multifocal contact lenses by Menicon feature the company's unique neuro adaptive design, allowing a low amplitude change in power, leading to a smooth transition along the optical focal path. They are designed to support easier adaptation for new contact lens wearers and those upgrading from single vision.
Miru daily contact lenses are developed with smart touch technology for the most hygienic handling. Lenses are always the right way up and ready to wear, allowing wearers to only touch the outer surface of the lens.
Available between +5.00D to -6.00D (0.25D steps) and -6.50D to -10.00D (0.50D steps), with low and high ADD.
Contact: Menicon Account Manager 
Acuvue Oasys Multifocal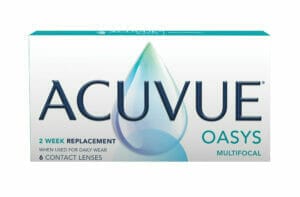 Acuvue Oasys multifocal contact lenses utilise a unique optical technology that's specifically designed to enable your patients to see what they need, how, and when they need to see it.1 From near to far, and in between,1 JJVC says the Acuvue Oasys brand family of contact lenses has never been beaten in comfort.2
Contact: JJVC Account Manager
References 
JJV Data on File 2020. Acuvue Pupil Optimised Design Technology: JJVC Contact Lenses, Design Features, and Associated Benefits. 
Twenty-nine clinical studies from www.clinicaltrials. Gov evaluated subjective comfort endpoints for ACUVUE OASYS Brand two-weekly contact lenses or Acuvue Oasys 1-Day with HydraLuxe Technology (as of April 25, 2021).