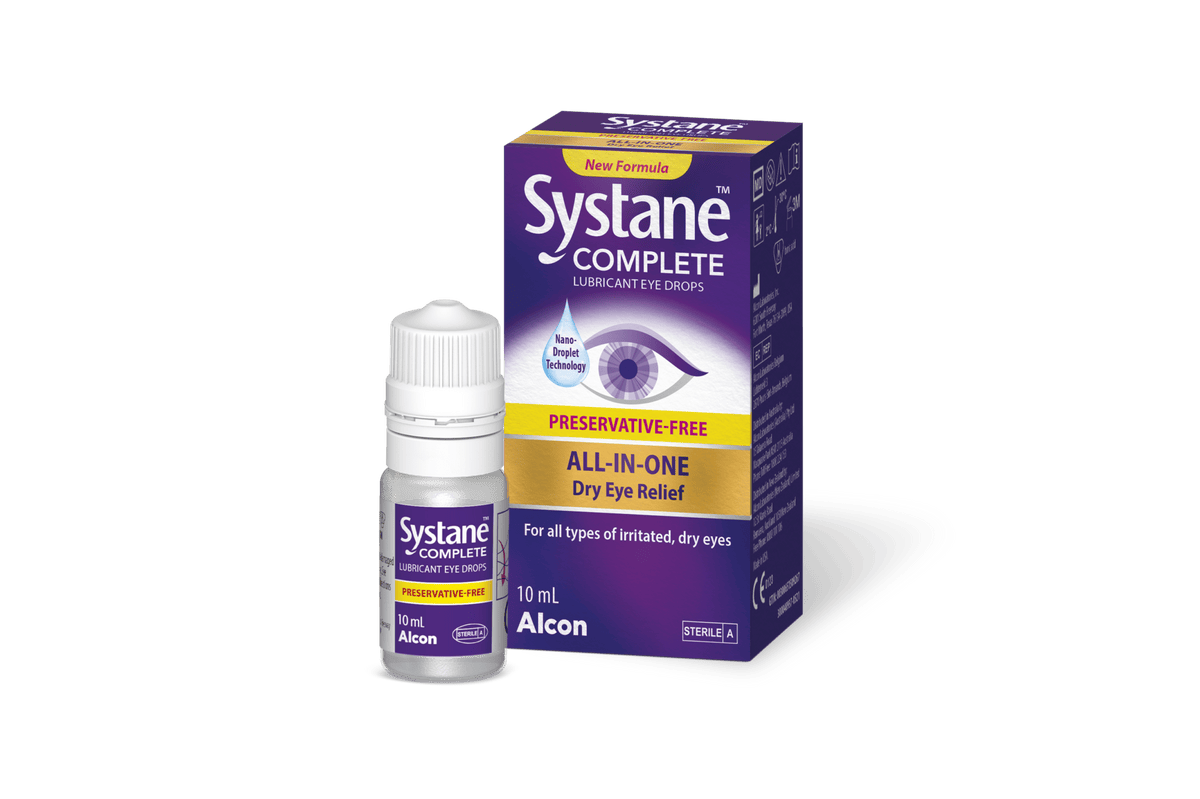 Alcon has expanded its range of preservative-free eye drops with the addition of Systane Complete Preservative-Free. This lubricating eye drop combines the long-lasting formulation of Systane Complete with a multi-dose, preservative-free bottle.
Systane Complete uses Systane's Intelligent Delivery system of HP-Guar and borate in combination with nano-lipid technology to support all layers of the tear film and relieve the symptoms of all types of dry eye (aqueous deficient (ADDE), evaporative (EDE) and mixed dry eye).1,2,3 Upon instillation, the HP-Guar and borate crosslink to form a viscoelastic meshwork. This meshwork forms a bandage over the ocular surface, preferentially binding to damaged areas of the cornea  and increasing retention of the demulcents in the drop, for extended protection and lubrication.4,5 The nano-emulsion is formulated with mineral oil and a patented anionic phospholipid delivered in nano-sized lipid droplets. The nano-size droplets facilitate migration to the top of the tear film to replenish the lipid layer and help stabilise the tear film.1,2,3
The bottle features patented PureFlow Technology, which is comprised of a one-way valve to ensure no contaminated liquid can be re-introduced into the container, and a fine silicone membrane to filter returned air. The bottle has a low squeeze force and features a blue tip to aid targeting of the eye for ease of installation.6
Suitable for those with mild-moderate dry eye* in any of the sub-categories (ADDE, EDE or mixed)1,2 this eye drop provides relief of symptoms of dry eye for up to eight hours.
Contact: Alcon (AUS) 1800 224 153 or (NZ) 0800 101 106
*Recommendation based upon expected on-eye viscosity. ANZ-SYX-2100028
References
Rangarajan, R and Ketelson, H. Preclinical Evaluation of a New Hydroxypropyl-Guar Phospholipid Nanoemulsion-Based Artificial Tear Formulation in Models of Corneal Epithelium. 1, s.l. : Mary Ann Liebert, Inc, 2019, Journal of Ocular Pharmacology and Therapeutics, Vol. 35.
DOF – Nanoemulsion for MGD. s.l. : Available on request, 2013.
Silverstein et al. Symptom Relief Following a Single Dose of Propylene Glycol-Hydroxypropyl Guar Nanoemulsion in Patients with Dry Eye Disease: A Phase IV, Multicenter Trial Clin Ophthalmol 2020; 14: 3167-3177. Sponsored by Alcon.
Springs, C. Novel Ocular Lubricant Containing an Intelligent Delivery System: Details of Its Mechanism of Action. Dev Ophthalmol. Basel, Karger, 2010, vol 45, pp 139–147.
Alison Ng, et al. Tear osmolarity changes after use of hydroxypropyl-guar-based lubricating eye drops. Clin Ophthalmol. 2018 Apr 10;12:695-700.
Nemera Novelia Product Leaflet, 2015. Available: http://www.nemera.net/wp-content/uploads/2014/06/Brochure_Ophthalmic.pdf (Accessed 23-Jul-2021).