There's no doubt about it, the COVID pandemic has had a significant effect on eyes and vision. We hear it from researchers and behavioural optometrists, and we hear it from the myopia fraternity and the broader industry. Fortunately, today we have a growing body of spectacle and contact lens options tailored specifically to manage some of the eye and vision issues that have been aggravated by COVID.
The symptoms associated with COVID related vision issues are classic of asthenopia. However, due to the longevity of this pandemic and its consequential lockdowns, which drove people to spend long hours on digital devices, they are becoming more frequently reported and seem to be presenting at an ever-younger age.
Perhaps the only good news about this, as Andrea Rolando, Trade Marketing Manager at Essilor Australia explained, is that patient groups have become more aware of vision issues.
It's easy to find the patients with poor amplitude, or accommodative weakness/facility who could benefit from anti-fatigue lenses
Ms Rolando said this has been evidenced by two strong trends emerging;
Anti-fatigue lens sales have grown against the sales of single vision lenses, and
The extended-focus category has consolidated its position against single vision lenses.
"Young people spending inordinate amounts of time on their mobile devices during lockdown quickly found out if their insufficient or weak accommodation was a problem," she explained. "And optometrists were quick to recommend anti-fatigue lenses when these patients sought vision care for their symptoms."
Many working from home experienced challenges with single vision, progressive, and bifocal wear that they hadn't previously noticed. As described by Ulli Hentschel, National Training & Development Manager, Hoya Lens Australia, "COVID changed the way we work and live. With an increase in working from home likely to continue for many, spending most of our waking hours in front of a computer screen is becoming the norm. It's time to start rethinking the way we prescribe lenses and stop talking about computer glasses as the 'second pair'; they are the 'primary pair'!"
Like others, Mr Hentschel noted the large growth opportunity for practitioners who focus on this category. "It's another area where they can differentiate their offerings by suggesting more tailored solutions."
Tim Thurn, Professional Services, Essilor ANZ, shared his views, based on extensive reading and 18 years of observations and experience since the launch of the original Essilor anti-fatigue lens in 2004.
"Accommodation needs to be more widely discussed – its function, or lack of, is a primary driver of optometry services worldwide. Presbyopes may be the bread and butter of the optical industry but, if we look closely enough, poor accommodation in young consumers is likely to be as big a market, and it remains virtually untouched. It's easy to find the patients with poor amplitude, or accommodative weakness/facility who could benefit from anti-fatigue lenses."
Mr Thurn shared a variety of sound research and provided a list of further reading resources, which he summed up with these important observations: "For practitioners, there's a compelling story of a largely untapped market which would respond well to the use of anti-fatigue lenses. Simple binocular vision tests quickly highlight who will benefit from this type of correction. In times when every new patient counts, and competition increases, discussing visual fatigue and providing anti-fatigue lenses is an important point of difference that could pay enormous dividends for patient and practice."
It's important to remember that long periods of time spent performing near visual tasks can lead to accommodative fatigue; like any muscle there are limits to what the ciliary muscle can sustain. Research going back as far as 1937 noted that oscillations in accommodation occur. It has since been concluded that the ratio of high frequency oscillations (HFCs) to low frequency oscillations (LFCs), correlates with the level of visual fatigue. As accommodative micro-fluctuation LFCs increase, accommodation becomes more difficult, which can result in blurred vision.
Hoya, Essilor, Rodenstock, Zeiss, CR Surfacing, Shamir, and Independent Lens Specialists are among many suppliers that offer numerous lenses falling into the digital/anti-fatigue/computer category. Myopia control lenses can also potentially be included, as can specific selective filters (like blue blockers), which are touted as being beneficial to digital device users.
The boundaries between these lens categories are becoming blurred, but no matter how we define them, providing greater visual comfort, safety and performance, has to be a priority.
EVOLVING CONTACT LENS SOLUTIONS
The evolution in the management of digital eye strain and the prescribing of digital and anti-fatigue spectacle lenses has not been lost on contact lens companies.
CooperVision has specifically designed a contact lens to reduce eye tiredness associated with digital device usage. Shannon Morrow, Marketing Communications Manager for CooperVision, shared some insights on the Biofinity Energys design stating, "The lens has all the benefits of the proven Biofinity lens material but has been enhanced with a unique optical design, that's ideal for both on-screen and off-screen activities."
She added, "Innovation may have led to the dramatic increase in screen time, but innovation also holds the key to combatting its effects. Energys contact lenses are designed to help your patients' eyes better adapt, so they can seamlessly shift focus between digital devices and offline activities for a more comfortable wearing experience."
In this lens design, multiple frontsurface aspheric curves are employed across the entire optical zone. The even power distribution simulates more positive power in the centre of the lens to ease accommodative burden without impacting distance vision.
Multifocal contact lenses from other manufacturers can similarly be applied to lessen the accommodative demand on eyes in patients across a broad age range.
Get in touch with your suppliers, consider the offerings you see in the following product section, and get more involved in this important growth area.
Suggested Reading from Tim Thurn
1. Jim Sheedy – American Journal of Optometry 2003
2. Sheedy, Bailey & Fong: Optometry & Vision Science 1989
3. Scientific American: The Reading Brain in the Digital Age: The Science
of Paper versus Screens; Ferris Jabr April 11, 2013
4. Dominick Maino & Christopher Chase: mivision #62; 6 October 2011
5. Sukanya Jaiswal et al; Clinical & Experimental Optometry 102.5 September 2019
6. Jennifer Long et al; Clinical & Experimental Optometry 100.2 March 2017
Spectacle Lenses to Revolutionise Vision
CR Surfacing Anti-Fatigue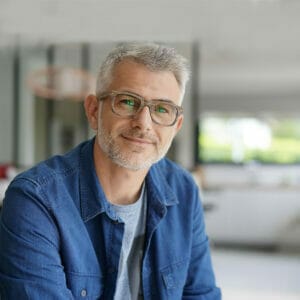 CR Surfacing Laboratories developed its Anti-Fatigue lens design to give welcome relief to hard-working eyes in the digital age. Ideal for short-sighted people who wear their glasses all day, CR Surfacing's Anti-Fatigue lens design incorporates a slight additional power at the bottom of the lens, supporting the ciliary muscles to re-adapt when shifting focus between different distances, and to relieve symptoms of digital eye strain, such as red, tired and dry eyes, blurred vision, and headaches. Combined with CR Surfacing's True Blue coating, this lens design provides maximum visual comfort and protection from harmful blue light coming from digital surfaces and artificial light sources.
Contact: CR Surfacing Laboratories (AUS) 03 8795 9111 
Hoyalux and Supereader
Hoya is building on the success of its existing Occupational lens portfolio, by launching an entirely new suite of lenses that will further strengthen the ability for eye care professionals to provide the right vision solution to suit each spectacle wearer's needs.
This new portfolio includes the Hoyalux iD WorkStyle 3, the Hoyalux WorkStyle Business, the Hoyalux WorkSmart Room and the Supereader.
Each lens has unique attributes and is designed to make it easier for wearers to work with near and intermediate vision areas.
Sync III is also available for nonpresbyopes who may be experiencing symptoms of digital eyestrain.
Full Control is the perfect complement to these lenses – this four-in-one lens coating combination provides impressive resistance to scratches and bacterial growth for lenses, as well as protection from UV light for more relaxed vision when viewing digital devices.
Contact: Hoya Account Manager
MauiPassport Boost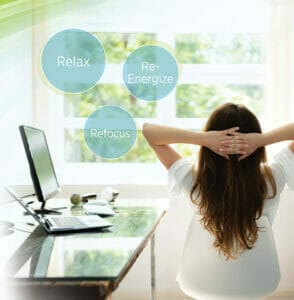 Maui Jim has introduced a new lens technology that provides eye care practitioners with technology to help support patients experiencing digital eye fatigue. MauiPassport Boost is a new clear prescription lens that combines the benefits of an anti-fatigue lens in the near vision with the experience of wearing a single vision prescription at a distance.
MauiPassport Boost is available in two boost powers, which help to improve readability of small fonts and other finer details on digital devices. The boost power is placed in the lens based on the severity of the patient's symptoms, and can also be paired with Maui Blue Light Project, a blue light blocking lens material.
Visit: mauijim.com 
ClearPro Relax
Near focus on a single object for a prolonged time, combined with blue light emitted from digital devices, can cause symptoms like headaches, nausea, neck or back pain, blurred vision, and dry eyes.
ClearPro Relax is designed to help reduce the effects of digitally-induced eye strain and near visual stress. It can be prescribed for young myopes and hyperopes and upgraded with Blue Guardian or Skye Multicoat:
Blue Guardian Lenses can block highenergy blue light from entering the eye, including all harmful UVA and UVB energies, protecting the eye and providing more comfortable vision.
Skeye Multicoat reduces front, internal, and back surface reflections to increase light transmission by at least 7%, giving the wearer a crisper and clearer vision.
Contact: Opticare (AUS) 1800 251 852 
Ergo Book, PC and Room
Workplaces today place great demand on your patients' eyes. The constant need for them to focus on monitors, desks and colleagues at different distances requires lenses that are ergonomically designed.
Rodenstock Ergo computer lenses provide your patients with relief from stressed eyes, which will also help ease tense neck and shoulder muscles. Now available with BIG Exact, designed with a biometric eye scan of the individual patient, or BIG Norm, designed with AI from over 500,000 individual scans for sharper, wider fields of vision.
Available in three variations:
The Ergo Book is ideal for short distance vision of between 40 to 60cm but allowing up to 1m with vertical movements of gaze, and is perfect for laptop computers and tablets,
The Ergo PC gives the widest area of clear vision at a medium distance up to approx. 1.20m and allows a monitor to be seen in total clarity and without strain with an ergonomic head and body posture, and
The Ergo Room allows for relaxed vision, free from fatigue indoors with comfortable vision zones from the reading area up to 4-5m.
Contact: Rodenstock Account Manager
Zeiss SmartLife Digital BluePro
We live in a digital world where everybody is constantly connected. After many hours focusing on digital screens and being surrounded by artificial light, many of us may feel the effects of digital eye strain, blurred vision or eye fatigue.
Zeiss SmartLife Digital BluePro offers a low power boost (+0.50/+0.75/+1.00/+1.25) to help the eyes focus more easily, as well as a clear distance vision. Blue blocking properties, incorporated in the substrate of the material, allow for more protection against harmful blue light. These lenses come standard with Zeiss premium antiglare coating for the best aesthetics and less reflection.
Contact: Zeiss Vision Account Manager 
Shamir Occupational Range
Shamir's occupational lenses offer more flexible viewing and reading zones and are easy to dispense.
Choose from:
Computer – a lens that offers excellent vision for close tasks,
Workspace – the perfect lens for sharp focus for near or intermediate tasks,
Smart Office – the perfect all-round occupational lens, and
Vocational Digital – an ideal alternative to traditional reading glasses and mid distance work.
Shamir's extensive range of purpose built vocational and occupational lenses will ensure your clients see clearer.
Visit: shamir.com.au 
Unity Relieve
Unity Relieve lenses help your single vision patients combat digital eye strain from device use with a unique design that has the familiar feel of a single vision lens.
Using a three-pronged approach to reducing eye strain, Unity Relieve provides unrestricted distance vision, a slight power boost in the near, and targeted blue light defence using TechShield Blue to reduce the symptoms of digital eye strain and fatigue.
Unity Relieve is designed to be easily customised to each patient's unique visual needs rather than their age group. A personalised fit means better results and a superior patient experience.
Contact: VSP Optics (AUS) 1800 251 025 
Crizal Lens Coatings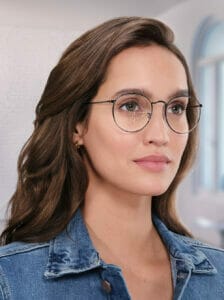 Essilor's research and development team has launched a new range of Crizal lens coatings – Crizal Sapphire HR, Crizal Rock and Crizal EasyPro.
Made with 'Life Proof ' lens technology, this range has a cluster of new technologies around anti-reflection, scratch and thermal resistance, antismudge and UV protection benefits.
'Life-Proof ' comprises three key technologies:
360Åã multi-angular technology: reduces reflections from both the front and back surface of the lens, whatever the direction of the light, front-on, from the sides or behind the wearer. Lenses are virtually invisible.
High resistance technology: an innovative coating formulation that combines four specific oxides with particular scratch and thermal resistance. One is used in the aerospace industry for heating shielding.
High surface density process: a super hydrophobic, ultra-smooth top coat that blocks smudges with its highly effective ability to repel dirt and water.
According to Essilor, these new coatings extend the protection of up to 10 patents covering all Crizal coatings.
All have E-SPF 35 level UV protection against the invisible danger of UV. When combined with all lens materials (except clear CR39), 100% of transmitted UV is blocked and the coating's special UV layer cuts UV rays reflected from the back lens surface.
Contact: Essilor Account Manager 
Revolutionary Contact Lenses
B&L Ultra Oneday
Bausch & Lomb's new Ultra Oneday silicone hydrogel SVS daily disposable contact lens offers the most complete system,1-6 combining breakthrough technologies to deliver comfort for a full 16 hours of wear4 and promoting a stable and healthy ocular environment.1 Advanced MoistureSeal Technology delivers the highest moisture retention after 16 hours versus leading SiHy daily disposable lenses,4 while ComfortFeel Technology releases comfort and eye health ingredients designed to help protect, enrich, and stabilise the tear film.1,5 Bausch & Lomb Ultra Oneday contact lenses also provide high oxygen,1 a low modulus1 for a smooth and weightless feel2 and easy handling,2 UV blocking for protection,1#† high definition optics,3 and a universal fit.2 This combination of technologies and material design provides a complete contact lens-wearing experience designed to match patients' lifestyles and support ocular health.1,5 
Contact: Bausch & Lomb Account Manager
# A class II UV blocker provides broad spectrum protection, blocking at least 50% of UVA rays and 95% of UVB rays.1 † UV Warning: Helps protect against transmission of harmful UV radiation to the cornea and into the eye. WARNING: UV-absorbing contact lenses are not substitutes for protective UV-absorbing eyewear such as UV-absorbing goggles or sunglasses because they do not completely cover the eye and surrounding area. The effectiveness of wearing UV-absorbing contact lenses in preventing or reducing the incidence of ocular disorders associated with exposure to UV light has not been established at this time. 
References:1-6: Data on file. UOD.0018.AU.21 
Biofinity Energys
Contact lens wearers need innovative lenses that help their eyes feel less tired, while seamlessly shifting focus from their digital devices to their everyday activities and back.
According to CooperVision, Biofinity Energys is the world's only contact lens with a Digital Zone Optics lens design. This lens is ideal for all existing and potential wearers of spherical monthly and two-weekly lenses, patients who are highly connected to their smartphone, and patients who spend a large part of their day looking at a computer screen.
Contact: CooperVision Account Manager 
Acuvue Oasys 1-day with Hydraluxe Technology
Acuvue Oasys 1-day with hydraluxe technology contact lenses are suitable for wearers who's eyes feel tired from staring at digital devices or working in challenging environments. These daily disposable contact lenses are available with correction for near- and far-sighted prescriptions and in both 30 and 90-day packs.
Contact: Johnson & Johnson Vision Care Account Manager 
SEED 1dayPure EDOF
SEED 1dayPure EDOF is a one day multifocal soft contact lens with extended depth of focus (EDOF) optics patented by BHVI and designed for presbyopia management.
According to SEED, the low add profile of the 1dayPure EDOF lens may be particularly useful for pre-presbyopic patients who suffer from accommodative stress due to excessive use of computers and digital devices. It can potentially help the wearer, by reducing the eye's accommodative efforts, without noticeable visual loss. By providing a wider depth of focus, the perceived image quality is improved across a range of distances from far to near.
Contact: SEED Contact Lens ANZ (AUS) 1300 373 718 
NaturalVue Multifocal 1 Day
The NaturalVue Multifocal 1 Day is a centre distance design with patented extended depth of focus (EDOF) optics. The EDOF design works naturally with the brain to produce a continuous range of clear vision and stereopsis comparable to spectacle wear with an effective add up to +3.00DS. Available in 0.25D steps from +4.00 to -12.25DS, the design has a rapid, continuous and uninterrupted progression in plus power from the centre of the lens through the optic zone. This creates a virtual aperture1 with relative plus in the periphery, and is clinically proven to slow the progression of myopia.2
Contact: Contact Lens Centre Australia (AUS) 03 9543 1811 
References 
VTI Data on file, 2015. N=59. Data assessed after 1 week of wear. Preference based on those who expressed a preference among brands tested. 
Cooper J, O'connor B, Watanabe R, et al. Case Series Analysis of Myopic Progression Control with a Unique Extended Depth of Focus Multifocal Contact Lens. Eye & Contact Lens: Science & Clinical Practice. 2017;44(5): e16-e24.