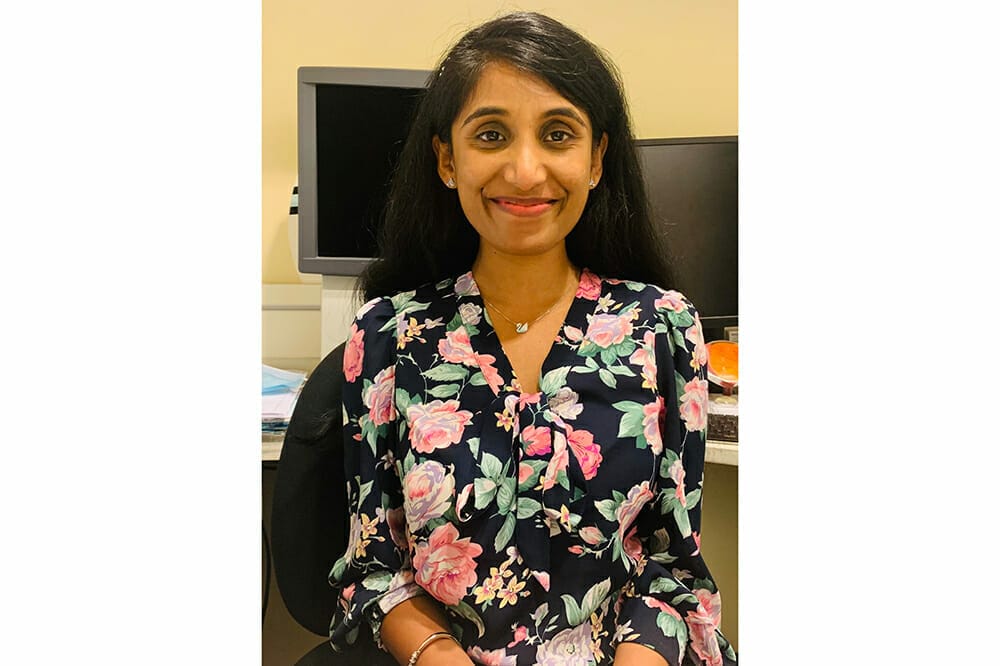 On the eve of completing her PhD in neuro-optometry, optometrist Chamini Wijesundera is looking forward to a career combining clinical consultations with teaching and research.
I always wanted to work in health – my dad's a dentist, my mum was a GP before becoming a psychiatrist, and my sister and brother are both medical doctors – so I grew up seeing the differences they were able to make. The decision I had to make was in which field to practice.
While research is exciting… my greatest passion is the practise of optometry
Having lived in Sri Lanka before moving to Australia in grade 10, I didn't know the profession of optometry existed – the closest we had was refraction. It wasn't until year 11, when I was looking at study options, that I discovered a profession in primary eye care. It appealed to me for a few reasons – the eye is one of the most important sensory organs for all of us and the profession as an 'optometrist' would make me a patient's first point of contact, responsible for diagnosing, treating, and offering continuity of care.
I studied optometry at the University of Melbourne and, in my final year, I travelled back to Sri Lanka as part of the degree course to undertake a one month externship at the Kandy Eye Hospital. It was there that I was able to apply everything I had learnt in the textbooks. I saw late- and end-stage eye diseases we don't see in Australia and a vast number of low vision services. This enabled me to improve my skills and made me realise the difference I could make in optometry.
After graduating, I joined Specsavers and worked for two years in the Barossa Valley in Adelaide before moving to Keilor Downs in Melbourne. I particularly enjoy working at Keilor Downs, where I have the opportunity to make a positive clinical impact on a predominantly lower socioeconomic demographic.
Four years ago, I was invited to participate in a research program which led me to undertake my PhD. Prof Tissa Wijeratne, the head of Neurology at the Sunshine Hospital (St Albans, Victoria), was investigating ways to improve the diagnosis of acute ischemic stroke with greater emphasis on posterior stroke episodes that can mimic migraines and other diseases. Ischemic strokes are caused by blot clots and, while milder than hemorrhagic, if left untreated can lead to permanent irreversible damage, e.g., loss of sensory, motor and visual functions, depending on the site of lesion. With the guidance of the neurologist and Prof Sheila Crewther (La Trobe University) who formulated the hypothesis, along with Prof Algis Vingrys (Department of Optometry, University of Melbourne) who provided the technology, I undertook novel iPad-based vision testing research among hospitalised patients within 48-72 hours of their stroke.
Because these patients were bedridden, it was necessary to use portable iPad based technology for the vision tests, and I became one of the first researchers to do so in acute stroke. Our study found that about 68% of ischemic stroke patients had some sort of visual deficit and of those patients, surprisingly, 44% were unaware of any vision issues. Typically, their high contrast visual acuity was normal, however it was the finer things, like visual acuity in the presence of a luminance noise mask, visuomotor control in the form of eye-hand coordination, and visual fields that showed abnormalities. We found that applying these three tests to stroke suspects, aided clinicians in "diagnosing 92% of recent onset stroke cases correctly". Furthermore, the early diagnosis of ischemic stroke and intervention with an anti-clot treatment within three to four hours, can return blood supply to the brain, and halt irreversible damage.
Having conducted this initial research, I have published two papers on the findings as the first author in Frontiers in Neurology (2020 & 2022). I have also presented poster presentations at ARVO 2019 in Vancouver, Canada and at the 2018 annual conference of NOSA (Neuro-Ophthalmic Society of Australia), Melbourne where I received the best poster award in 2018. Additionally I am about six months from completing my PhD. We are currently looking at the vision results during the recovery of these stroke patients and we plan to further our research project with more detailed assessment of eye movement. I have already been offered an opportunity to mentor optometry students at Melbourne University who will visit neurology wards to conduct vision testing among patients under my supervision.
While research is exciting, and I very much appreciate the clinical value being derived, my greatest passion is the practise of clinical optometry as, on a regular basis, it entails making a difference to a patient's eyesight, which I find very rewarding. Going forward, I intend to continue to participate in research and teach students, but most of all, I look forward to caring for my patients at Specsavers Keilor Downs.
Chamini Wijesundra is a Melbourne based Specsavers optometrist who is soon to complete a PhD in neurooptometry. In 2019 she was awarded the Early Career Optometry Victoria Grant Scholarship by Early Career Optometrists Victoria South Australia.