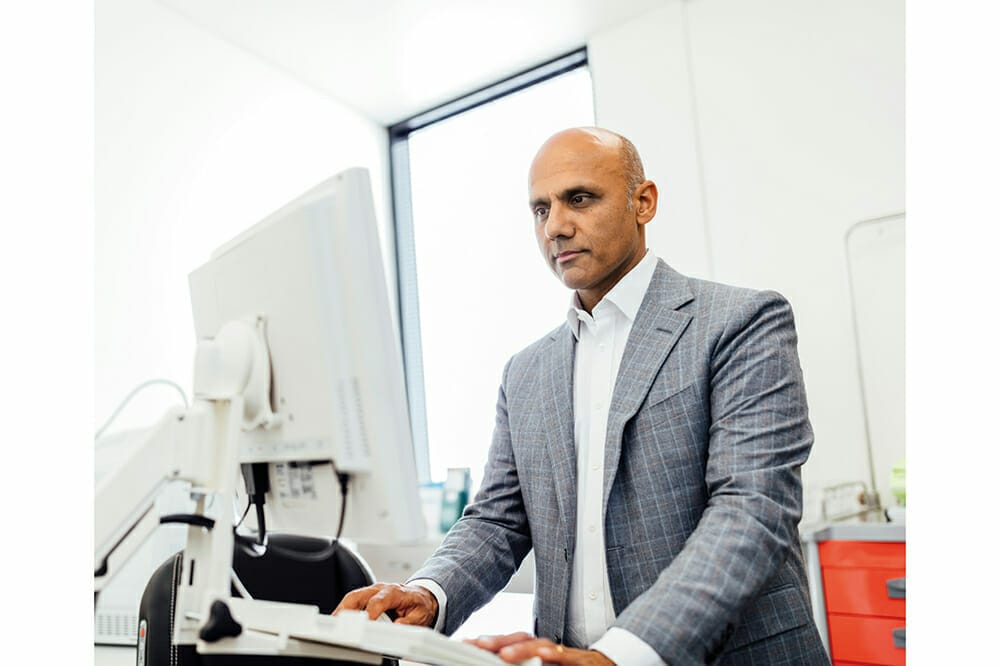 Dr Devinder Chauhan is lucky to be on the planet. The precious only child of an Indian woman, he was conceived after three heart-breaking late miscarriages. Dr Chauhan's mother spent the last three months of her pregnancy on bed rest in a hospital in the United Kingdom. Something that wouldn't have been affordable for the factory worker if not for the public health system.
Driven by a desire to make healthcare accessible for all, Dr Chauhan is now paying it forward.
He's developed Macuject – a decision-support tool, augmented with artificial intelligence (AI) to guide the ongoing treatment of neovascular macular degeneration (nAMD) and to support patients. Freely available to ophthalmologists, Dr Chauhan believes Macuject will significantly increase the number of patients doctors can treat, and improve patient outcomes by enabling a personalised treatment regimen for each patient.
There are four main barriers to achieving best quality treatment outcomes for patients with nAMD:
Doctors' consistency in decision making,
Patient adherence to treatment,
Patients' persistence with treatment, and sometimes,
Cost.
Macuject will significantly increase the number of patients doctors can treat, and improve patient outcomes by enabling a personalised treatment regimen for each patient
Dr Chauhan expects Macuject to immediately help overcome the first, soon help overcome the second and third, and eventually overcome the fourth.
This is because, while most medical AI is focused on diagnosing and triaging patients, Macuject supports the entire patient journey providing a unique 'end-to-end' offering. While accurate screening and diagnosis are critical, optimal outcomes rely on the quality of subsequent management.
Importantly, Macuject does not prescribe treatment decisions. It captures a doctor's personalised treatment plan for the patient, then speeds the decision making process by displaying this, the patient's current and historical scans and data, and the recommended treatment on one screen. In doing so it promotes a consistent approach to the patient's care, however the doctor can override any or all of the recommendations, should they wish.
Dr Chauhan, who designed and developed Macuject with fellow clinicians in mind, is providing ophthalmologists with free access to the platform. From experience, he believes it will enable them to inject up to 25% more nAMD patients per clinic and that the positive long-term patient outcomes derived will see a better return on the Federal government's investment in anti-VEGF treatment.
"Eventually, Government funding of Macuject for all treatment of nAMD with anti-VEGF will see a small additional cost lead to significant return on their investment in these drugs," he said.
ALL ABOUT LEARNING
The idea for Macuject came to Dr Chauhan back in 2017 when he recognised that his orthoptists were correctly pre-empting the treatment decisions for patients attending his Boronia clinic, 29km east of the Melbourne CBD.
"I have always enjoyed engaging with orthoptists, showing them the scans, talking about what I was looking at and, based on that, what I was going to do. My orthoptists got to the point where they could predict how I (and my colleagues) would treat each patient. Their ability to learn by being immersed in the environment led me to consider the potential for machine learning – could I 'train' a system that would guide me through a formalised decision making tree, one that would help me make better decisions, faster, without being prescriptive?"
Of course it wasn't as simple as it sounded. In the real world, treatment decisions aren't straightforward because no two patients are the same – some come early, some late, others miss treatments altogether; one eye may deteriorate while another remains stable… and all of these occurrences influence the treatment decision on the day.
To overcome this, Dr Chauhan drew up a decision-tree and added to it with all the possibilities, then briefed coders to write a complex software program that would guide ophthalmologists through the process.
"It was all looking positive until I showed it to a general ophthalmologist. I asked him, 'what do you think?'. His reply was, 'It's really interesting but does it look at scans?'".
It was a good question – while reading scans comes as second nature for those who do it every day, critical mistakes can be made if you're under the pressure of a waiting room full of patients. And for those who don't read scans every day, identifying the nuances can be challenging.
To date, over 20,000 optical coherence tomography (OCT) scans have been used to train the Macuject app to identify and analyse signs of nAMD, and based on findings, make treatment recommendations.
"I've been working with six ophthalmologists to beta-test and refine the app. We are now on our second iteration and the specificity and sensitivity for reading scans is exceeding 90%, which is good," Dr Chauhan said.
He and his team are also working to expand the app to include management of diabetic macular oedema… with more indications to come in the near future.
INCREASING EFFICIENCIES IN PRACTICE
Having used Macuject at Vision Eye Institute in Boronia for the past two years, Dr Chauhan says his clinics are now 25% more efficient.
"My clinic is particularly busy – because we provide injection therapy with zero out-of-pocket costs, patient numbers are constantly growing. In fact, despite COVID, we grew by 30% in 2021.
"Currently my clinic does about 10,000 injections per year – treating around 8% of Victoria's nAMD community – so we have to work quickly without letting that impact our decisions.
"Macuject is fast, and it's easier to use. I'd suggest it can reduce each patient consultation by a couple of minutes – alone that doesn't sound like much, but if you're treating 40 patients a day, it's easy to see how you can fit more patients in," he explained.
"I can now walk into a room and, without touching the mouse, all the information I need for decision making is on the screen in front of me – historical and current scans, data on fluid levels, injection type and interval, as well as protocols previously derived for the patient including at which stage I might consider switching if outcomes are not improving.
"If I want more, it is all accessible in one place, and only requires a few clicks."
DATA ANALYTICS
As well as guiding treatment decisions, Macuject has been developed to provide rich, dense data on treatment patterns, at an individual, ophthalmologist or clinic level, that can confirm current procedures and provide opportunities for improvements.
"I asked doctors about the data on their nAMD treatment patterns they would find useful, and typically they said they wanted to understand how many injections they were giving to patients, and the breakdown between Lucentis and Eylea usage," Dr Chauhan explained.
"We've gone much further than this to enable a thorough audit of an ophthalmologist's treatment patterns – providing information on injection intervals, responses to treatment over time – including how long it takes to get to peak vision improvement, how much vision improves, or deteriorates, switching patterns including reasons for switching (fluid status, vision acuity etc.), and comparison to clinical trials."
This data is now being provided retrospectively to ophthalmologists who decide to use the app. It will also be provided prospectively, enabling ophthalmologists to benchmark their treatment processes and outcomes, and measure the impact of change.
Despite his vast experience injecting patients, and having developed Macuject, Dr Chauhan surprised himself when he reviewed the data on his own approach to treatments.
"I have really early evidence (p < 0.05) that patients I have treated purely with Macuject over the past two years have slightly better visual outcomes than patients treated prior to having Macuject.
"This demonstrates the advantages that come with the consistent approach prompted by Macuject. There's a good chance we'll all get better long-term outcomes when more doctors are using it."
PATIENT ENGAGEMENT
The rate of 'loss to follow-up' to treatment for nAMD in Australia is approximately 20%.1 While this is less than in other countries, it remains a concern and is believed to be due to issues of persistence and adherence.
To overcome these issues, the team is now working on a patient engagement package that will facilitate personalised communication, based on the individual patient's disease state, treatment plan and desired level of knowledge.
"Patient support programs, like Bayer's SmartSight, have been extremely successful. However, because the program is the initiative of a pharmaceutical company, it's limited – the nurses who speak directly to patients don't have access to their clinical status," explained Dr Chauhan. "With Macuject, we can provide relevant, timely information that takes into account where the patient is in their treatment journey and the amount of information they need or want to receive – whether that be graphs and data or a simple reminder to keep their treatment appointment to avoid the risk of losing sight. We're working with patient groups to determine exactly what the communication will look like, but we hope to involve carers and family members as well. If everyone – patients, carers and family members – understand the treatment process, why it's important, and the risks of missing injections, we expect to achieve increased adherence and persistence."
Indeed, Bayer's program, which sees patients receive a range of tailored materials, and individualised nurse support, has demonstrated the power of regular communication. A study comparing persistence for patients with nAMD on the SmartSight program with a data sample found persistence on therapy for the 10% PBS sample was 64%. Conservative modelling indicated persistence at 88% on the SmartSight program, with an 18% higher duration of therapy for SmartSight patients. Patients supported by the SmartSight program had only one third the drop-out rate of unsupported patients.2
Dr Chauhan and his team are also working on predictive analytics that will enable ophthalmologists to provide patients with accurate information about how they can expect their vision to respond with, or without treatment over time.
"After an initial monthly loading dose over three to four months, Macuject can predict a patient's vision three years out with nearly 80% accuracy. We can also model outcomes if the treatment plan is not followed. This very tangible detail will help patients realise the importance of continued treatment.
"Our over-arching aim is to improve patient outcomes," he said.
NEXT STEPS
At the time of going to print, Dr Chauhan was seeking capital investment to enable Macuject to complete its decision making tree for diabetic macular oedema and seek United States Food and Drug Administration approval for the web app. This will pave the way for approval in Australia by the Therapeutic Goods Administration, at which point he'll be able to roll Macuject out to ophthalmologists Australia-wide.
In the meantime, he invites ophthalmologists to take a free trial of Macuject in their clinics. To find out more, visit macuject.com or email devinder@macuject.com.
References