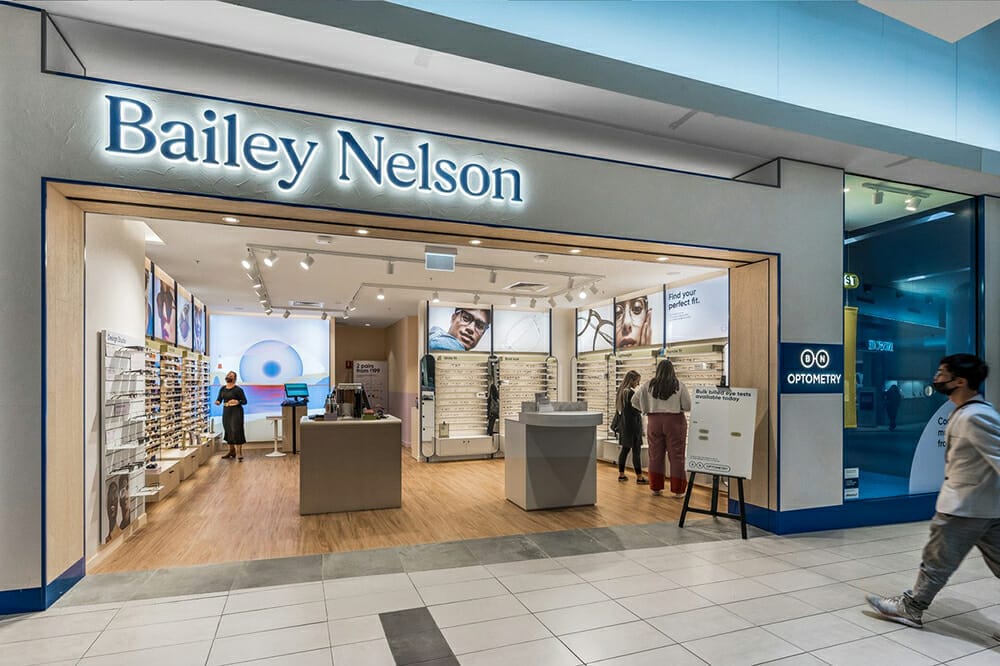 Bailey Nelson is celebrating a milestone month, opening its 100th global store in Frankston, Victoria, which coincides with the brand's 10th anniversary.
Founded in Sydney in 2012, Australia is now home to over 50 Bailey Nelson stores, with the others spread across New Zealand, the UK and Canada – the latter a major and growing market for the brand.
Bailey Nelson CEO and co-founder, Nick Perry, said the 100th store opening was a major milestone, signalling a new phase of growth after 10 years of start-up success.
With the busy roll-out of new stores taking place, Frankston was chosen as the 100th store to take advantage of rapid growth in business and employment in the area
"It's a big deal to reach 10 years of business. We're very proud of our achievements and our team, but there is more to come. Our goal is for a Bailey Nelson store to be in every major shopping precinct across Australia, New Zealand and Canada. Over the next few years, we plan to double our stores and consolidate across key global markets," he said.
Bailey Nelson began as a two-man, self-funded start-up selling custom frames at the Bondi Markets. By 2014 the company had grown to 20 stores, and since then has expanded locally and internationally, with Canada now its second biggest market behind Australia. Bailey Nelson employs approximately 900 staff globally across corporate, optometry and in-store support. All frames are designed by local ateliers from its Sydney HQ, with the brand releasing around five key ranges each year.
In addition to store growth, Bailey Nelson is ramping up its digital omnichannel experience by improving the user experience on its website and social media, and building a mobile commerce application to leverage its AR/3D Virtual Try On experience that helped drive a six -imes increased conversion rate for those using the service in 2021, despite the disruptions caused by the pandemic.
Mr Perry said the company, which has been rated Best Optical Retailer on Product Review with a score of 4.8/5 from over 2,000 reviews, was in a strong place strategically.
"On the product side, our model resonates with consumers of all ages. We are proud to have made buying eyewear a joyful experience that's accessible to everyone, no matter their budget. Over the last two years, we've also invested in growing our technology and executive management teams in Australia and Canada. We know where we need to get to and are developing the infrastructure and people power to make that happen."
Frankston an "Important Addition"
Bailey Nelson Frankston will be run by Manager Ashleigh Kusters – previously from JPL Group, with the clinical side led by experienced optometrist Lisa Dang. Mr Perry said Frankston was an important addition to the company's store footprint.
"We identified Frankston as a crucial catchment for Bailey Nelson. With the busy roll-out of new stores taking place, Frankston was chosen as the 100th store to take advantage of rapid growth in business and employment in the area, and to deliver to consumers in the region who have been asking for our services locally. The Bayside Centre was by far the best environment for Bailey Nelson to trade, alongside a budding retail and hospitality scene with a nice mix of large-scale retail and independent small business," he said.
The store will offer eye tests at least five days a week and be equipped with Optos imaging.
The new Frankston store at Bayside Shopping Centre has a layout that will be replicated across future store openings, and includes a unique lightbox art piece designed by Thomas Hedger.
A new collection from the brand's Design Studio – The Shadow Collection – is currently being showcased, featuring Limited Edition pieces created as a celebration of its love of design. The frames boast considered and surprising design elements, mixed with the latest trends, resulting in high-quality frames that wearers will enjoy for years to come.