Barton Perreira – an independent luxury eyewear brand born from Patty Perreira's intuitive design flare and the know-how of Bill Barton's optical expertise – presents sun and optical eyewear with a unique yet timeless appeal.
The Los-Angeles based brand prides itself on delivering couture craftsmanship, superior quality and impeccable fit to sophisticated individuals with a heightened appreciation for luxury design.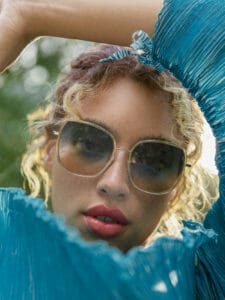 Barton Perreira first entered the eyewear scene in 2007 after Bill Barton and Patty Perreira, who had previously worked together at Oliver Peoples, decided to join forces to create their own brand.
Involved in the design of collections for bigname designer brands like Prada, Miu Miu and Vera Wang, and with 30 years' experience in design and production, Ms Perreira's intuitive approach has been described as "fearless, soulful and endlessly versatile". Pairing this natural talent with Mr Barton's knowledge of the intricacies of the eyewear industry, and experience as CEO of Oliver Peoples, where he drove remarkable growth, proved the perfect combination for success.
"Bill and I have always been independent freethinkers. We wanted this same freespirited independence for our brand," said Ms Perreira.
"We shared a vision to create an eyewear label that would represent a new time, quality, and culture. Eyewear is our passion, and we felt the time was right to join forces and create our own brand."
According to Mr Barton, the men and women who purchase his brand's eyewear are "discriminating tastemakers, sophisticated individuals with a heightened sense of luxury and an appreciation for design. They are people who enjoy the thrill of discovery and don't need logos to validate their status or identity."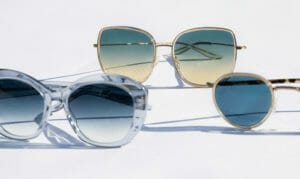 Alessandro Marchi, General Manager of Marcolin Australia and New Zealand, agrees.
"The Barton Perreira collection offered in Australia and New Zealand is a large and diverse assortment of over 600 sku, catering for both men and women who are fans of great design and have an appreciation for luxury craftsmanship," says Mr Marchi.
NO CORNERS CUT
With what Ms Perreira describes as a "relentless dedication to craft and passion to create product without compromise,"
Barton Perreira is focused on creating quality pieces without cutting corners.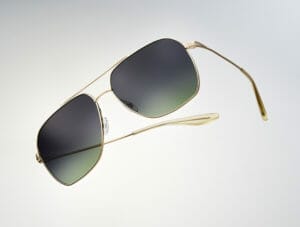 This is evident not only in the unique design, but in the dedication to handcraftsmanship that characterises Barton Perreira's quality.
"Barton Perreira frames are artisanal, handmade products by Japanese factories that are generations old," says Mr Barton.
"We work with our artisans who lean heavily on the heritage of crafting the best eyewear in the world. Our design process is unique and separates us from other brands. In Japan it's all about attention to detail. To have every pair fit perfectly. To have every detail executed. The final feel of our product is different. It feels like luxury."
Acetate frames are made using Japanese cellulose acetate – highly desired for its durability, flexibility, and broad range of colour possibilities. Not only is it a luxurious material to work with, it is also a sustainable option.
To ensure strength and adaptability, metal frames are made from a lightweight, hypoallergenic alpha titanium, complete with 24K gold plating for any gold frames.
Mr Barton says such quality does not end with frame construction – Barton Perreira sun lenses are coated with VIOFF, a Japanese anti-reflective (AR) coating that absorbs 95% of UV light compared to traditional AR coatings that only absorb around 57%.
"All of our frames go through an intense quality control inspection in Japan and then once shipped to our headquarters in California, we have another round of quality control inspections to ensure the final product on the sales floor is 100% perfect," assured Mr Barton.
INSTINCTUAL DESIGN
Finding inspiration in everything from jewellery, architecture, cars and motorcycles, through to nature and the island of Jamaica, where Ms Perreira spends a lot of her time, Barton Perreira frames reflect elements of Art Deco design to mid-century furniture aesthetics, and anything in-between.
"My design process is quite instinctual. I prefer not to follow trends. When you go against the grain, it usually stands the test of time," says Ms Perreira.
"I love using colours found in nature, they look more luxurious and compliment skin tones best. I have been working with triple laminates that interplay crystal acetates with tortoises and acetate colours for a layered effect. I often design a combination of shapes for each collection to offer a range of both small, medium, and glamorous oversized silhouettes."
Ms Perreira attributes the quality of her designs to her holistic approach – she creates a frame as both an object, and as something to suit the face – a mindset she believes separates her from other designers.
"I think of the contours of a female face vs a male face, consider subtle curves of eyebrows, cheekbones, etc. which are instrumental to the overall fit, balance and feel of the frame," she says.
THE GOLD STANDARD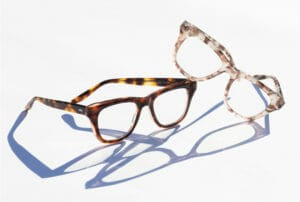 Over the years, Barton Perreira has captured the attention of many other designers and stylists, resulting in a major collaboration with luxury menswear brand, Fear of God, and a capsule collection for James Bond.
Though Mr Barton is careful to not let such grand recognition take away from the brand's other design accomplishments. In his eyes, every collection is deserving of the same appreciation.
"I think every collection, collaboration, or limited-edition piece we bring out is a milestone for Barton Perreira. The amount of time, effort and passion that goes into our product development is intense and personal," he said.
"We have some incredible new things we're working on for 2023 – you'll just need to keep following us and wait and see!"
LOCAL DISTRIBUTION
In 2019, leading global eyewear company Marcolin and Barton Perreira entered an exclusive partnership allowing Marcolin to distribute the brand's eyewear collections worldwide, except in North America, Canada and Japan, where the brand is still managed by Barton Perreira.
Since January 2022, Barton Perreira has been distributed in Australia and New Zealand by Marcolin's Australian subsidiary.
The brand is sold in luxury independent optical shops, by high-end buying groups and selected fashion stores as well as e-tailers.
Mr Marchi says Marcolin's Australian subsidiary supports its distribution network with "best-in class service" and "a tailormade approach".
Marketing plans are customised for each door, and dedicated Brand Ambassadors across Australia and New Zealand work closed with the Barton Perreira team to support the success of each door.
"Our B2B platform is available to offer convenience and ease of access to Barton Perreira, a deep offering of marketing tools is available to promote Barton Perreira instore, which includes digital assets and PR, and an accurate quality control, shipment and logistics team is focused on timely and well-inspected deliveries."
Contact: Marcolin Australia (AUS) 02 8456 0946